Influencer marketing is one of the pillars of communication strategies for all brands wishing to make their footprint in China. These influencers referred in China as KOLs, or Key Opinion Leaders, are individuals who have established themselves as experts or influential figures in specific industries or fields, particularly in the realm of social media and digital marketing. They have amassed a large and engaged following on platforms like Weibo, WeChat, RED,  Douyin (the Chinese version of TikTok), and other social media channels. KOLs hold significant sway over their followers' opinions and purchasing decisions. Their presence is crucial for brands looking to market their products or services to a Chinese audience. We wrote more about idol economy and who KOLs are on our blog.
💄 Discover more about RED and RED marketing
But in the fast-paced world of digital marketing, a new breed of influencers is capturing the limelight and revolutionizing the way brands connect with their audiences. Today we'll introduce you to Key Opinion Professionals (KOPs), how they are transforming content marketing, and why brands are swooning over their compelling charm.
Meet the Trailblazers: Key Opinion Professionals (KOPs)
Emerging from the domains of influencer marketing, KOPs offer a novel vantage point within the realm of content marketing. Contrary to KOLs, this type of content creators offer a profound exploration into their specialization, unique knowledge, and entrancing revelations.
They are not your typical influencers, by any means. Usually, KOPs boast a high education and a wealth of experience in their chosen fields. The internet age has turned them into digital artisans, sharing their wisdom through captivating visuals and videos. They entice both devoted fans and new consumers looking for professional opinion.
Chinese consumers highly rely on word-of-mouth when buying a product. They are greatly influenced by recommendations from people they are following on social media. In 2022, 86% of Chinese users visited different online communities to search for related product offers before placing order. This all to reduce potential risk and dissapointment. However, consumers are aware of professionalization of KOLs therefore they start to seek advice from experts in their respective fields.
🇨🇳 Different types of Chinese consumers: Silver Generation
KOPs – Unlocking the Secrets of Vertical Content
Naturally, KOL and KOC tend to emphasize their personal experiences and highlighting advantages of the products often supplied by brands. Unlike KOLs' broad viewpoints and KOCs' personal experiences, KOPs take users on an discovery ride through the vastness of their respective vertical knowledge in fields considered relatively niche.
They often represent the industries such as health, technology, engineering, or even law. They dissect product formulas, decode compositions, and unravel the mysteries of consumers' favorite goods. All of that with the precision and thoughtfulness of seasoned experts. Their professional knowledge comes from years of education and experience. That's why they possess such ease and confidence in discussing matters that won't be possible to discover by KOLs. 
Examples of KOPs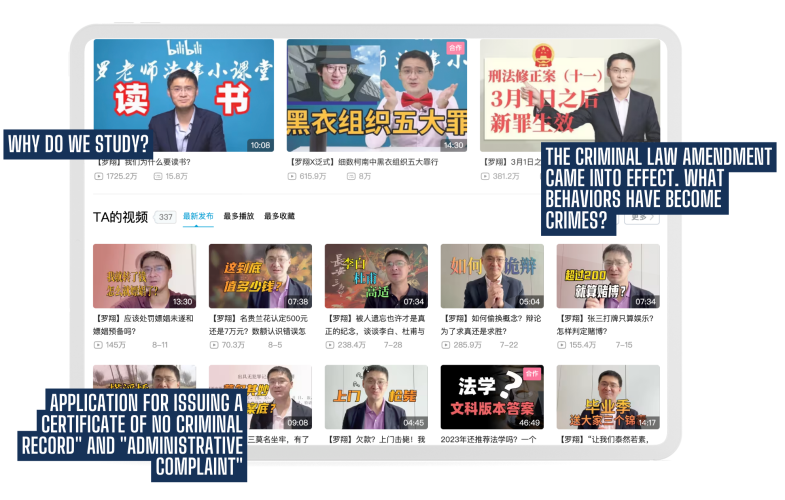 罗翔 is a law professor at People's University of China, with 28.5 million followers on Bilibili, he shares deep insights about law, and he also makes content about how ordinary people can live a better and more meaningful life with more understandings about law. He also makes content about philosophy and book reviews.
王德峰 is a philosophy professor at Fudan University, equipped with vast range of knowledge in philosophy, art and music. His unique and interesting way of delivering Chinese and western life philosophy had great impact on young users.
武志红 is a psychologist and a best seller writer, has made his fame publishing several best seller books including the controversial 《巨婴国》The Country of  Giant Babies. Active on Chinese social media, he often shares his take from a professional psychologist POV on recent society affairs.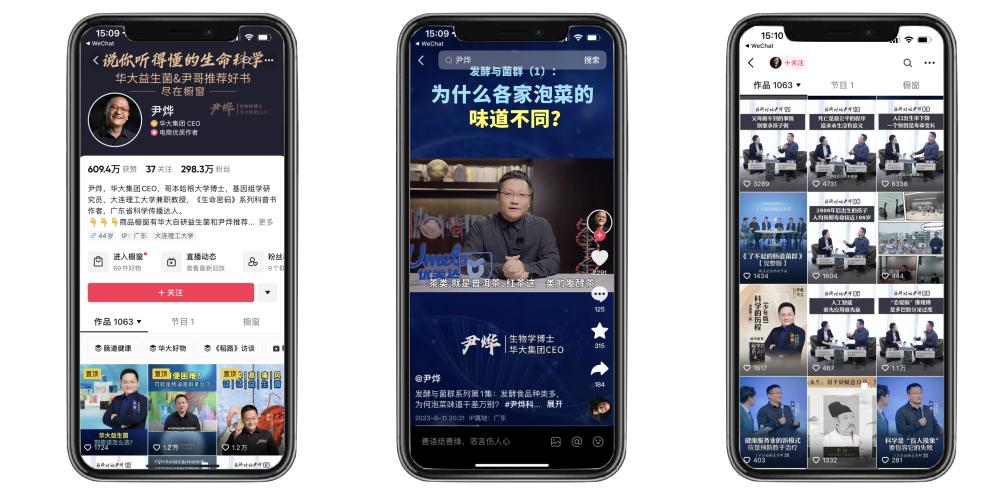 尹烨 is the CEO of 华大集团BGI(a pharmaceutical company), graduated from Columbia university with a PHD, he specializes in life sciences and he has made his appearance on several popular interview shows which attracted huge attention, then he started his own social media channel and is now making content mostly about science, technology and biology.
With more than 30 million followers on douyin, 虎哥说车 mainly creates interesting and insightful content about cars, he started in video sector very early on and has constant resources to controversial cars.
KOPs – Why Brands Fell in Love?
Even though most of KOPs started posting online out of willingness to spread their knowledge, brand quickly took notice. In a world where cautious consumers rule the roost, KOPs are the superheroes that brands crave. 82% of consumers meticulously scrutinize products before purchasing, seeking safety and efficacy. KOPs enter the spotlight with their arsenal of professional insights and authentic recommendations. Effectively, they can be the element that make the difference and seal the deal in the ever-growing decision-making process. For example, beauty brands can work with skincare doctors or chemists to discuss product formulas and give their recommendations based on ingredients used. B2B brands are also more likely to work with KOPs than KOLs due to the nature of their offering. 
Unleashing the Power of KOP, KOL, and KOC
The secret formula to content marketing success is the mighty combination of KOL, KOC, and now KOP. When these forces unite, brands can increase their share of voice and captivate users across multiple platforms.  KOLs reach their mass audiences and KOCs add their flair with personal touchpoints, while KOPs help users to confirm their purchase decision with authoritative product endorsements.
Conclusion
While KOP marketing is a relatively new concept. However it's surely a much needed phenomenon in the highly saturated influencer industry. Consumers seek for more authenticity and reliable source of information. KOPs with their mastery of vertical expertise, combined with the allure of KOLs and the authenticity of KOCs, makes for an unbeatable trio. As consumers increasingly seek genuine recommendations and professional knowledge, KOPs are soaring high as trusted beacons of influence. In the coming years, we will surely see more and more influencers wearing lab coats and other professional attires populating feeds of the top Chinese platforms.