It's time to roll out the red carpet as Chinese tourists gear up to satisfy their wanderlust once again, with borders reopening and travel restrictions lifted. According to Dragon Trail's Chinese Traveler Sentiment Report more than 60% of survey respondents said they wanted to travel outside of mainland China in 2023. Data shows that there has been a significant increase in flight bookings (254%) and trips planned by Chinese travelers. 
Singapore, South Korea, Hong Kong, Japan, and Thailand are currently the most popular travel destinations, while the US, UK, and Australia are the most popular long-distance travel destinations, based on Trip.com Group bookings.
Due to travel restrictions and other pandemic-related challenges, Chinese business travelers have not been able to engage in physical meetings with their international counterparts for over three years, making the desire to reconnect with the world's major economies even more pressing.
If you're looking to target Chinese travelers, it's important to be aware of the apps they use for travel purposes. 
However, it's  also important to note that Chinese tourists don't use the same social media apps as their Western counterparts. In fact, China has its own collection of travel-related apps that are popular among visitors looking to travel both domestically and internationally.
In order to hack the Chinese traveler base, it is important to understand the apps they use and how these apps work.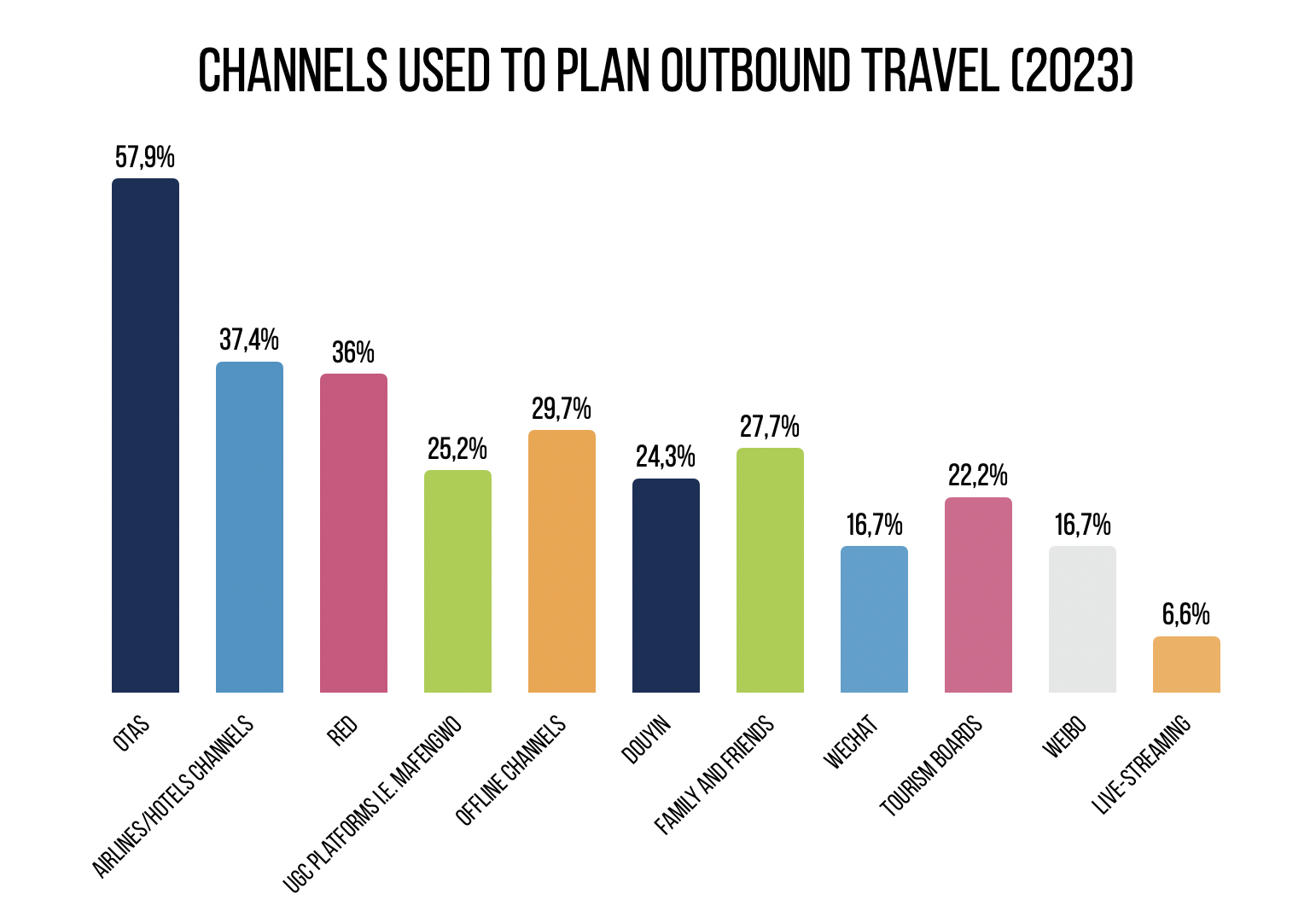 Social media platforms for Travel
Social media has become an indispensable tool for travelers in today's digital world. OTAs, online travel agencies, are the most important platforms to plan and book trips but the inspirations and ideas are usually born elsewhere. Xiaohongshu, RED, becomes a leader when it comes to pre-planning phase with almost 40% of travelers using it to plan an outbound trip. Douyin, WeChat and Weibo also play significant role in finding inspirations to travel. 
✈️ WeChat for Travel Sector: Discover more!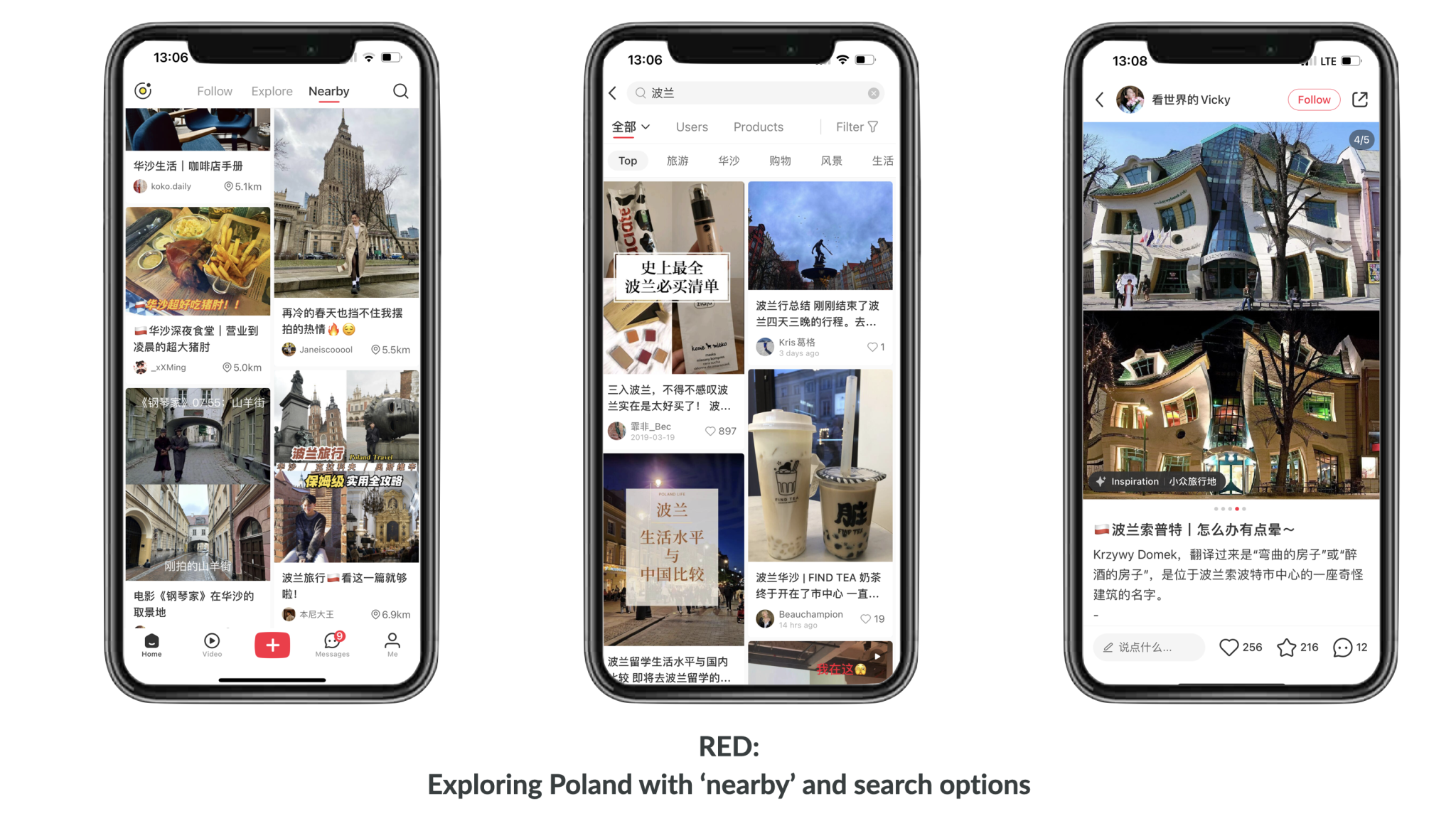 Online travel agencies in China
Chinese travelers are highly mobile-savvy and open to using technology to enhance their travel experiences. They also value word-of-mouth recommendations when it comes to planning the trip.
Three of the most well-known online travel agencies (OTAs) in China are Qunar, Ctrip, and Fliggy. We can learn a little bit about the conduct and preferences of Chinese tourists by examining these businesses' operations and the services they provide.
Qunar / 去哪儿
Qunar is one of the leading online travel booking platforms in China. It provides a variety of travel-related services, such as booking hotels and flights, vacation packages, and rental cars. 
One thing that sets Qunar apart from its competitors is its emphasis on user-generated content. Users of the platform can post reviews and share their travel experiences, which aids other travelers in making wise choices.
Chinese travelers are more likely to rely on the experiences and opinions of others when making travel decisions. They place a high value on word-of-mouth recommendations and user-generated content.
Ctrip / 携程旅行
Ctrip is another major OTA in China, offering similar services to Qunar. One of Ctrip's strengths is its mobile app, which allows users to book and manage their travel arrangements on the go. 
The app also offers a range of other features, such as real-time flight status updates and travel guides.
Chinese travelers are highly tech-savvy and prefer to book and manage their travel plans using mobile apps. They also value convenience and real-time updates.
Fliggy / 飞猪
Fliggy is an OTA owned by Alibaba, the Chinese e-commerce giant. It offers a range of travel-related services, including flight and hotel bookings, vacation packages, and travel guides. 
One of Fliggy's unique features is its focus on personalized recommendations. The platform provides users with tailored travel recommendations using data analytics and artificial intelligence.
Chinese travelers are open to using technology to enhance their travel experiences. They value individualized recommendations and personalized travel advice.
Online travel agencies (OTAs) in China can offer useful information about the habits and preferences of Chinese tourists. Here are some ways in which they can help:
Understanding Chinese tourists and travel trends
Chinese online travel agencies (OTAs) can provide information on the most popular travel locations and the best times to travel. This can help us determine the times and locations where Chinese tourists are most likely to travel.
Recognizing preferences
Chinese OTAs can also offer details on the kinds of lodging, activities, and tours that Chinese tourists favor. For instance, they might favor five-star resorts, shopping excursions, or cultural encounters.
Language and cultural barriers
Chinese online travel agencies (OTAs) cater to Chinese tourists, so they can shed light on how language and cultural barriers may affect travelers' choices. They can also offer translations and other services that facilitate and improve the travel experience for Chinese tourists.
Popular travel apps for Chinese tourists
Two well-known apps among Chinese travelers are Mafengwo and Dazhong Dianping. Let's delve into the specifics to become familiar with these apps.
Mafengwo / 马蜂窝
Younger Chinese internet users refer to MaFengWo as the "travel bible" because it offers long-form tourism-focused content to assist users with their travel arrangements. With over 100 million users, it has developed into China's top social media travel platform since its founding in 2006!
Mafengwo began as a community for independent travelers. Users of the platform communicate with one another by sharing their journeys, travel advice, itineraries, suggestions, and feedback.
Later in 2016, Mafengwo established itself as an online travel agency. Some of its features include:
Travel focused user written content like tips, photos and personal comments.

It has an e-commerce store, a one-stop-shop of travel essentials with fascinating range of travel products and services

Hosting offline social gatherings for platform users in addition to its social forum.
Mafengwo created a new type of tourism-focused e-commerce with its customized tourism content database. It pairs travel products with pertinent data hosted on the platform rather than providing separate services to let customers take the initiative to buy. 
Within Mafengwo, travelers can arrange all of their transportation needs for the journey. That includes airfare, train and bus tickets, bus passes, and even cruises! 
Mafengwo organizes its hotel suggestions into categories like "dreamy" or "architectural". It's an interesting contrast to other OTA platforms that only list out hotel deals. Depending on the purpose of their trips and personal interests, customers can make reservations for their favorite establishments.
It also covers travel packages, activities, and excursions, along with helping travelers with travel documents.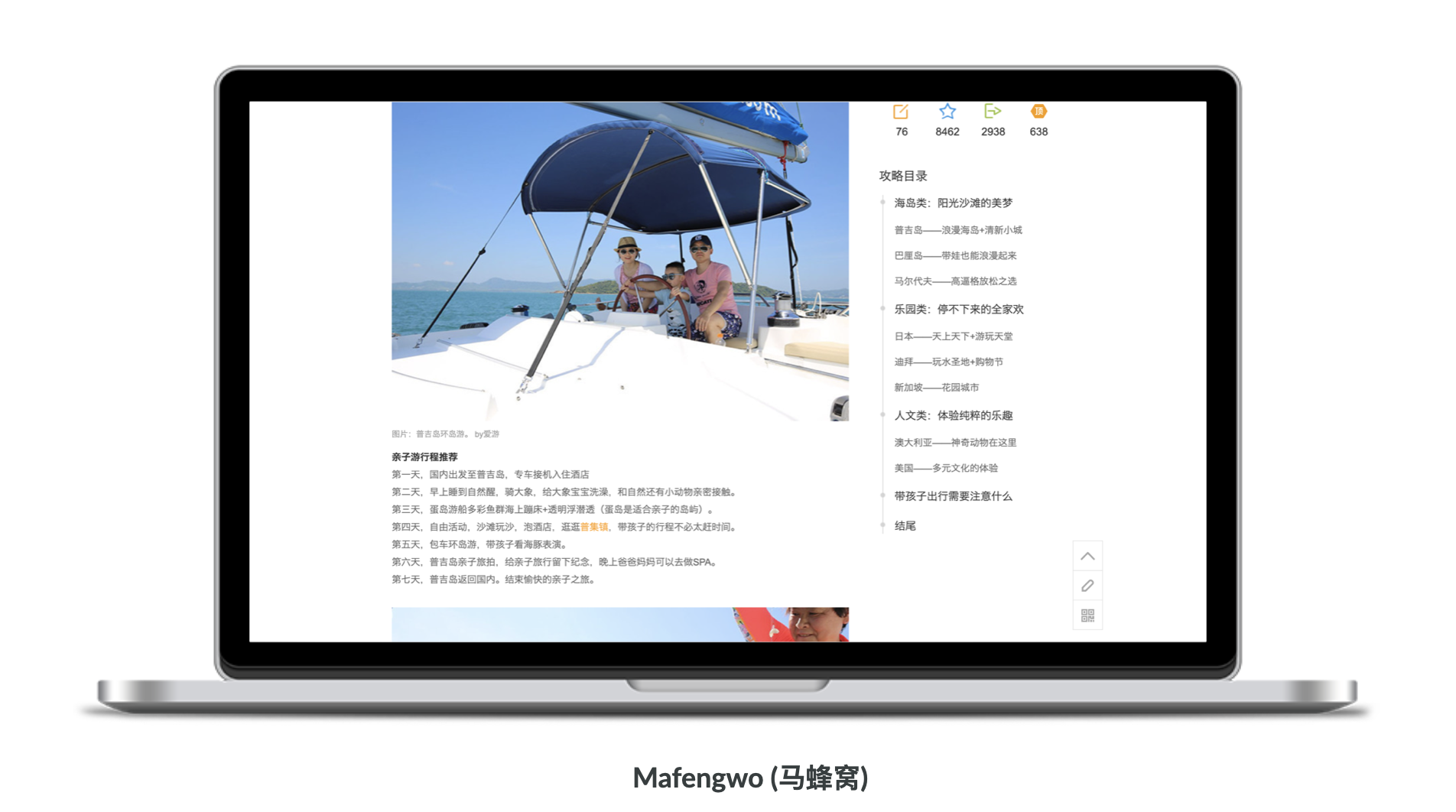 Dazhong Dianping / 大众点评
Dazhong Dianping is a well-known online review and rating platform that covers a variety of businesses, including eateries, hotels, shops, and other neighborhood services. It has been called the Chinese version of Yelp.
With more than 200 million unique mobile users, it bills itself as the first independent third-party consumer review website in the entire world.
Dianping provides information services such as user information, consumer reviews and commercial offers and discounts. It also provides O2O (Online To Offline) services as it combines features of Groupon, Deliveroo, Tripadvisor, and Yelp!
Overseas location can set up their pages their, publish their menus, etc. Chinese travelers can be encouraged to leave their comments and reviews. 
Reasons To Use Dianping As A Marketing Tool
Dianping provides comprehensive travel and lifestyle services.

Businesses can learn how the community feels about their products and/or brands firsthand.

Dianping, WeChat, and Douyin all serve as buzz generators for most aspects of Chinese culture.

KOLs and KOCs level of interaction with companies and goods has a greater impact on other users.

Dianping is a platform where consumers can interact with brands.

Dianping's statistics are self-evident:

15 billion

visits each year. The average daily usage of the app is 13 minutes.
Businesses can learn about the preferences, viewpoints, and actions of Chinese consumers by keeping an eye on the reviews and ratings on Dazhong Dianping. For example, businesses can use Dazhong Dianping to understand which types of food and cuisines are popular in different regions of China, what factors are important to Chinese consumers when choosing a restaurant or hotel, and what types of promotions and discounts are most effective in attracting Chinese customers.
Overall, Mafengwo and Dazhong Dianping can provide valuable insights into the preferences, behaviors, and trends of Chinese audiences. This in turn can be used by businesses to develop effective marketing strategies and improve their offerings.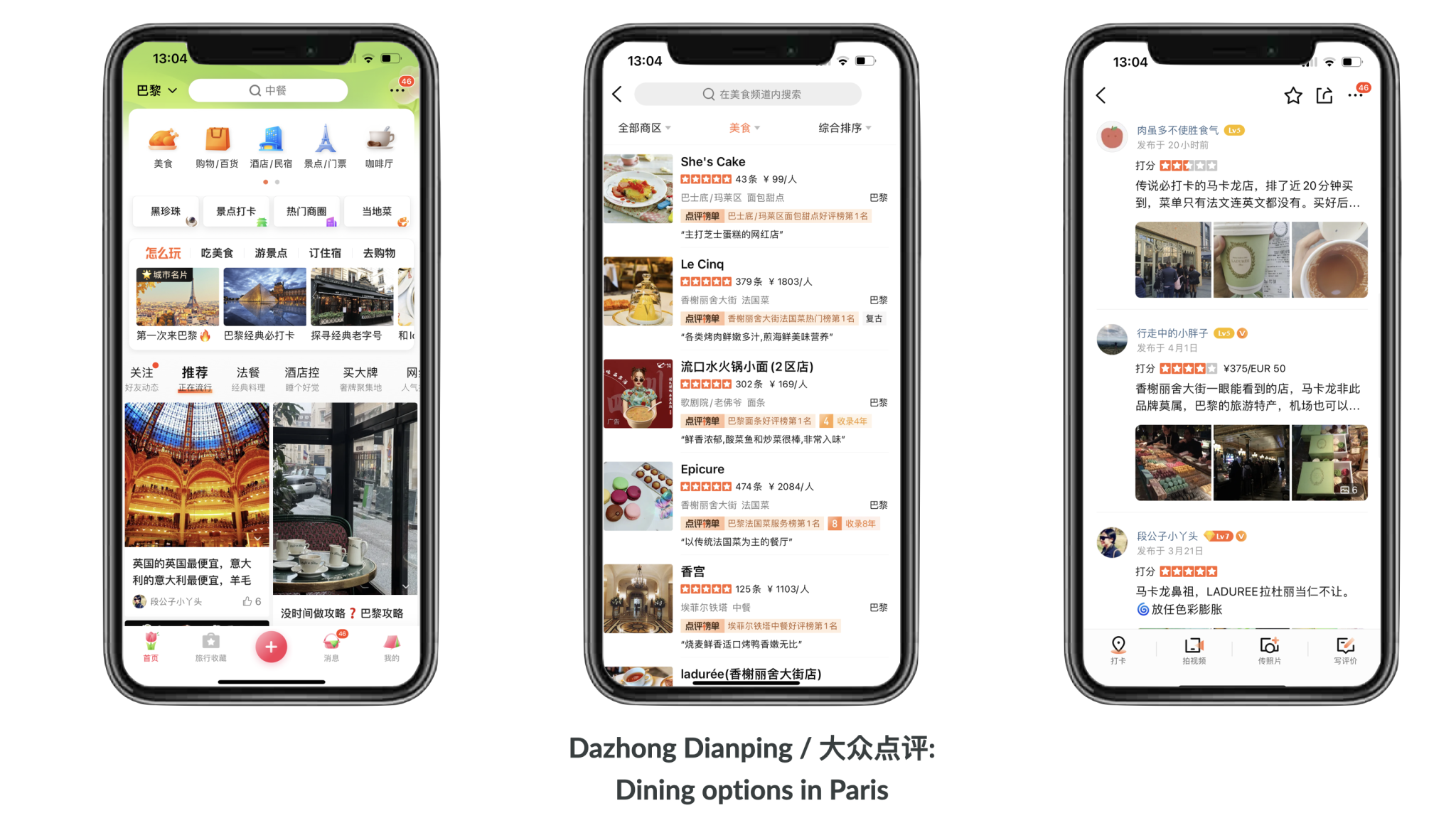 Integration with Alipay and WeChat
Alipay and WeChat are two of the most popular mobile payment apps in China. Only Alipay has 320 million Daily Active Users. Both apps offer a range of features, including mobile payments, money transfers, and other financial services.
In recent years, Alipay and WeChat have also been integrated with a number of travel apps in China. Thanks to that it is much easier for users to make payments and book travel-related services. For example, users can now use Alipay or WeChat to book flights, hotels, and rental cars, as well as purchase tickets for attractions and events.
One example of a travel app that has integrated with Alipay and WeChat is Ctrip. Ctrip allows users to link their Alipay or WeChat accounts to their Ctrip account, so that they can make payments directly from their mobile devices.
Other travel apps that have integrated with Alipay and WeChat include Qunar, Meituan, and Didi Chuxing, among others. These integrations have helped to streamline the travel booking process for users. At the same time, they also make it more convenient for them to make payments on-the-go.
Overall, the integration of Alipay and WeChat with travel apps in China is a testament to the growing popularity of mobile payments and digital financial services in the country. As more and more users turn to these apps for their financial needs, we can expect to see even more integrations with other types of apps in the future.
Conclusion
By leveraging these apps, you can reach a wider audience and increase your brand awareness among Chinese travellers.
Key Takeaway:  However, it's important to remember that cultural differences and language barriers may still exist, so it's crucial to have a deep understanding of the Chinese market and tailor your marketing strategy accordingly.
If you want to know more about the Chinese market, contact our team. We use our knowledge and expertise to help businesses build meaningful partnerships and develop their networks among Chinese customers. For additional information, please contact us at contact@thewechatagency.com.