China's Gen Z has found Xiaohongshu, also known as "RED", to be a distinctive platform that resonates with them in the rapidly changing world of social media and e-commerce. Xiaohongshu stands out for its clever integration of influencer culture and retail. This is what draws in young customers looking for inspiration and authenticity. RED began as a shopping guide for wealthy mainlanders traveling abroad in 2013, but its development has been characterized by seismic shifts. This article will delve into Xiaohongshu's evolution from a cross-border shopping platform to a thriving hub for travel inspiration, highlighting its impact on China's digital landscape and the broader tourism industry.
📕 Little Red Book: Main Functionalities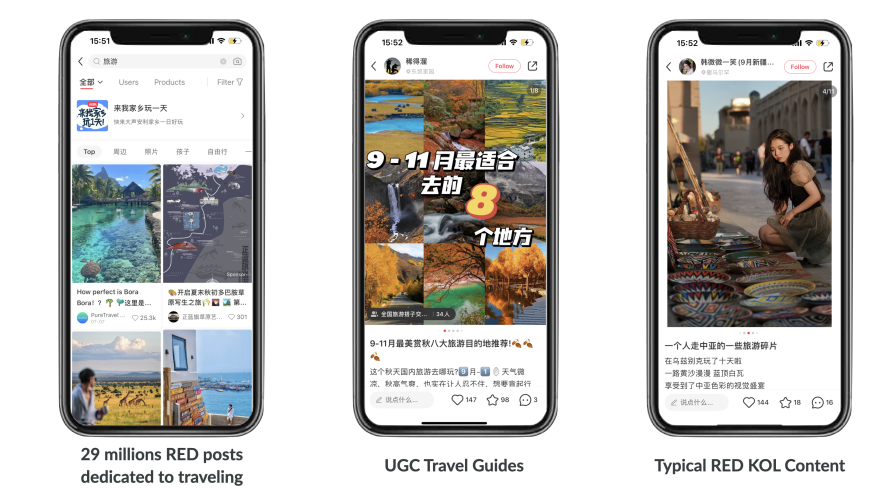 From Shopping Guide to Social Travel Hub
RED embarked on its journey as a shopping guide, providing valuable insights to Chinese travelers visiting international destinations like Hong Kong, Thailand, Japan, and South Korea. Gradually, it embraced a new dimension by acknowledging users' desires to do more than just window shop. The company capitalized on the growing trend of users wanting to purchase products endorsed by influencers and. celebrities. Then everyday consumers started to share their experiences on the platform. This transition led to the birth of a social e-commerce ecosystem, enabling Xiaohongshu to position itself as a pioneer in this emerging industry.
The platform's evolution didn't stop there. Over time, it expanded beyond its initial shopping-focused approach, transforming into a digital haven for travel and lifestyle enthusiasts. The 2020 China Tourism Industry Report revealed that Xiaohongshu had secured its position as the go-to platform for 64% of China's wanderlust-driven individuals. This staggering popularity catapulted Xiaohongshu beyond conventional online travel agencies, underscoring its potential to redefine the market.
🌏 Reaching Chinese Tourists and Top Online Travel Agencies in 2023
AI-Powered Growth and Expansion
Firstly, Xiaohongshu harnessed the power of artificial intelligence and machine learning to enhance content distribution since 2016. This strategic move proved instrumental in captivating the preferences of young consumers, effectively driving the platform's popularity. Two years later, the platform expanded its horizons by launching Puzhen Xiangli, a travel agency rooted in Shanghai. This venture showcased the platform's commitment to becoming a comprehensive travel resource, offering services ranging from travel consulting and hotel management to catering and tourist site operations.
Fast forward to 2023, Xiaohongshu solidified its authority by forging a strategic partnership with Tourism New Zealand. This collaboration, announced during a high-profile event in Shanghai, exemplifies Xiaohongshu's ability to foster alliances that amplify its impact and influence.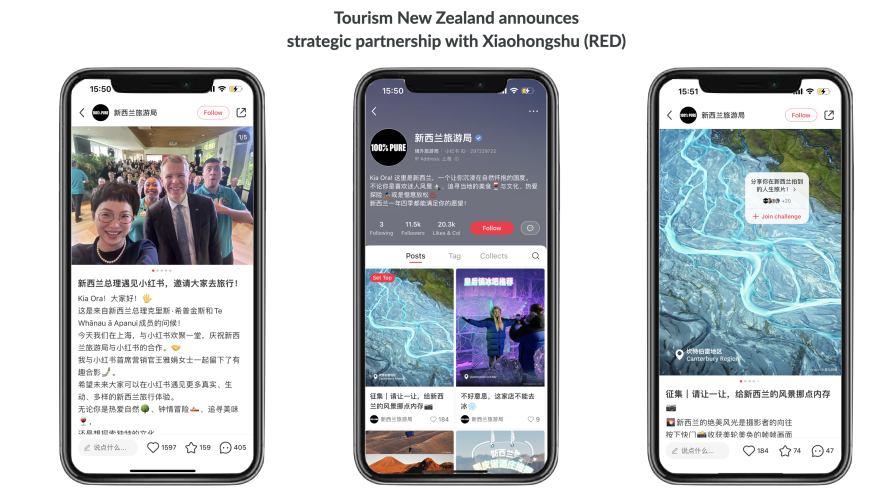 A Catalyst for New Behavior Patterns
Xiaohongshu's influence extends beyond commerce and travel, shaping the behavior patterns of its users. Online travel agencies remain pivotal for trip planning and booking. However, Xiaohongshu emerges as a frontrunner during the pre-planning phase, catering to nearly 40% of travelers seeking outbound experiences. Notably, travel content occupies a significant position on the platform, showcasing remarkable growth alongside beauty-related content.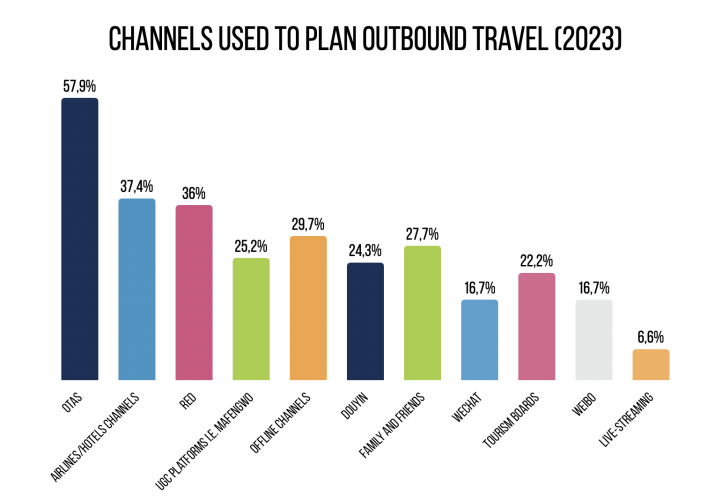 Subsequently, The COVID-19 pandemic catalyzed shifts in travel preferences, favoring short-to-mid-distance trips. In this landscape, Xiaohongshu demonstrated its prowess in driving conversions for lesser-known and budget-friendly travel offerings, reflecting its adaptability and agility.
However, Xiaohongshu is not without its critics. The platform's embrace of user-generated content transformed picturesque locations into influencer magnets, yet this practice also attracted criticism. Accusations of heavily filtered and stylized content raised questions about authenticity. Notably, during the National Day holiday, influencers' images on Xiaohongshu faced scrutiny when compared to real-life experiences. It prompted a candid discourse about the platform's portrayal of destinations.
In conclusion, Xiaohongshu's evolution from a shopping guide to a diverse platform blending commerce, travel, and social interaction demonstrates its user-focused agility. Through AI, strategic alliances, and embracing changing travel trends, it has firmly established itself in culture and commerce. Xiaohongshu's enduring legacy lies in its adaptability, innovation, and bridging digital and real-world experiences.