Today, we will delve into the realm of Ctrip, the largest Chinese Online Travel Agency (OTA) also known globally as Trip.com. To provide you with a deeper insight, let's explore its history and growth.
Firstly, Trip.com Group Limited, known as 携程集团 in Chinese, is a multinational travel service conglomerate with its headquarters in Shanghai, China. Established in 1999, the company is the owner and operator of various travel fare aggregators and travel fare metasearch engines. Notably, these include their flagship service, Trip.com, as well as Skyscanner, Qunar, Travix, and MakeMyTrip. Their online presence extends to approximately 40 languages and spans across 200 countries.
If your destination is already visited or planning to start hosting tourists from China, you have to understand how Ctrip works and how to leverage it to your advantage. This knowledge is crucial for success in the Chinese tourism market.
✈️ Learn more how to Reach Chinese Tourists on China's top OTAs and Social Media Platforms
But first, why is the Chinese outbound tourism market so attractive to Western destinations? The reasons are compelling:
China's Outbound Tourism
Rapid Growth 
China's middle class is rapidly expanding, and their penchant for travel is growing at a remarkable 15% CAGR. This growth is expected to surge further as incomes rise, offering a significant market for outbound travel.

Spending Power 
Chinese tourists are willing to spend generously while traveling, particularly the affluent top 10% who seek prestige and luxury in their experiences, from high-end hotels to fine dining.

Diverse Interests 
Chinese outbound tourists enjoy diverse experiences. Consequently, with a fondness for fine dining and city trips, this presents a golden opportunity for metropolitan centers and gourmet destinations.

Tapping into Ctrip for Marketing Success
For Western brands seeking to captivate Chinese outbound tourists, leveraging Ctrip's digital marketing capabilities is essential. Additionally, Ctrip harnesses big data, AI, and cloud deployments to offer informed marketing services. This empowers brands to connect with potential customers through precise targeting, insightful analytics, and a variety of ad placements at every stage of their travel journey.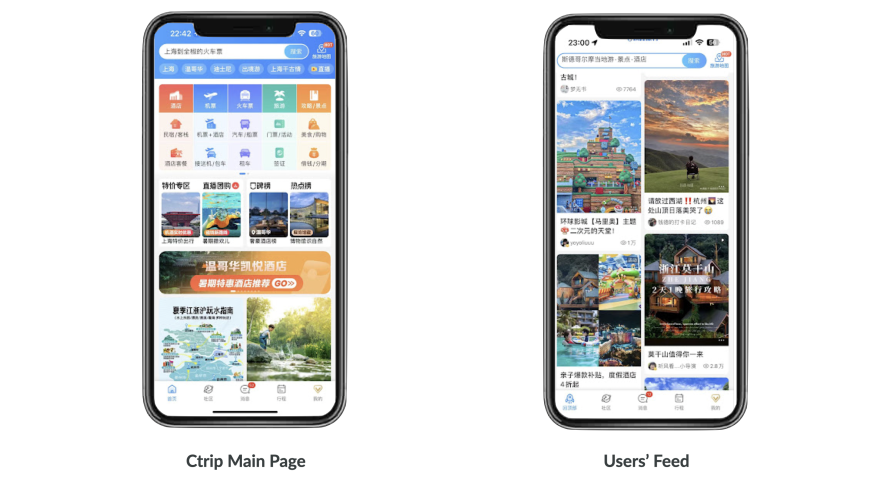 Preparation is Key: Setting the Stage for Success
Before diving into Ctrip's digital marketing realm, meticulous preparation is vital. Firstly, localizing content to resonate with the target Chinese audience, defining a clear target audience, and formulating a comprehensive Chinese channel strategy are foundational steps. Secondly, collaboration with a Chinese marketing firm can hasten this procedure and guarantee successful outcomes and a strategy that resonates with the local culture.
Now, let's explore some of the key features used by Chinese travelers:
Comprehensive Travel Booking: Ctrip offers a wide range of travel services, including flights, hotels, train tickets, vacation packages, and rental cars, etc.
Collaborations & Partnerships: Ctrip has established strategic partnerships with airlines, hotels, and other travel providers, enriching its offerings and securing competitive deals for customers.
Travel Insights & Content: Ctrip provides valuable travel insights, destination guides, and user-generated content to assist travelers in making informed decisions.
Branded Content Formats
Ctrip offers various content formats designed to enhance travelers' decision-making. Moreover, from destination recommendations to inspiring travel stories and timely, engaging campaigns, these formats provide rich, user-friendly information to ensure consumers are equipped with the knowledge needed for unforgettable journeys.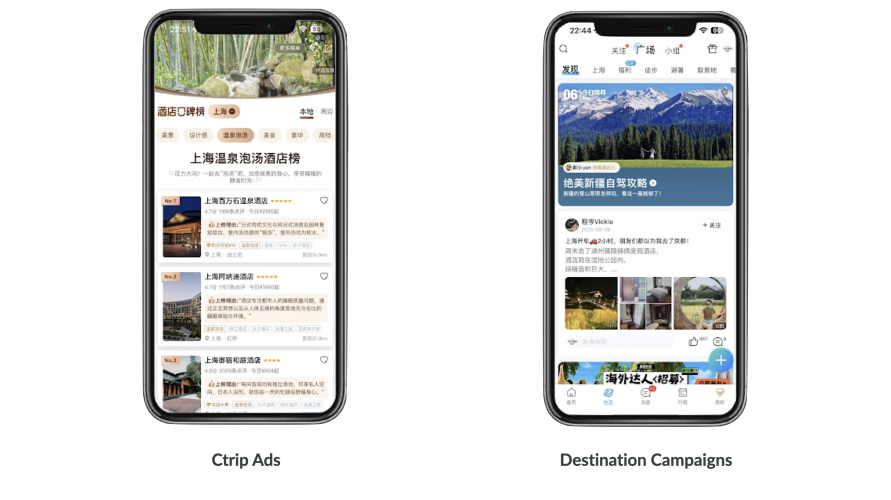 Integration with Other Services
Ctrip offers more than just accommodations and flights. In addition, it includes options for booking local activities, transportation, and comprehensive travel packages. Consequently, tourism brands can integrate their offerings into these packages, expanding their reach.

Integrations with WeChat
WeChat, China's super-app, opens a world of convenience. First and foremost, this dynamic integration enables seamless booking, preview, and VIP community management options directly through WeChat account. Moreover, through this powerful combination, you can effortlessly manage your travel plans and connect with local services.
🌏 Read How Travel Brands Can Leverage WeChat

The Diverse Ctrip Advertising Industry
Ctrip provides a variety of advertising choices that are adapted to the various requirements of Western destination brands:
Displaying a Retargeting Banner


Targeted advertisements based on consumer purchasing patterns for best results.

Integration of Hero Apps:


Working with affiliated apps to use a variety of channels to reach potential customers (see above for WeChat)

Brand placement:


The deliberate positioning of your brand in front of potential customers as they conduct searches

Trip Moments:


Integration into the Ctrip platform provides chances for branded content and easy engagement.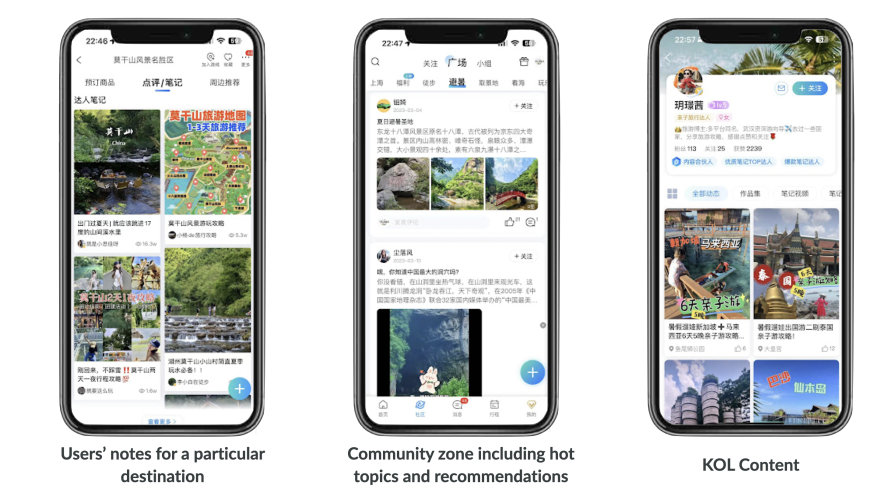 Engage a Chinese Marketing Agency as a Partner for Success
Collaborating with a Chinese marketing agency is advised if you want to make sure that your Ctrip digital marketing campaign is successful. Additionally, their proficiency in navigating the Chinese online marketing environment and in-depth knowledge of Ctrip's dynamics can greatly increase the impact of your campaign and maximize leads for your tourism company.
⛴️ Discover more China's tourism-related articles
Furthermore, embarking on a Ctrip digital marketing journey opens doors to a vast landscape of opportunities in the dynamic Chinese outbound tourism market. The potential is immense. By aligning strategies and leveraging Ctrip's advanced capabilities, Western travel brands can truly make their mark and resonate with discerning Chinese outbound tourists. For further information, please feel free to contact us at contact@thewechatagency.com to learn more.