Every year on March 8, people celebrate International Women's Day to honor women's achievements and raise awareness of gender inequality. The first International Women's Day was observed on March 19, 1911, in a number of European nations. Now, Women's Day is celebrated all over the world now, and China is no exception. 
Let's see how people in China celebrate Women's Day and how it impacts the Chinese market.
Women's Day in China
International Women's Day (IWD) has gained popularity in China due to the extreme transformation of the position of women in Chinese society compared to their traditional societal roles of limited independence and work options. 
In 1949, IWD was declared an official holiday in China, and new laws were passed to give women greater control over their lives, combating old ideas of male superiority. As a result, women gained greater independence, education, and political representation, leading to their recognition as vital contributors to Chinese society. IWD is now celebrated widely across China to recognize and further promote women's progress in society.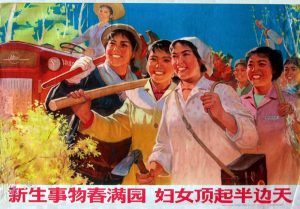 📆 Explore the full 2022 Marketing Calendar
How is IWD celebrated in China?
Chinese companies offer benefits to female employees on International Women's Day (IWD), including time off, flowers and small gifts. Women, companies, and social organizations use the day to raise awareness about issues affecting women, such as sexual harassment, mental health, and discrimination. 
China also celebrates Women's Day by giving women numerous product discounts on and around this day.
The self-care theme is heavily marketed on Women's Day. It is one of the major factors contributing to the enormous sales that are generated on this day every year. With slogans such as 'Treat yourself' or 'Happy Goddess Day', brands want to inspire purchases. However, there are more and more voices contending that IWD shouldn't turn into just another shopping holiday. Instead, it should concentrate on addressing issues of health, safety, and domestic violence, which are still major issues in China.
How International Women's Day affects the Chinese market
In China, women are in charge of more than 70% of household purchases, including those for luxury goods, everyday items, and online shopping, according to a report by Alibaba.
China now boasts the third-largest female consumer market in the world, behind the US and Japan. Women's rising purchasing power is one of the major factors contributing to China's economy. Sheconomy will play an even more important role in the coming years.  Therefore companies increasingly emphasize the value of appealing to female customers.
For e-commerce platforms, International Women's Day is a significant marketing occasion because it coincides with the introduction of fresh spring products with the "3.8 Festival." E-commerce platforms can use the 3.8 Festival as an opportunity to market to women by providing exclusive discounts and promotions on goods that are catered to their interests and needs.
Aa growing number of Chinese women choose a single lifestyle over marriage, particularly millennials and Gen Z. These trends are affecting the Chinese market and economy as well. For example, online female shoppers reached 581 million by 2022. Nearly half of their purchases were in the beauty, skincare, and makeup sectors, according to Questmobile's 2022 report on the "she economy".
Top eye-catching campaigns for Women's Day in China
Some brands have really developed a meaningful connection with their female consumer base. Those are the ones that offer a deeper message and seek to empathize with the gender inequality and social expectations that women face. Some of the campaigns from such brands are:
Tmall Super Brand Day:
Tmall Super Brand inspired women with a novel poem that included 26 brands in alphabetical order. The "Wǒmen are women" campaign's main focus was on women's feelings toward specific brands.
The campaign involved about half of the brands that took part in Tmall's Super Brand Days. The purpose of the poem and video was to inspire women to develop their own "super brand" that reflected their unique spirit and personality. 

Perfect Diary 
For the Perfect Diary campaign, the brand interviewed female celebrities who had all experienced gender stereotypes in their lives. However, they didn't let these inhibit them from following their dreams. Yamy Guo, a member of the girl group Rocket Girls 101, joined the campaign. In the past, she received flak for not meeting expectations of stereotypical female beauty.
Her experience brought to light China's absurd beauty standards. Instead online users praised her and noted that she is unique because of her appearance.
The video gained over 6.4 million views on Weibo. It also included Yang Li, a comedian known for her anti-patriarchal comedy. Hui Ruoqi, a former captain of China's women's volleyball team, was one of the campaign heroines as well.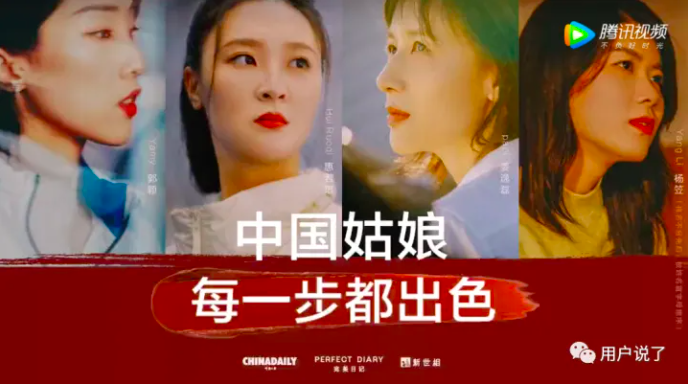 Florasis
One of the hottest C-beauty brands, Florasis, took on a very unique approach. The brand launched a video campaign that examines how women deal with various mental health issues in modern society.
At the same time, the series featuring five women looked at different skin issues. By the end, it unveiled a new product called Florasis Balance Liquid Foundation.
The campaign, which celebrated the upcoming International Women's Day also assisted to boost sales of its new product. Thanks to the brand's well-liked livestream sessions, did both by amplifying this message through personal stories.
Net-A-Porter 
Luxury e-commerce Net-A-Porter launched a campaign film The Remarkable Day. The video highlighted various memorable moments throughout a female's life, such as a wedding or pregnancy.
In China's luxury market, Net-A-Porter was an early adopter of female marketing. The e-tailer has collaborated with several female celebrities over the last two years to engage its independent and expanding female customer base.
For its International Women's Day campaign this year, Net-A-Porter highlighted well-known Chinese fashion houses that are likely to draw younger consumers away from social media sites and into its flagship Tmall store and WeChat marketplace.
L'Oréal
For its "I Say I'm Worth It" campaign, L'Oréal worked with a variety of Chinese celebrities. The list included Ouyang Nana, Gong Li, Ju Xiao Wen, Xin Zhilei, and Daniel Wu.
The actors discussed their personal experiences and ideas about female empowerment. The collection of short films inspired women to take on life's challenges and figure out their own personal values.
The campaign demonstrated the company's in-depth knowledge of Chinese femininity by using role models from a variety of life stages and professions that connected with the brand's larger female customer base.
Neiwai
March last year, the Chinese lifestyle brand Neiwai debuted the final phase of its No Body Is Nobody campaign. 
The initiative began in February 2020 with a series of documentaries looking at the diversity of female bodies. Podcast series last year that covered a variety of feminism-related topics followed.
In order to commemorate the brand's tenth anniversary, the campaign's final installment featured five of the company's female customers. The ladies shared their own individual journeys over the previous ten years.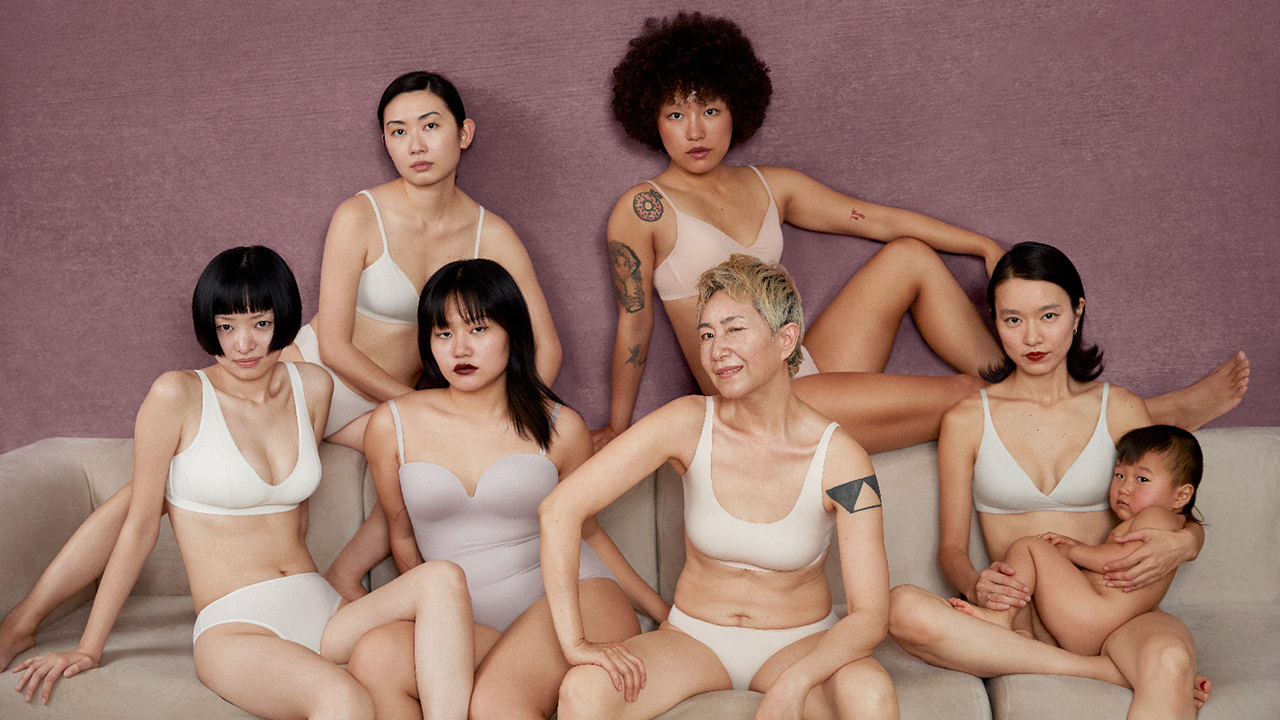 How can brands improve their Women's Day campaigns?
Firstly, brands should focus more on showcasing the strength and accomplishments of women in 2023. The discussion around IWD is bigger rather than just offering discounts and promotions to better target female consumers. 
Brands can attract and engage female consumers who are passionate about these issues by developing campaigns and topics that advance gender equality and women's empowerment.  
This may entail collaborating with organizations that champion women's issues or producing content that highlights the achievements of women in various professions.
Secondly, for female customers, brands should aim to create individualized and tailored experiences. This can involve providing specialized product recommendations, individualized customer service, and special access to activities and discounts.
IWD is a great day for brands to forge a deeper emotional bond with their female consumers. If done correctly, it can increase loyalty and long-term customer relationships. Brands can achieve that by demonstrating that they comprehend and value the particular needs and preferences of female consumers.
Conclusion
IWD is celebrated widely in China to recognize women's progress in society. Meanwhile, it serves as a significant marketing occasion for businesses to appeal to the country's growing female consumer base. In recent years, it became an occasion for brands to discuss important societal topics related to women's daily life. In conclusion, it's a great time to connect with female consumers in a meaningful way.
🏮Explore our page dedicated to the most important festivals in China
If you want to know more about the Chinese market, contact our team. We use our knowledge and expertise to help businesses build meaningful partnerships and develop their networks among Chinese customers. For additional information, please contact us at contact@thewechatagency.com.