CRM or even sCRM is not something completely new. However, when store foot traffic dropped dramatically when the pandemic first appeared in China, brands were no longer able to rely solely on their offline sales. This pushed brands to step up their game and drastically improve their presence online. We can say that even though Chinese audiences were no strangers to private traffic before, COVID-19 really boosted this phenomenon. Clienteling, especially with the help of WeCom (previously WeChat Work), became one of the biggest trends in Chinese retail but B2B can leverage it just as well. 
Learning and understanding consumer data, user journeys, and content consumption patterns are very important for a successful marketing strategy. This is where customer relationship management (CRM) plays an important role. CRM can help connect brands with their customers. With more users becoming selective about what they read and view, it is crucial for brands to have a solid CRM strategy.
There are two types of CRM, 
The traditional CRM 

The social CRM or sCRM
Traditional CRM includes mails, emails, phone calls, etc whereas sCRM is customer relationship management through social media platforms like WeChat in China.
To learn more about WeChat CRM, as well as how to begin using WeChat for marketing, continue reading.
Advantages of CRM
Before going deep into the world of WeChat CRM, let's see the advantages of using CRM in the first place. How it actually adds value to your business:
CRM systems enhance better customer service

Helps to identify new potential customers

Helps to scale up the business

Simplifies marketing and sales process

Improves the customer loyalty

Provides detailed analysis of customers

Helps to observe the most resonating topics and adjust content strategy accordingly
CRM in China is different from Western CRM. So, it's a great option to choose WeChat CRM for businesses that are targeting Chinese customers. WeChat is more than just a content-pushing platform. Brands can really improve their interaction with their followers – clients or potential leads – thanks to a deeper understanding of their preferences and behaviors.  
WeChat sCRM
WeChat CRM is a powerful way for brands to connect with Chinese consumers, but it can be difficult to get started. CRM platforms give customers a user experience that goes beyond an impersonal buyer-merchant relationship. This leads to better conversion rates and more potential customers. 
WeChat generates data whenever a user interacts with a brand. The data gives a picture of a customer's platform behavior because it includes information on the content checked and interacted with. The data also provides useful information on how a customer interacts with a brand on WeChat. However, as every marketing manager working on WeChat and checking the backend is aware, the data offered by WeChat is very limited. 
We can only see the follower's avatar and display name (not a WeChat ID)
We only get overview data like age, gender, location, system
There is no way that we can connect this information by using only WeChat's built-in functions
It's possible to create tags and segregate followers manually however it's a very laborious task. Based on that we can also do a very simplistic targeting when we publish a new article but only limited to country, gender, or our own previously created groups.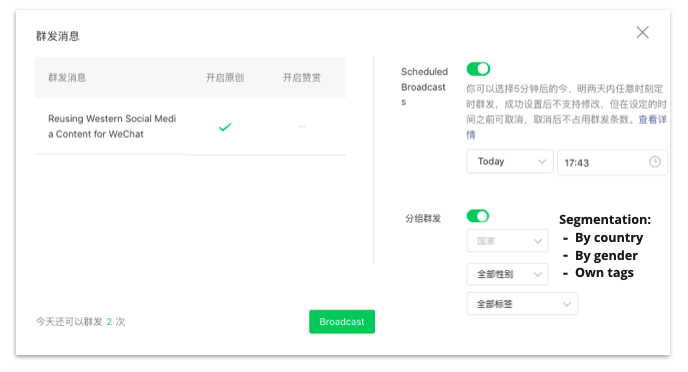 Upgrade your WeChat presence
It's a very different situation if we connect a sCRM API with our WeChat account. A brand can more effectively engage customers on WeChat thanks to the data produced by the customer's WeChat activity. Through the use of sCRM platforms, businesses can create campaigns and strategies that are more specifically aimed at high-value leads. In the end, this increases conversion rates and results in satisfying user experiences.
🇨🇳Before proceeding with any sCRM integrations on WeChat, make sure to be aware of the latest China's latest Personal Information Law.
How to integrate CRM into WeChat
Integrations in WeChat are not the same for all brands. Brands have to understand their business needs to pick the best tool that works for them. These will not be the same for B2C or B2B brands. While lifestyle brands will focus more on selling through WeChat, B2B brands are more likely to leverage WeChat CRM to generate and collect leads. E.g. brands that have offline shops and offer WeChat payments to their clients will be able to connect the store data to their WeChat. 
💼10 ways for a B2B brand to generate leads on WeChat
Target audience plays a huge role in determining the best integration tool based on their demographics, technology usage, and more. By knowing your audience, brands will be able to make better-informed decisions about their integrations. 
It's worth mentioning that only service accounts can use API and 3rd party tools to do segmentation.
Salesforce and WeChat
Many foreign companies entering the Chinese market already had rich databases on Salesforce.
Now, they can also link it with WeChat as it's optimized for China. Salesforce allows tracking not only article interactions but also menu clicks, mini-programs logs, and more. There are some challenges to connecting both but it can be very rewarding and optimize user experience for your followers in the long run.
For example, Salesforce has some more advanced functions than Hubspot.
Other integration tools for WeChat
Here are some of the other WeChat integration tools available on the market with locally-developed solutions:
Youzan 
Youzan offers a simple data analytics system and a user-friendly WeChat library for managing shop operations. With almost 100 different tools to improve the user experience, this platform was specifically designed for WeChat. For businesses looking to sell products, Youzan is a good option.
Key features: 
Order management system for WeChat shops

Able to connect to Weibo

Simple WeChat backend operation

Schedule posting time

Auto-reply feature for  web page articles
Drip 
Drip has seamless integration with Wechat and a user-friendly backend. You can easily integrate WeChat accounts with Drip for customer management, posting articles, managing QR codes, and other basic functions.
Key features:
Personalized campaigns

Basic WeChat backend functions

HTML5 slides

API is flexible

Receive customer messages directly on WeChat
Parllay 
Parllay manages clients with thorough profiles, and provides client analysis, precise group messaging, and multiple enterprise APIs. It's a platform that focuses on big data and is an expert at spotting significant data trends. It has numerous e-commerce integrations like QR-based checkout and payments.
Key features:
Tracks WeChat user behavior effectively

 WeChat QR code tracking

Multi-channel engagement

User tag automation

Predictive segmentation
Conclusion:
CRM can be a little daunting and finding the best solution is hard as there is no one size fits all. It is very important to understand your brand needs and pain points to choose the best one out there. Social CRMs are popular now and WeChat CRM is very crucial for any business that is entering the Chinese market. It helps to manage WeChat contacts and marketing activities effectively. Your brand can experience higher conversion rates and be in a position to always stay ahead of the competition by fully understanding WeChat sCRM.  
If you want to add a CRM integration to your WeChat account or wish to know about other marketing techniques in China, please contact our team. We use our knowledge and expertise to help businesses build meaningful partnerships and develop their networks among Chinese customers. For additional information, please contact us at contact@thewechatagency.com.