It's a really great news for all WeChat users and content creators. WeChat, the ever-popular social media platform, has finally shaken things up by adding a brand new format called the 'Image Message.' For years, WeChat's default post formats remained the same and included mainly long-format articles, (single) picture and video posts. WeChat long-format articles, which are similar to blogs or newsletters, are the predominant format of content on WeChat. However as many creators are well aware, preparing the copy and then beautiful layout for these, takes time and effort. The 'Image Message' format is a breath of fresh air, allowing creators to have fun and experiment with a new, refreshing canvas.


There are multiple reasons why Tencent decided to introduce this new format. First of all, it is perfectly in sync with users' fast-paced reading habits, promoting more direct message communication. Think carousels on Instagram and RED (Xiaohongshu), but now on WeChat. WeChat users already got a taste of that with carousel posts published on WeChat Channels but never before on official account itself. Secondly, long-format articles demand considerable time and effort from brands and while they will still be the king on WeChat, lifestyle brands will certainly employ 'image messages' more and more often.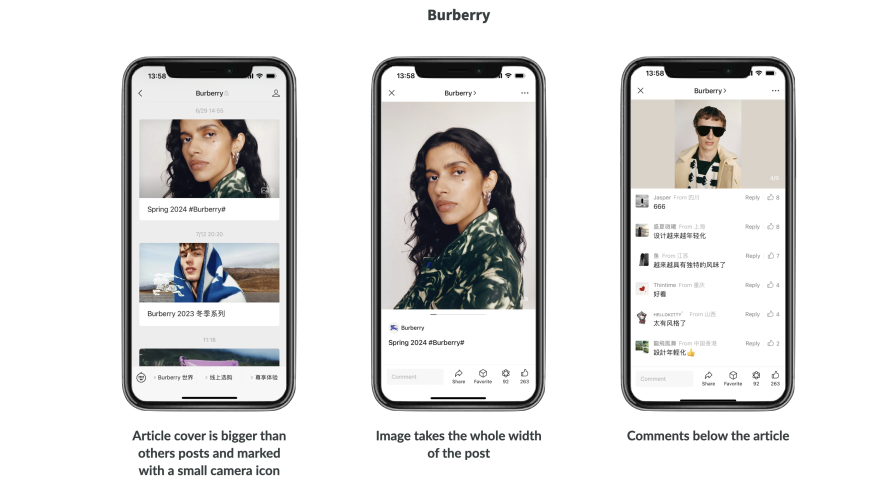 Game Changer for Content Reusing
For many Western brands entering WeChat producing long-format posts on a weekly basis is a challenge. 'Image message' feature is a great addition to the WeChat toolbox and it is especially useful and exciting option to finally reuse short content from Western social media like LinkedIn and Facebook in an easy and fast way.
🌏 Tips for Reusing Your Western Social Media Content for WeChat
While we do not recommend to use it all the time, it's definitely a great format when pictures speak for themselves. Since it's a relatively layout, we suggest to use is in experimental mode and observe your audience reactions to it. After all, each and every brand community is unique and has its own taste and preferences when it comes to content consumption.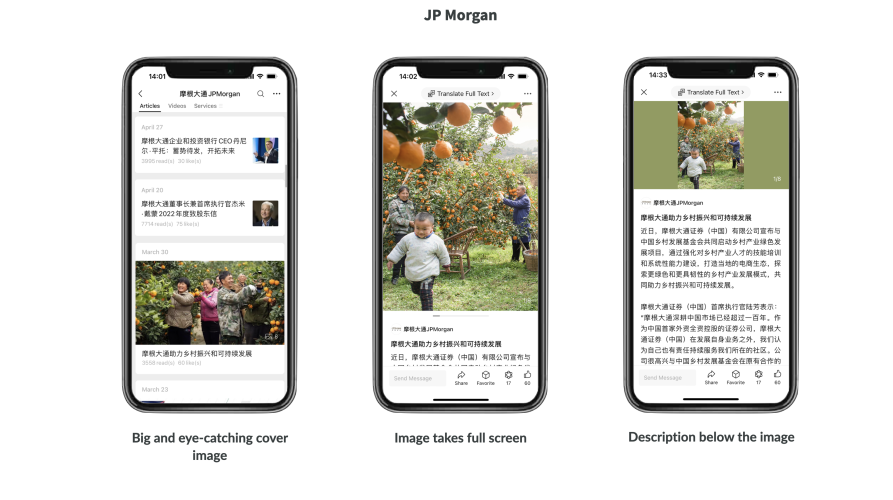 Image Message – Technicalities
Publishers can feature up to 20 images or a video/GIF, with text playing a supporting role. It's a dynamic way to capture attention and engage your audience like never before. Creators can also link to articles posted on their official accounts to dive deeper into topics.
Up to 20 images or GIFs
3:4 picture ratio is the best
The system will automatically fill the pictures with different ratio with the corresponding background color
Picture size below 10MB
GIF max. 300 frames
Post title word count below 64 characters
Description copy word count below 1,000 characters
Can add links to WeChat articles, mini-programs or locations
From the reader perspective, the presentation of 'Image Messages' in the official account feed is slightly more eye-catching than regular content. Cover images of image messages are now bigger and bolder, naturally drawing more eyeballs and curiosity.
"Image message " has a larger image screen proportion of 16:9 compared to regular single post cover image  which  is 2.35:1
The first image from the article will be automatically set as the cover image but you can also choose to edit the cover and replace it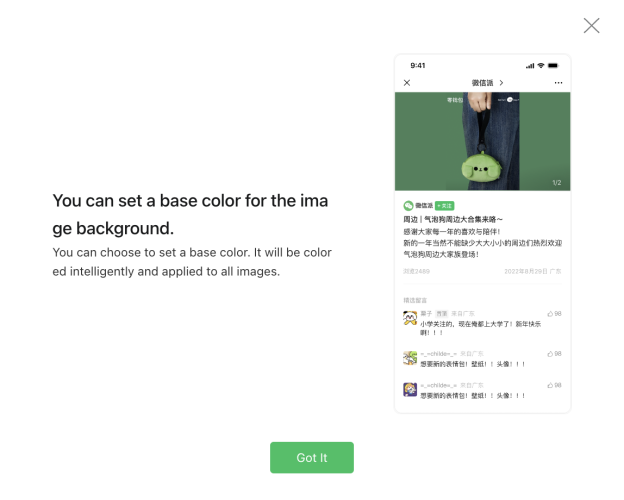 'Image Messages' unlock a whole new level of content possibilities and creativity. Embrace the change, dive into creativity, and get ready to dazzle your audience like never before on WeChat!