WeChat Channels: In today's digital age, social media has become an essential part of our lives. From personal to professional use, we all use social media platforms to connect, share, and grow. One such platform that has gained immense popularity in recent times is WeChat Channels. Channels are one of the most important features that Tencent plans to invest in this year. We wrote more about it in WeChat Channels: An In-Depth Look at the Statistics and the Future Plans.
One of the key features of WeChat is that it can be accessed both from the mobile and desktop levels. While the mobile version is ideal for content creators who want to create and share content on the go, accessing Channels through the desktop version offers more functions and a clearer overview of statistics.
Some of the key channel statistics that WeChat provides are follower metrics, message data, engagement metrics, average open rates, location and demographics, and content performance. WeChat's channel statistics provide valuable insights for businesses to track their performance and make data-driven decisions to optimize their marketing and engagement efforts on the platform.
Let's dive deeper into this to understand how the WeChat Channels backend works to take the utmost advantage of the platform for different business needs.
You can access it at: https://channels.weixin.qq.com/
WeChat Channels Backend Homepage:
One of the key features of WeChat is its desktop-level functionality, which allows users to schedule the publication of posts and view important daily data.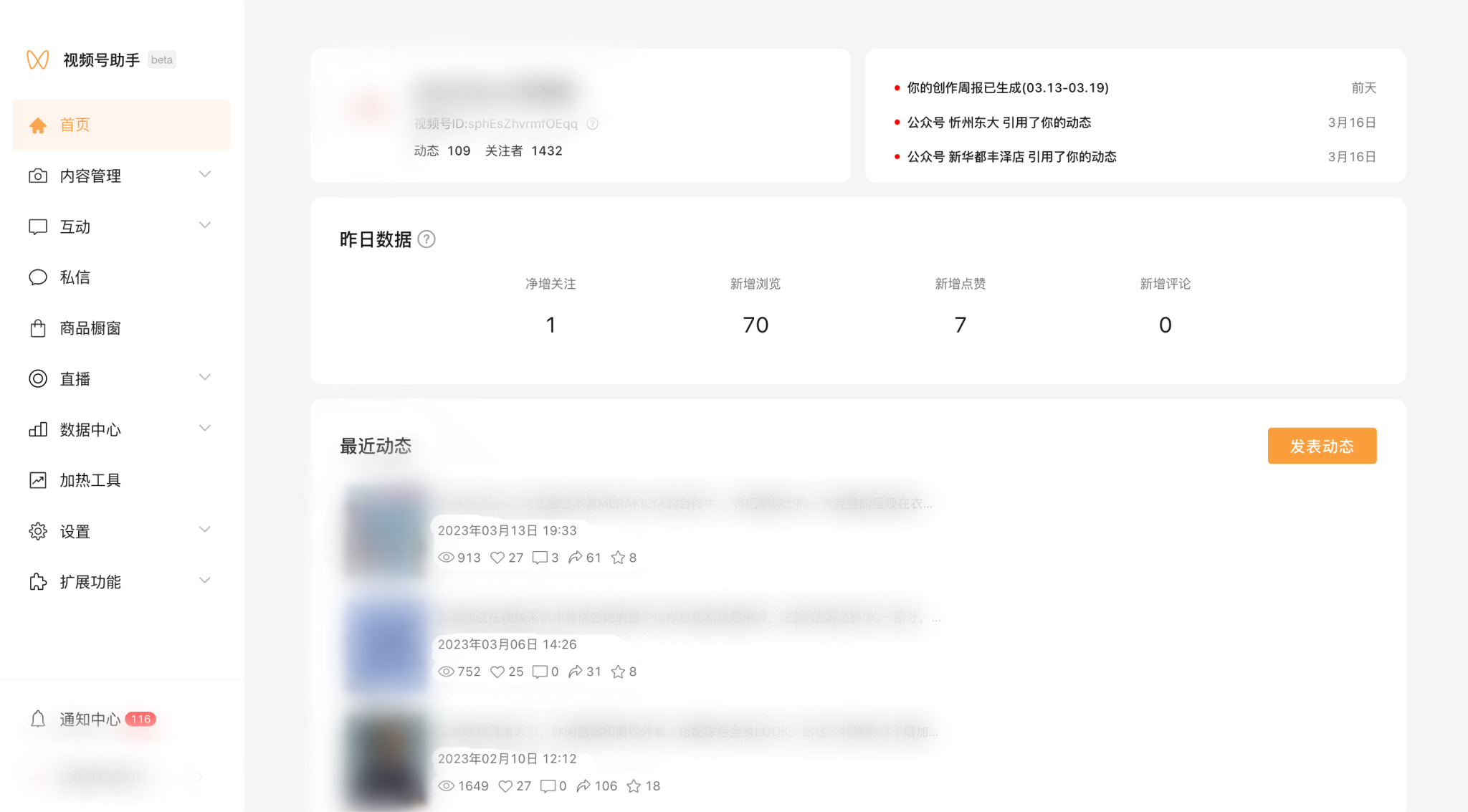 Upon logging into WeChat, users can see the most important daily data from the previous day. This data includes key statistics such as the number of views, likes, and comments on recent posts. This information is useful for businesses and individuals who are interested in tracking the performance of their content on the platform.
In addition to viewing daily data, users can also schedule the publication of their posts directly from the desktop. This functionality allows users to plan and prepare their content in advance, which can be particularly useful for businesses and individuals who want to maintain a consistent posting schedule.
WeChat Channels Content Management:
Preparing and scheduling social media content can be a time-consuming task for content creators. On the desktop backend of WeChat Channels, brands have the ability to prepare their posts and schedule them for publishing at a later time. This includes the ability to upload videos or create carousels of images, write engaging copy with relevant hashtags, add location tags, and schedule the post for a specific date and time.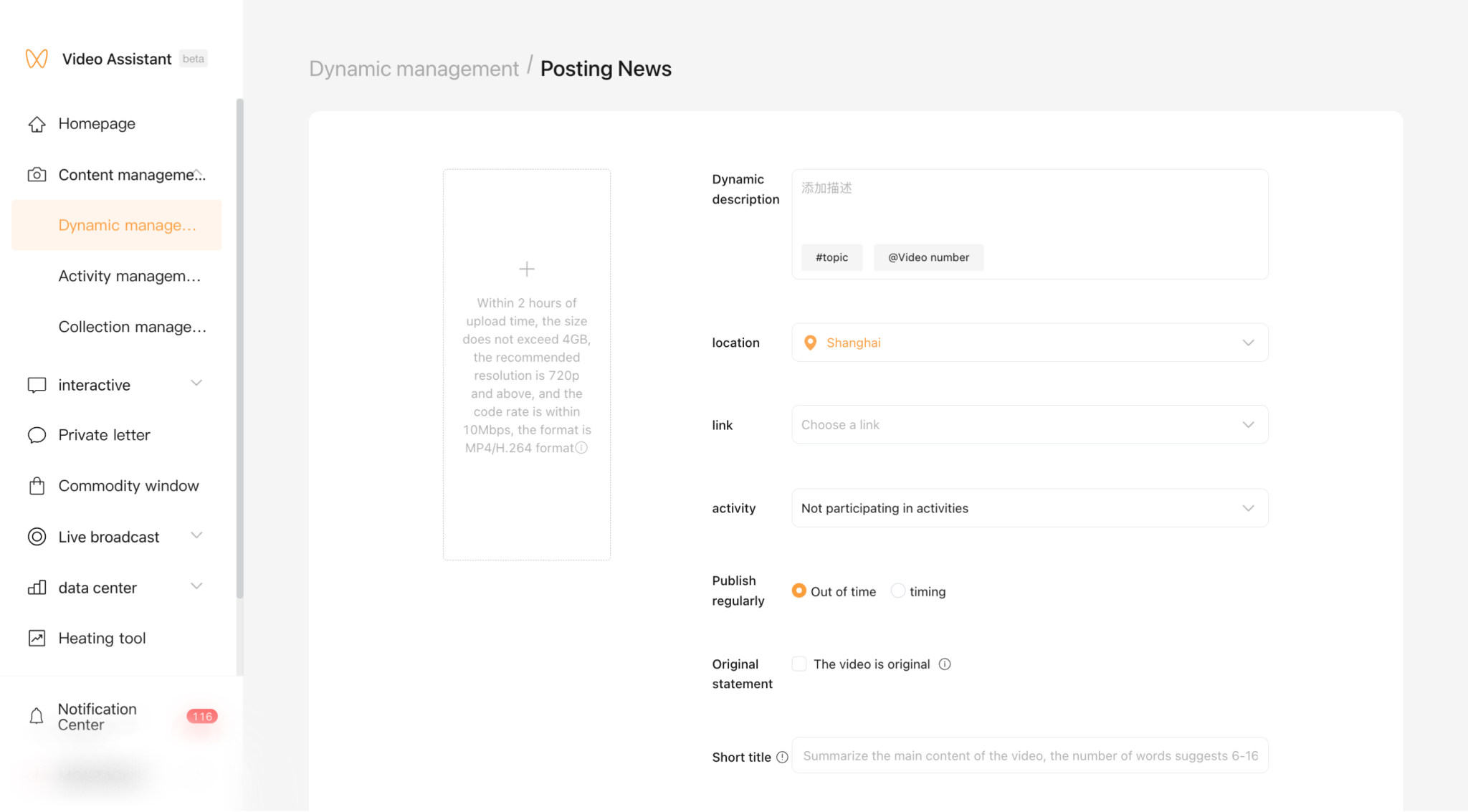 In addition to these key features, brands can also add a short title for SEO purposes, helping to optimize their post for WeChat search engine and improve its visibility for the Channels algorithm. By carefully crafting the title and post description along with hashtags, content brands can increase the chances of their post being discovered by users who are actively searching for related content.
🏆 Explore top practices for WeChat Channels posting in WeChat Channels – How to Post for Success?
WeChat Channels Data:
The statistics page is where the most important information sits. We have access to all the data, including followers' data, demographics, and post data. 
Firstly, we can see changes in the follower base. 
It is worth noting that following the WeChat Channels account requires a separate action to follow. As of now, official accounts where brands post articles although can be linked in many ways do not share the follower base pools.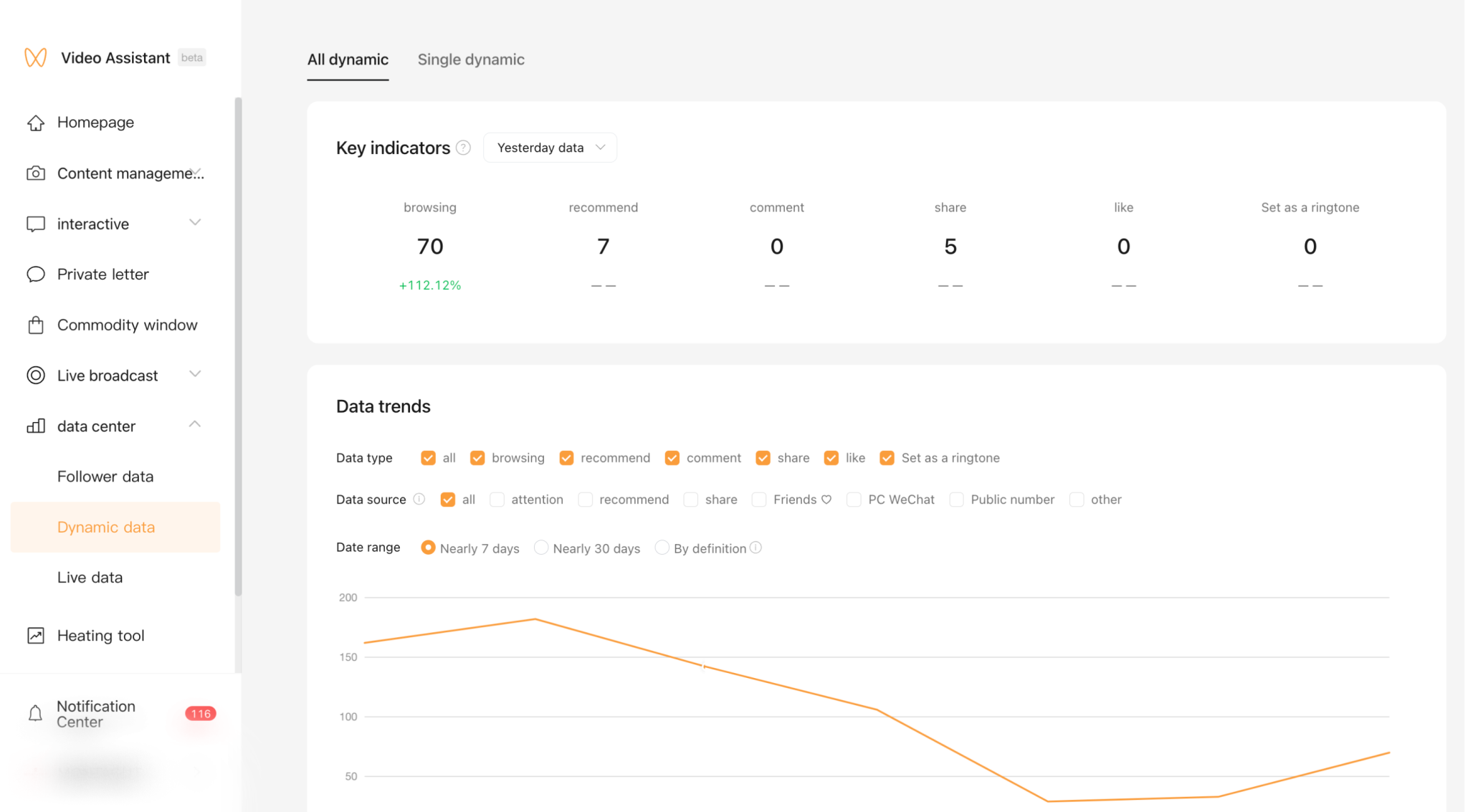 On this page, we can track changes in the follower base by different time ranges and actions performed. We can also see our followers' demographics, such as gender, age, location, and system used.
Secondly, we can see data regarding our posts. By day and time periods, we can see total views, engagements, and source of traffic. 
For each unique post, we can see: 
Completion rate

Views

Average playtime

Engagements such as likes, recommendations, comments, shares

Set as ringtone
 These data points help content creators to understand what kind of content is resonating with their audience. This way they can optimize their strategy accordingly.
Other functions of WeChat Channels desktop:
In addition to the above data points, the WeChat Channels backend also provides other important functions. For example, live-streaming, e-commerce, comments, and private message management. These features can be linked with WeCom, WeChat's enterprise communication and management platform. The heating tool is another useful function that allows content creators to boost views and increase exposure.
Live-streaming: WeChat allows users to live stream videos from their desktop. This feature can be used for personal or business purposes, such as conducting online workshops, tutorials, and product demonstrations.
🎥 Learn more about WeChat Channels Livestreaming in one of our most popular blog posts
E-commerce: WeChat has a built-in e-commerce platform that allows businesses to sell their products directly on the app. It allows for a seamless and instant shopping experience.
Comments and private message management: WeChat's desktop backend allows users to manage their comments and private messages more efficiently. This feature can be used by businesses to improve their customer service and respond to customer inquiries more quickly.
Heating tool: WeChat's heating tool is a feature that can be used by businesses to boost their views and increase exposure. This feature can be used to promote a business or product to a wider audience.
Explore our Beginner's Guide to WeChat Channels
Conclusion
:
In conclusion, the WeChat Channels backend is a powerful tool that provides valuable insights and statistics for content creators to analyze their performance and optimize their strategies. By leveraging this information, content creators can understand their audience better and tailor their content to engage and grow their followers. With the help of additional functions such as live-streaming, e-commerce, and heating tools, content creators can further enhance their presence on WeChat and achieve their marketing objectives.
If you want to know more about the Chinese market and how we can help create successful WeChat campaigns for your business contact our team. We use our knowledge and expertise to help businesses build meaningful partnerships and develop their networks among Chinese customers. For additional information, please contact us at contact@thewechatagency.com.