Live streaming is the new Holy Grail for brands and businesses that are constantly looking for new methods to better engage their customers. This allows businesses to better understand their customer preferences, which aids in sales conversion and increases brand awareness. 
WeChat is a great medium for getting to know your customers and providing them with a variety of content that keeps them engaged and connected to your brand.
In this article, let's look at another type of content to broadcast within the WeChat ecosystem beyond the WeChat Article and WeChat Channels video feeds: live streaming on WeChat. Tencent offers two different ways to stream live video: 
Through own mini programs' integrated live streaming capability,
WeChat Channels' built-in feature.
Brands that decide to use their own mini-programs to live stream have more flexibility when it comes to the live stream format but on the downside, these sessions won't be discoverable on the growing Channels tab. Tencent has ambitious plans for Channels as it was highlighted during the Weixin Pro class earlier this year with already more than 450 million Daily Active Users. 
In the last couple of months, we've seen WeChat boosting its live steaming feature by providing brands with more ways of promoting their live streams and increasing the number of touchpoints where users can discover them. WeChat Channels accounts' main page even shows how many live streams each account hosted.
In our blog post today we will focus on how to live-stream using WeChat Channels. 
What Are the Benefits of Using WeChat Channels Live Streaming?
WeChat live streaming is a new feature that allows you to live stream videos directly from your WeChat account. It's an amazing tool for businesses and individuals who want to get their content out into the world and engage with their audience. Here are just some of the benefits of using WeChat live streaming:
It's easy to use. Unlike other streaming platforms, WeChat has an intuitive interface that makes it easy for anyone to create a live broadcast.
The platform is free and easy to access on any device (desktop, laptop, tablet, or mobile). You can even access it from multiple devices at once.
Businesses can learn about the feelings of the audience right away by looking at their comments and reactions. They can also get honest customer feedback in real-time.
Learn what matters to customers when it comes to product selection.
Brands can reach a larger audience with less effort than ever before.
Companies can increase brand awareness and build a loyal fanbase.
Accounts can seamlessly incorporate e-commerce into their live streams and conserve with the clients. 
Top Live-Streaming Formats & Approaches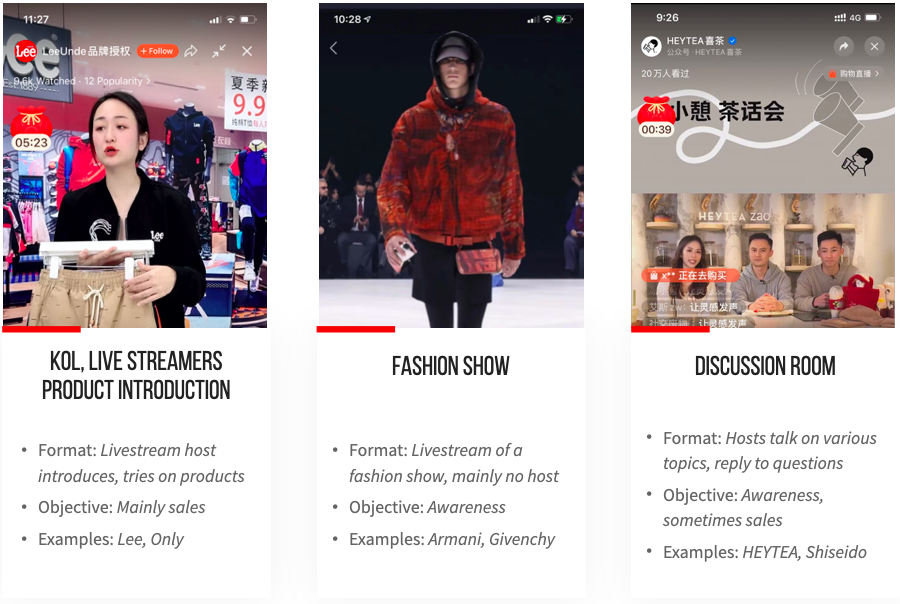 Format: The host of the Livestream introduces and tests products.
Objective: Mainly to drive sales
Examples: Lee, Only
Format: A Livestream of a fashion show, with no host for the most part.
Objective: Awareness
Examples: Armani, Givenchy
Format: Hosts speak about various topics and respond to questions
Objective: Awareness, sometimes sales
Examples: HEYTEA, Shiseido
Livestream – Discovery: How Do Users Find Out About Live Streams?
Users can learn about your live streams in a variety of ways, including:
A brand can add a plate informing about the upcoming live stream into the article. 
WeChat displays a red dot and the name of the account that is currently live-streaming on the 'Discover' page.
The streams of subscription accounts are promoted within the subscription folder with the currently streaming accounts encircled in red.
A button to 'reserve' (be alerted) when the live stream begins is included in all accounts.
On the main channel page of WeChat Channels that are now streaming, there is a tile displaying the stream cover.
Brand zone when searching for the brand through

WeChat Search

.

And potentially more to come.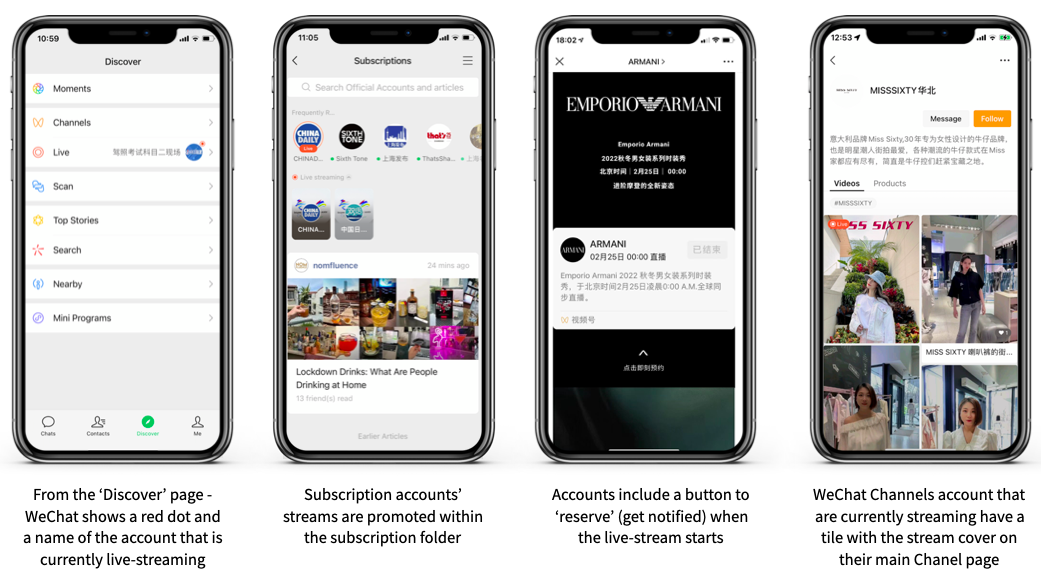 💬 If you are new to WeChat Channels you might want to get more familiar with the best tactics and grow your fanbase before organizing your first live-streaming sessions: WeChat Channels – How to Post for Success? 
Notable Livestream Features
Livestream – Purchase Path: When visitors enter the live-stream room, a floating window displays on the screen with a link to a direct e-commerce product page. By clicking on the 'shopping bag' icon, users can browse additional products. Users can look up additional information about a product and add it to their cart, or they can buy it right away and pay.

WeChat Channels Live Streaming Purchase Path

Livestream – Customer Service: Users can use the 'comment' function to ask questions, and they can also go to 'customer service from the product page. Brands can also include a button to add a WeCom customer service contact to talk to the sales team one-on-one. By clicking on the 'phone' symbol (a rarely utilized feature), users can call the host live. Users can also participate in a live video or audio call with the host in real-time.
Livestream – Sharing a Stream: The stream can be shared with friends or uploaded to Moments. The user will be given a preview similar to WeChat Channels (live-stream cover). The preview will be blurred if the live stream has already ended. Users can click to reserve a live stream if a brand has already planned one.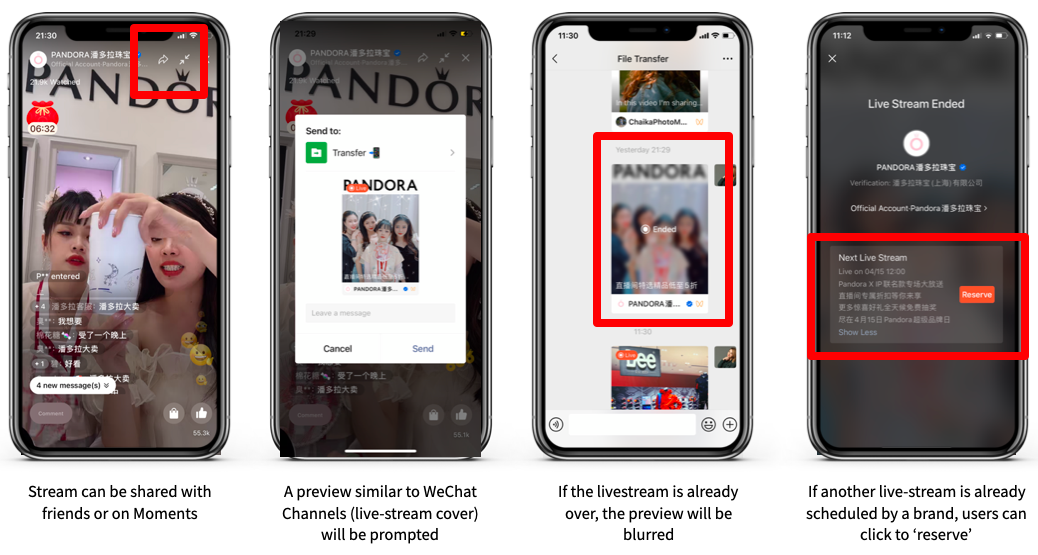 Other features of a live stream: Livestream also offers the ability to hold lucky draws and create red packets. Users are invited to 'comment' (typically a brief message) to enter a random drawing for a prize – usually a tiny e-commerce coupon (which is quite popular). Red packets gifts can also be set up by hosts for their guests (Not very popular)
How to apply for WeChat Live Streaming?
Brands cannot start a live stream automatically. WeChat requires a formal application in the WeChat Channels backend to open the live streaming function.
Fill in:
The type of live streaming, 

Short-term and long-term plans, 

Contact information.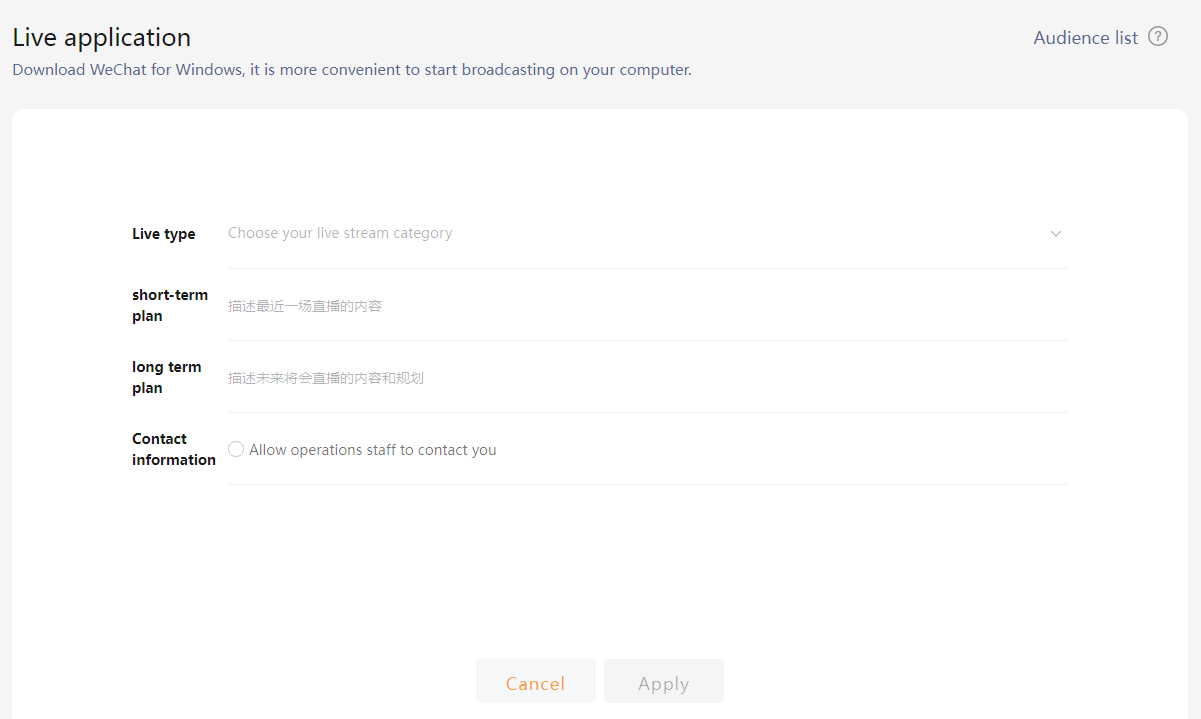 For the live stream, the WeChat Channel operator can stream directly from their mobile phone or computer desktop. 
When the application is approved in the WeChat Channels backend will share the streaming address and key provided by the video account assistant to output live streams through third-party platforms such as OBS.
Additional options: 
Target Audience: when applying for the broadcasting, the brand can choose to allow only users on the list to watch your live broadcast – this requires uploading a list of WeChat IDs of selected users. 
Products & Coupons: brand can upload a list of products and coupons in the backend that can be later on used and shared with the viewers during the session. 
Teasers & reservations: brand can create a live steaming reservation and fill in the live steaming time and introduction. After successful creation, a brand can then insert the reservation card into the official account posts. At the same time, it can also be directly displayed in the video of the channel. A QR code is also available to download.
Additional links: there are 4 types of links that that account can place during the live streaming:

Link to the next live stream and its reservation (to receive notification)

Link to the official account article

WeCom customer service contact card

Hongbao –

red packet

.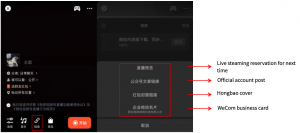 Before preparing your next live streaming session don't forget to read out article on live streaming dos and don'ts.
Conclusion
WeChat has emerged as an extremely useful and powerful tool for businesses looking to expand to the Chinese market. From its live-streaming feature to its various other content, WeChat represents the growing trend of mobile-first social media. 
Its continued success is evident in the way it has already become an indispensable platform for businesses to market their products and build brand influence, not just in China but across Asia. That's something brands would be wise not to overlook. 
If you wish to know more about WeChat and its various features, please contact our team. We use our knowledge and expertise to help businesses build meaningful partnerships and develop their network among Chinese customers. For additional information, please contact at contact@thewechatagency.com.