Weibo is often called China's answer to Twitter but is that actually true? Let's dig into the specifics of both of the platforms and understand what Weibo is really about. 
With over 140 million active users, Twitter is one of the most popular social media platforms in the United States, and the platform was acquired by Elon Musk for $44 billion, about a month ago. In China, Weibo is regarded as Twitter's equivalent. There are a number of Chinese microblogging sites. The most popular of these is Sina Weibo.
Unlike Twitter, Sina Weibo, which debuted in 2009, was not the first in this space. However, it has increased its user base during the last three years. 
Twitter Vs. Weibo: Features
Rich Media
Weibo:  Sina Weibo allows users to insert extra material such as photographs, videos, music, emoticons, and polls. The site also allows you to see links from video streaming sites such as Youku Tudou, without leaving the site.
Twitter:

Twitter, like Facebook, allows you to include video URLs in your tweets and reshare videos. It also allows you to download videos on occasion, but only at a very low level. Here, it might take a page from Weibo and implement a feature that allows users to view videos linked to tweets without leaving the platform, so increasing user retention.

Comment Threads
Weibo: Weibo has capitalized on its platform's social validation feature by making its comment thread user-friendly. You can see comments properly sorted out under a tweet with a single click. You can also include your @username in the comment to remind the audience about your brand and company. In this way, Weibo supports corporations in raising brand awareness.
Twitter:

Twitter, on the other hand, is still unorganized in that sector because you have to take the time out to browse and track who has responded to your tweets. The ones commenting on the tweets mix with other comments about different topics. The thread is sorted under one umbrella.

Trending Categorization
Weibo: Weibo's hall of fame is a dedicated page that tells you what's 'trending,' similar to Twitter's except for this one. Weibo dominates the trending game because it divides its trends into categories such as sports, entertainment, finance, and travel, making it more user-specific.
Twitter:

Since the hashtags that appear on a user's feed are generally news or brand-related issues, Twitter has yet to categorize its trending hashtags based on user preferences.

Contests
Weibo: Weibo includes a function called 'event,' which is the virtual equivalent of a party, but in sections (as usual). The feature aggregates everyone's ideas, increasing engagement by a factor of ten. The Weibo event allows you to participate in local events, prized events, forum events, and other great events highlighted at the top of the website, as well as spark Weibo messages (weebs).
Twitter:

Twitter hasn't yet reached this level of engagement, but it has managed to generate interest through contests and meet-and-greets with influencers. These sponsored contests have provided marketers with an exciting way to reach out to their consumers, but they could learn a thing or two from Weibo on how to organize it on a larger scale.

Number of Characters
Sina Weibo, like Twitter, has a character limit of 140 characters. Nonetheless, it makes a significant difference. A Chinese character, like an English word, has a meaning. A string of 140 characters might mean a lot of different things. In English, however, each word consists of many characters. The 140-character constraint restricts the expression of thoughts. As a result, you cannot use extended words to explain complex concepts on Twitter. According to the most recent Economist research, Chinese is great for microblogging.
Twitter Vs. Weibo: Revenue
Twitter: At first glance, Twitter's business appears to be in good shape. Its revenue increased by 7% in 2020 due to the pandemic but increased by 45% year over year in the first nine months of 2021 as those challenges faded.
Twitter's total monetizable daily active users (mDAUs) increased by 27% to 192 million in 2020. It had 211 million mDAUs at the end of the third quarter of 2021, up 13% from the previous year. This expansion was driven by its expansion in other markets, particularly Japan.
However, Twitter became unprofitable in 2020 and continues to lose money in the first nine months of 2021. A substantial chunk of the losses was due to tax and legal charges, but they were also exacerbated by a 30% rise in staff this year.
Twitter also anticipates that the forthcoming sale of MoPub will cut revenue by $200-$250 million next year, making it more difficult to meet its target of producing more than $7.5 billion in annual revenue by 2023.
Weibo: Weibo's income declined 4% in 2020 due to the pandemic, which lowered ad sales. Its live streaming business has also slowed. However, Weibo's income increased 39% year on year in the first nine months of 2021 as those businesses recovered. Analysts anticipate a 37% increase in sales for the full year.
Weibo's total monthly active users (MAUs) increased by less than 1% year on year to 521 million at the end of 2020. However, it concluded the third quarter of 2021 with 573 million MAUs, a 12% increase from the previous year.
Weibo, unlike Twitter, has been consistently profitable under generally accepted accounting rules (GAAP). Its net income fell 37% in 2020 but increased 10% year on year in the first nine months of 2021 as pandemic-related challenges faded. Analysts predict that its net income will grow faster in the fourth quarter and by 54% for the year.
They predict Weibo's revenue and earnings to climb 12% and 29%, respectively, in the coming year, which is still outstanding growth for a stock that trades at only ten times forward earnings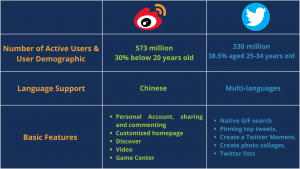 Conclusion
If you're a business looking to expand globally, or considering entering the Chinese market for the first time, this article should be a good guide. Both Twitter and Weibo have their advantages and disadvantages, so there's no one-size-fits-all solution here; instead, it's a matter of researching your target audience and deciding which platform is best to your needs. It may even make sense to maintain a presence on both—if nothing else, that will allow you to reach customers at both ends of the spectrum.
Both platforms are popular worldwide, and their differences open avenues for different types of businesses. For example, Chinese businesses would benefit from a Weibo account to attract Chinese customers and global firms should rather create a Twitter account to attract customers worldwide.
Though the features of Weibo outnumber those of Twitter, and revenue for the Chinese platform appears to be increasing, it is still too early to determine whether Twitter will be replaced (or at least complemented) by Weibo. However, with Weibo's recent development and expansion, it is certainly a unique alternative to Twitter. 
Read more about Weibo and its recent status here.
If you wish to know more about Weibo and other Chinese social media platforms, please contact our team. We use our knowledge and expertise to help businesses build meaningful partnerships and develop their network among Chinese customers. For additional information, please contact at contact@thewechatagency.com.