2020: A Big Year For WeChat
WeChat is one of the biggest and most important platforms in the digital marketing game. For both freshers and professionals alike, WeChat brings a lot of opportunities for brand growth, community interaction and business development. So keeping up with the latest trends in the market become second nature to anyone who wants to leverage these opportunities.
Without wasting any more time, let's dive into the treasure trove of WeChat trends that can be expected out of 2020.
Rise Of New Competitors
As we move into 2020, WeChat remains the No.1 platform in terms of conversion rates for higher-priced products.
Even though it is considered the most important app for businesses in China, its dominance is rivaled by new and upcoming apps like Bytedance's TikTok and Toutiao, which continuously unsettle the WeChat ecosystem.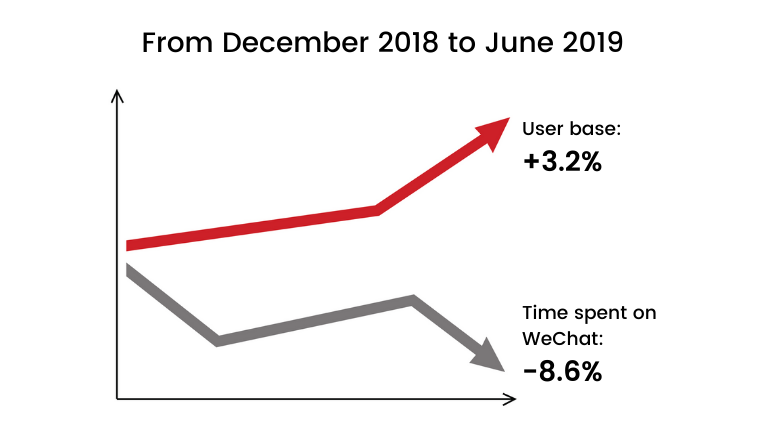 It's safe to say that WeChat's market penetration is quite high in China. While the app's user retention has dropped by 8.6%, its user base has increased by 3.2% in the same amount of time.
Amped Up Advertising
Increased competition and dodgy numbers have forced WeChat to improve upon its advertising potential.
Banners
High precision ads that target users down to a couple of blocks

The brand address can be displayed within the ad

Ads now also show friends that are following the brand's official account
Transition Ads (Interstitial Ads)
Displayed during transitions between mini-programs

Cover the entire screen to deliver maximum context and engagement
Mini Program Video Ads
Video ads now displayed during WeChat mini-programs

Come in 2 formats:

In-content and Pre-roll ads
In lieu of all these improvements, the app still does not support splash ads i.e. ads that pop up every time you start the app.
WeChat's Consumer-first Approach
Allen Zhang's minimalistic product aesthetics and consumer-first design philosophy are what lead to WeChat's major developments in the recent past. He is also one of the reasons why WeChat doesn't support splash ads, which is particularly frustrating for Tencent stakeholders.
Another result of his philosophy is the WeChat CRM which has turned a new leaf in China's consumer marketing tactics. It collects data on each and every brand interaction by tracking each user through a unique ID.
One of the best parts about this CRM is that it helps brands create a unique signature customer experience, which is essential for companies in this new day and age.
WeChat Rules And Regulations For 2020
Here are some regulations for businesses to keep in mind while utilizing WeChat as an advertising and consumer engagement platform:
You cannot provide services similar to a WeChat feature.

Group buying campaigns have become highly regulated.

Reusing a user's profile picture or personal information is strictly prohibited.
Breaking any of the WeChat's rules can result in getting your company banned permanently from utilizing any of the WeChat's features.
Conclusion: Digital Marketing Trends In 2020 China
If we talk about luxury brands, in the past year, we have seen a lot of them experiment with the content design posted on their WeChat account.


Aligning content in a landscape format isn't considered very user-friendly since people usually hold their phones in portrait format.
This type of content has been controversial, keeping in mind that WeChat is and has always been known for its customer-first approach.
The reason for this is simple. A lot of people in Mainland China (and in the whole world, in fact) spend the majority of their time using their phone in landscape mode, be it watching videos on YouTube, binging on online streaming platforms or even playing online games. A 2019 Statistica report states that 41% of people said they spend 30 minutes to an hour playing video games in landscape mode on their phones per day.
The takeaway is this: while traditional formats are still quite useful, there is always room for experimenting with new ways of engagement, even though they might seem weird or unorthodox. The market is ever-changing and we, as marketers and business owners, need to keep up with it.