WeChat (微信, Weixin) is China's most popular social media platform – no less than 1.27 billion users use the app on a monthly basis. It has outgrown its initial messaging functionality a long time ago and now is a powerhouse offering a myriad of options for users including interacting with brands on different levels. 
By 2023, the predicted e-commerce gross merchandise value (GVM) on WeChat would be 13 trillion RMB (more than 2 trillion USD). Hence, making it a vital platform for brands to connect with their target audience.
WeChat has various features that help brands increase engagement and interact more effectively with their customers. The WeChat Sticker is one such tool that brands can leverage. 
What Are WeChat Stickers?
Global consumers devote significant time to social media and instant messaging applications. Every internet user has sent an emoji at some point, and over 10 billion emojis are transmitted each day. Emojis and stickers in messaging apps are quickly becoming an important element of our online language, if not our culture. Netizens use this special "language" to communicate with one another while also having fun. Chinese netizens, particularly Chinese millennials, are no exception.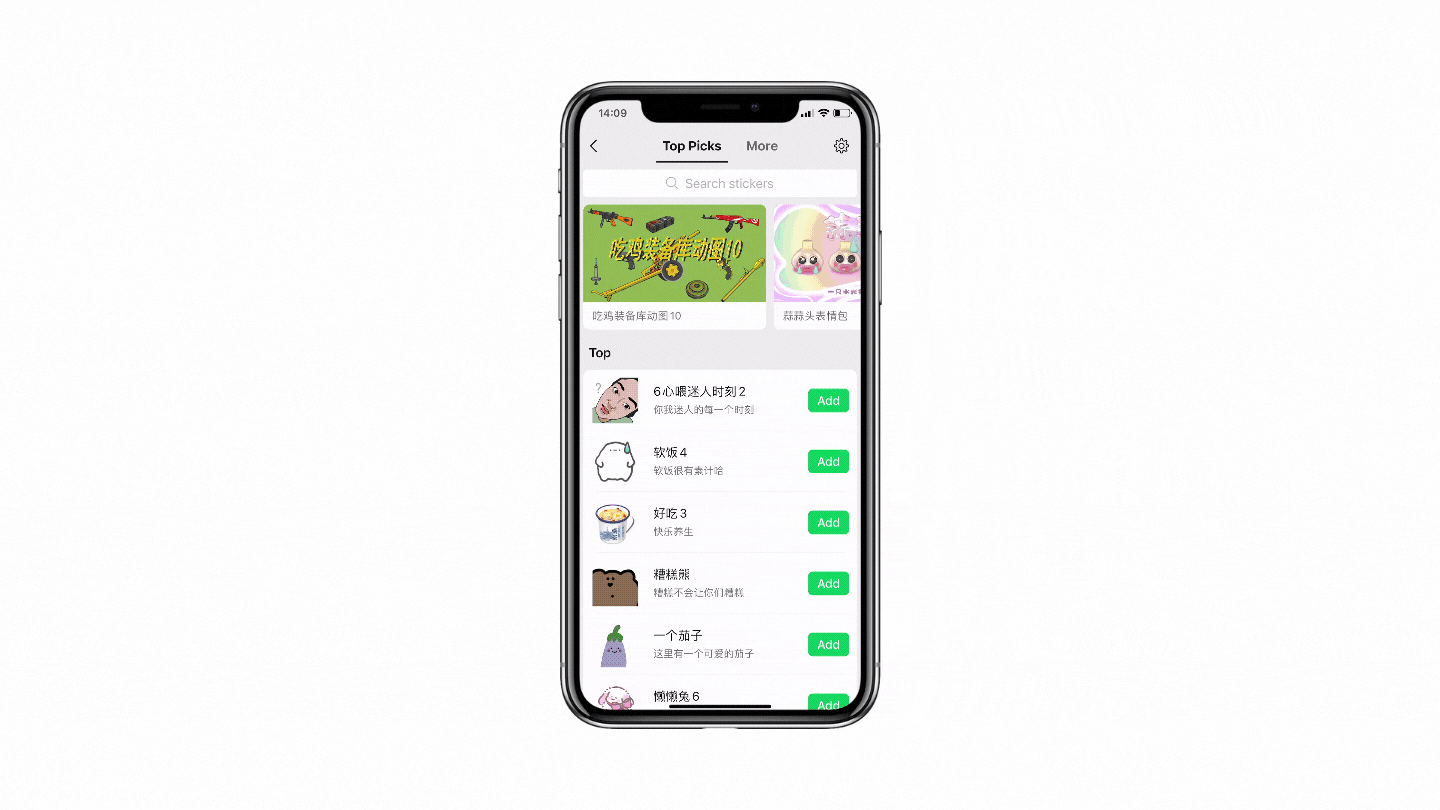 With 50 billion messages sent on WeChat every day, many of them are WeChat stickers. WeChat stickers are simply light-weighted png or GIF files shared directly from the keyboard in the WeChat message window. It's not surprising to see stickers appearing in both personal and professional conversations and group chats. In fact, many users proudly boast their sticker collections or even create their own. While most of the stickers take the form of cute animals, brand mascots, and animated delicacies, some of them can express a deeper sense of humor or irony. 
Behaviors Around Stickers
Chat interactions on WeChat are frequently sprinkled with animated stickers, in both professional and personal contexts. Stickers are used to express emotions (such as joy or pity), infuse humor into a conversation, and deliver seasonal holiday greetings. 
In reality, because outward expression of sentiments and attitudes is discouraged, as well as a predilection for an obscure sense of humor, Chinese users are even more passionate about the so-called 表情包 (Biao qing bao=facial expression pack, Chinese for stickers pack used on messaging applications). 
How users can get stickers?
WeChat stickers can be found through browsing the app's sticker section, searching for keywords, or bookmarking stickers and sticker packs provided by friends. Users can store sticker packs (collections of 16 or 24 stickers) or individual stickers on their accounts so they can use them readily in chats.
How Brands Are Utilising Them?
Businesses are repurposing the WeChat sticker frenzy as marketing tools to help their brands expand. Brands looking to digitalize their image and engage with consumers throughout their everyday activities are discovering that stickers can make their messaging stick.
Many social networking networks provide emojis, GIFs, and sticker sets to express emotions via mobile app messaging functions. WeChat stickers are widely used in mobile messaging platforms.
Example: The luxury company Louis Vuitton celebrated its founder's 200th birthday in August 2021. Louis Vuitton devised a game for their global audience to commemorate the occasion and this game is available for download via WeChat and is available in both English and Chinese.  In "Louis the Game," players must find 200 collectible candles to mark the anniversary; each one unlocks stories about Louis' life and family. The game also includes 30 NFTs that players can gather along the journey. Moreover, Louis Vuitton designed a limited-edition series of WeChat stickers that users can share with their friends. The set includes Louis Vuitton-branded game items such as a key and candle.
WeChat Stickers Offer Key Advantages for WeChat Marketing in China
Stickers are an excellent tool for promoting your WeChat marketing in China. 
Stickers are great tools for:
Raising brand awareness

Interacting with your followers in a playful way

Promoting your brand, brand elements, and more importantly brand mascot

Connecting better with tech-enthusiastic Gen Z 
Who Should Create WeChat Stickers?
The great news is that virtually all brands can create their own sticker collections and leverage them in their communication. Obvious candidates are tourism destinations, the F&B industry or fashion but branded sticker collections for B2B brands are a great idea too. Employees cannot only use more fun ways to say 'Thank You' or 'Meeting room is ready' but also to use stickers with conversations with their contacts outside of the company. 
How Brands Can Create Stickers?
Brands have two options to share their stickers with their fans.
(1) Publish a WeChat post with branded stickers for users to download. Users can long-press each sticker and save them one by one. 
This method doesn't require setting an enterprise account therefore you can be more creative with your stickers and include your brand logo.
(2) Launch stickers without the brand/product name directly on the WeChat Stickers Gallery. Users will be able to download the whole pack or selected ones. 
In this scenario, you might have to remove your brand name or logos to pass the verification so your creations do not fall under the promotional stickers category. Alternatively, you can submit more documentation for Tencent.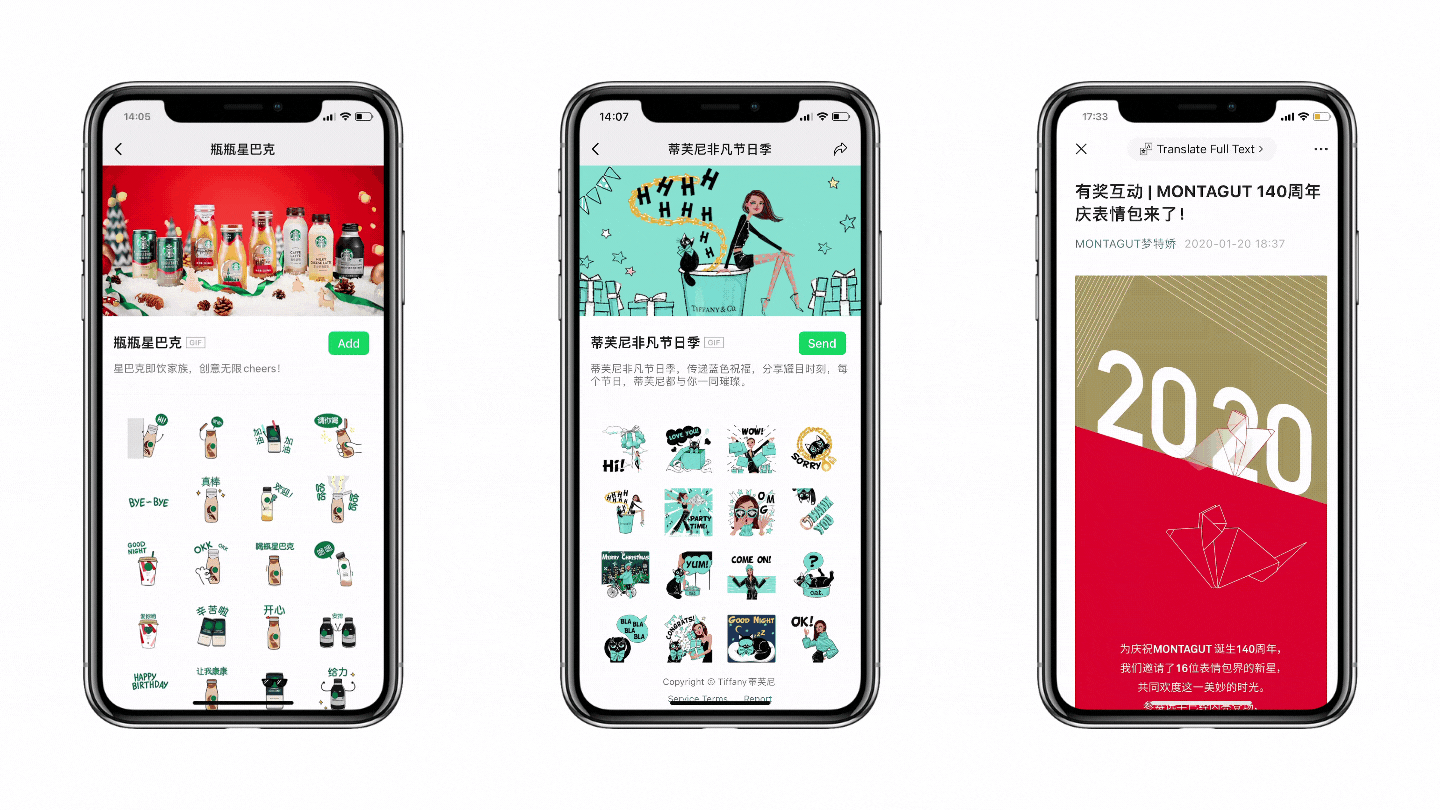 Registration materials required by Tencent:
Go to the WeChat stickers portal

Account information: company name and e-mail

Registered company information: business license, license registration number, merchant ID (optional)

Authorization Letter

Operator information: name, ID card number and scan, phone number, active WeChat linked to a bank card

 
Submitted stickers must respect WeChat's audit standards and do not fall within the list of restricted topics like medicine or finance. WeChat doesn't allow stickers with clear promotional and advertising content. We can help you navigate through these requirements. 
The general review period is ten working days.

Conclusion
Emojis and stickers have become an integral component of internet conversations all around the world, and they have altered how teenagers and the younger generation connect with one another. A picture is worth a thousand words and can assist to lighten the mood, making online communication more engaging and fun. How can international brands use this instrument to enter into the lives of Chinese consumers?
The following are some major takeaways for international companies looking to leverage branded stickers in China:
In China, stickers are more popular than emojis.

WeChat dominates the Chinese internet messaging app market. International companies should release their branded emojis and stickers on WeChat rather than the App Store or Google Play Store.

Before designing customised emojis and stickers, international firms should be very explicit about their aim and target audience. When customers can relate to the stickers, they are considerably more inclined to share them.

Learn about the habits of Chinese millennials and the Chinese communication culture. Incorporating buzzwords or famous phrases into branded stickers could be a smart approach but requires understanding and cultural sensitivity. 

Branded stickers should have a good balance of product and brand marketing and intriguing content (e.g., witty messages, cute graphics) to make them more appealing to consumers.
Find more news related to WeChat on our blog
If you wish to know more about WeChat stickers and other engagement tools, please contact our team. We use our knowledge and expertise to help businesses build meaningful partnerships and develop their network among Chinese customers. For additional information, please contact at contact@thewechatagency.com.