Founded in 1998, Tencent, which is one of the biggest tech giants in China made its way to the Top 5 Biggest Firms in the World. It is now the first Asian company to be valued at over $500 Billion surpassing Facebook that was dominating the social media field.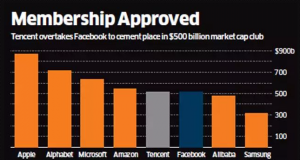 The most successful app created by Tencent, Wechat, is said to have around 980 million monthly active users, with 38 billion messages sent daily. And the Youtube alternative in China, Tencent Video boasts of a huge subscriber base. Revenue from its gaming division, rose to 18.2 billion yuan  due to its fantasy role-playing hit "Honour of Kings", which is expected to release in the United States next year.The company also holds 12% of the popular picture messaging app, Snapchat.
Tencent's Hong Kong listed shares have doubled in value this year and on Tuesday the company's value was estimated to be $523 Billion. This is followed by Tencent's rivals in Asia, the AliBaba group (valued at $481 billion) and Samsung electronics (valued at $364 billion).
With the drastic surge in growth, Tencent will surely be making waves in the tech, gaming and social media sector next year.