WeChat Open Class PRO is a hyped and highly-anticipated annual conference organized by Tencent and aimed at creators.
In addition to showcasing exciting new developments and plans that WeChat has in store, the event aims to offer insightful information about how medium and small businesses can use the platform to spur growth and raise brand awareness. 
Let's see how this can impact brands and businesses that use WeChat to reach their customer base…
Why is WeChat Class PRO important for businesses?
Weixin Open Class PRO also referred to as WeChat Open Class PRO, is a yearly conference organized for developers, companies, and marketers to learn about the most recent features, updates, and best practices for the largest social media platform in China. We covered the event last year – WeChat Weixin Open Class PRO 2022.
Here are some reasons why Weixin Open Class PRO is important for businesses:
Keep up with the newest features
Businesses can learn more about the most recent features and updates, including Mini Programs, WeChat Pay, and WeChat Work, thanks to Weixin Open Class PRO. 

By using new features to improve their marketing and customer engagement strategies, businesses can benefit from this information and stay one step ahead of the competition.
Find out the best practices
Businesses have the chance to learn how to use WeChat to grow their operations from successful case studies and industry experts through Weixin Open Class PRO. 

This can help businesses maximize their marketing efforts, improve customer engagement, and raise brand awareness.
Access to Tencent resources
Businesses can access resources from Tencent, including its developer tools and APIs, through Weixin Open Class PRO. 

In order to better serve their customers, this can assist businesses in developing customized WeChat solutions, such as Mini Programs.

In general, Weixin Open Class PRO is crucial for companies looking to stay competitive and use WeChat to promote business expansion in China.
📹 Watch the whole recording of the WeChat PRO 2023 conference here
What can we expect for 2023?
Based on the Open Class PRO  and our own observations, we can tell that:
WeChat Channels:
After a year of new features including adding customer service integrations, WeChat Channels will continue to grow. Check out

WeChat Channels Stats 2023 & Growth Plan

to find out more. 

Moreover, Tencent made a commitment to help creators. Their team stated that they would offer in a total of 5 billion free views in traffic, as well as richer and more comprehensive monetization tools and incentive policies, in order to assist anyone who is serious about broadcasting, growing, and earning money.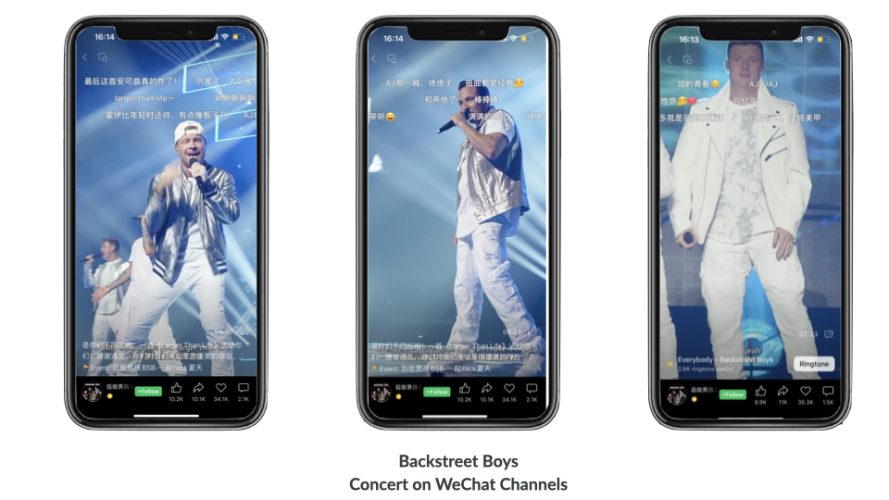 New Formats:
WeChat appears to be introducing new ad formats and improved integrations.

There is certain format fatigue as the article format has been the same for years. This year, Tencent tests to implement new formats like:

Images will be stacked and horizontally viewable in a 3:4 aspect ratio.

Up to 300 characters will be allowed in the description section.

Optimized services related to image display to gain traction.
WeChat Search:
The WeChat search engine continued to expand, reaching 800 million monthly users:

Earlier this month, WeChat released a small program called Search data assistant.

Wechat's backend has been updated with new features to help brands better track it.
🔍 A Quick Guide to WeChat Search As a Marketing Tool

WeCom:
Undoubtedly, WeCom will expand as well. WeCom, Weixin's product specifically designed for businesses, offers practical office automation and communication tools. It is also being adopted by the education sector more and more.

According to the Industry Resilience and Recovery Potential Report 2023 that Weixin released at the Weixin Open Class PRO, SME businesses with fewer than 500 employees saw a 35% increase in the number of daily active WeCom enterprise users in the manufacturing sector year over year. 
AI development:
Lastly, it's worth noting the advancements made by the WeChat AI team. In 2022, the AI team made improvements to the WeChat dialogue open platform called co-enterprise WeChat.

They also introduced a new service called "dialogue robot" for corporate WeChat. It will allow for more seamless integration between robots and artificial customer service in the customer service scene. This natural integration enabled companies to serve their users more efficiently.
Conclusion
Firstly, WeChat's annual Open Class Pro conference is a crucial event for businesses seeking to stay ahead of the competition and expand their customer base in China. Moreover, we can expect continued growth and innovation from WeChat in 2023, with the 2022 conference focusing on mini-programs, payment, and search functions, and advancements in the app's short video service, Channels. 
Furthermore, with Tencent's commitment to investing in traffic and monetization tools, as well as advancements in ad formats and WeChat AI, businesses can anticipate new opportunities for engagement and growth on the platform. 
Meanwhile, if you want to know more about WeChat, please contact our team. We use our knowledge and expertise to help businesses build meaningful partnerships and develop their networks among Chinese customers. For additional information, please contact us at contact@thewechatagency.com.