FRANKE, the world leader in comprehensive systems for domestic kitchens and for professional applications in food service that promises to bring confidence, convenience and comfort into people's lives through innovation and quality service. Headquartered in Aarburg, Switzerland, the Group employs around 9'000 people at 68 subsidiaries on 4 continents, and exports to over 100 countries. Having made a decision to enter social media to reach out to their followers better, they had their official WeChat account launched in 2015.
WeChat being one of the frontrunner in China's social media environment and a platform service where brands create a unique relationship with followers, content has to echo users' daily concerns and bring value to them.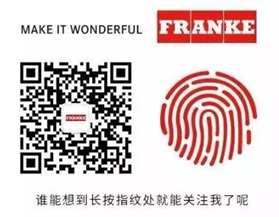 This is why FRANKE chose KRDS Shanghai as its social media agency on record for the year 2017-2018.
FRANKE appreciated the high quality of the proposal which reflected KRDS Shanghai's deep knowledge of chinese netizen habits, its ability to react rapidly and make sure the brand stays on top of social media trends.
"We felt very confident when we met KRDS team, we trust their expertise and we value the fact that they listen to us. We feel we are a priority for them" – Pansy ZHANG, Marketing Director, Franke China
Aurélien FERRIE, General Manager Greater China at KRDS added "We are very proud of welcoming FRANKE as a new client. Being in charge of their social media and digital strategy and its execution, is great responsibility and one more opportunity for us to keep demonstrating our expertise and the value of our proposition"
Besides being a social agency, KRDS Shanghai is also capable of producing designs matching FRANKE's Swiss premium brand standards thanks to its award-winning studio. These designs will include animations such as gifs, cinemagraphs aimed at increasing engagement among the brand's followers.
Incorporated in 2013, KRDS Shanghai, the social and mobile agency has been ideating and producing digital content and social media campaigns, on Weibo and WeChat, for many local and international clients, to name few Club Med, Louis Vuitton, Air France, BNP Paribas, Biotherm and the French International Soccer Team.