Toulouse Business School (TBS) increases its footprint in China and partners with KRDS, the WeChat agency, for its WeChat development.
Having entered the Chinese market a few years ago, and boasting a network of more than 1,500 Chinese alumni coming from all over the country, TBS is already a key player in its industry in China. So why this decision to open a WeChat account ?  
'We want to get closer to our students, build tailor-made relationships with them and make sure we answer their questions in a timely manner. Following our conversation with KRDS, we now fully understand how we can leverage WeChat as a communication and servicing platform !' says François Dean of Toulouse Business School.
As a matter of fact, besides enjoying weekly content posted on TBS' WeChat account, students will also be able to ask any questions and receive instant and tailor-made replies directly on the platform!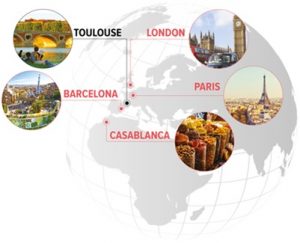 For instance, questions about a specific program, an upcoming event, a professor, an alumni, tips to brush upon one's curriculum, etc. All these pieces of information will be at finger's reach for Chinese students.
"With one billion monthly active users in Q3 2017 as well as 12 million official accounts, WeChat is the must have tool for any brand wishing to expand its presence in the Chinese market and/or among a Chinese audience" adds Aurélien FERRIE, general manager of KRDS
In the top 10 Business Schools in France, with an executive MBA ranked in the top 100 in Financial Times 2017, TBS offers renowned and tailor-made undergraduate and graduate programs in areas such as aviation, financial engineering, etc. Students can also choose between 5 TBS campuses : Paris, Toulouse, Barcelone, Casablanca, London !
To discover Toulouse Business School account, scan the QR in WeChat