Thomas Cook, the prominent travel services company in the world has opened its doors in Shanghai. Thomas Cook wanted to raise awareness about the brand in the Chinese market and decided to do an innovative campaign during its launch event on September 6th attended by over 100 media professionals from China.
Social & Mobile Agency, KRDS Shanghai was roped in due to its sound WeChat expertise to assist with developing a WeChatVirtual Reality experience and a live game 'Play Together' (一起玩) to entertain attendees during the luncheon.
The Virtual Reality experience was created for the guests to enjoy beautiful locations and views with a VR headset inspiring them to travel while game would serve as an introduction to the story of Thomas Cook's brand and history.
The game begins when users follow the brand, Thomas Cook on WeChat. A code is presented to them which redirects them to the game. The game then randomly pairs up two guests at the event and a question about Thomas Cook is displayed on the game. The player that answers the fastest among the two is awarded points and paired up with another guest. The other player that answered incorrectly is also paired up with a different guest. The scoreboard of the game was also broadcast live on the screen as the attendees paired up with each other in rotations.
The game was able to provide the media professionals an overview of Thomas Cook and its launch in Shanghai along with its journey to becoming one of the most renowned travel services companies in the world.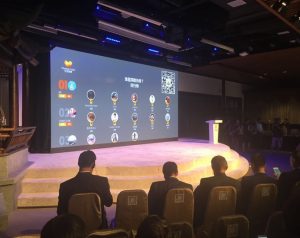 Billy Ko, Head of Marketing & Digital at Thomas Cook commented:
"Introducing a social game at the live event was a great way to liven the atmosphere and served as a fun element. The addition of the VR Experience also was a great way to introduce our brand to China and we thank KRDS for making it happen"
Aurélien Ferrie, General Manager, Greater China at KRDS Shanghai added:
"Perfectly leveraging WeChat is key for any brand that comes to China. By creating both a unique VR experience and a live quiz on WeChat, Thomas Cook was able to show the market that they want to go beyond and translate their innovation on to the WeChat platform. We are proud to note their trust in KRDS and our WeChat expertise, to bring this ambition to life"