When you're entering the Chinese market you might wonder if selling on WeChat is a good strategy. With over 1.26 billion monthly active users and 78% of Chinese people aged 16 to 64 using WeChat, the Chinese application is definitely a key player in Chinese social networks and e-commerce.
Before Tencent announced the new birth of "WeChat shop" in July of 2014, the phrase "WeChat e-commerce" didn't even exist. Now, after several years, it's the sweatiest pie in town, and every company wants a piece. Can it be that WeChat e-commerce is even more attractive for foreign brands than well-established players like Tmall? Or even new solutions of cross-border e-commerce available on RED? 
🇨🇳 What is Cross-border e-commerce?
What makes WeChat particularly attractive for foreign brands looking to connect and sell in China apart from its huge size, it's the uniquely smooth user journey. Paraphrasing Ariana Grande it's literally an 'I see it, I like it, I want it, I got it' approach and let us tell you why. In the second part of this article, you will see why it might be even more beneficial for you to start with a WeChat e-commerce instead of other shopping platforms.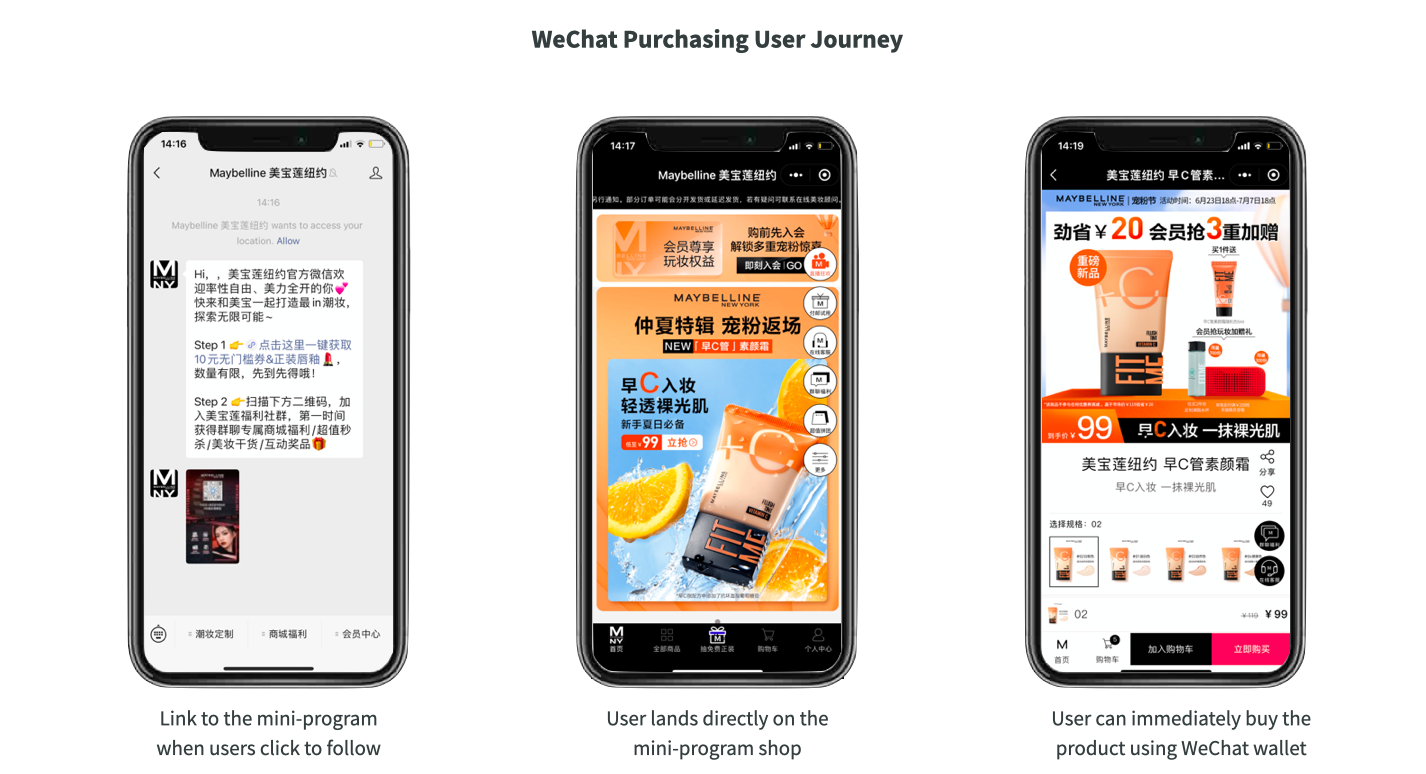 A quick note, brands still cannot share links to their Taobao or Tmall stores on their official WeChat account. We might see it coming soon as relations between Alibaba and Tencent are slowly warming up.
Selling on WeChat – Owned E-commerce 
The e-commerce landscape has changed a lot over the years: from the Yellow Pages-style online catalogs to one-click, same-day delivery.
The transition away from the classic search-based model of selling on WeChat is continuing at a rapid pace in China. China has the world's most advanced e-commerce business. New interactive experiences replace the old ones that more closely resemble how people buy in the real world while still being entertaining.
WeChat offers a variety of strategic services to assist businesses to compete in the Chinese e-commerce sector.
First Things First
The first stage is to create a store with a user-friendly localized design and extensive selling capabilities including campaign marketing, coupons, flash deals, group purchasing, and a membership loyalty program.
WeChat's mini-program, which is backed by a marketing automation platform, allows advertisers to automatically uncover sales opportunities among WeChat followers based on behavioral and purchase data analysis, as customers want increasingly personalized experiences. Brands can better nurture high-potential clients at all phases of the customer journey, from WeChat Official Account to WeChat Mini-Program, as well as automate promotional activities, reducing conversion time and increasing conversion rates.
Step 1: Register an official account
Brand posts on WeChat, unlike Facebook or Instagram, do not appear on the main social feed. Instead, they appear in the chat interface of WeChat.  WeChat Official Accounts can be used for marketing in one of two ways:
Service accounts on WeChat:  For WeChat users, these accounts show alongside "friends." They are highly prominent, however, you can only receive four push alerts per month.

Accounts for WeChat subscriptions: These accounts have the ability to publish items on a daily basis (one push notification per day), but they are less prominent than service accounts. They show up in a "subscription" folder that readers must open to see the most recent articles.
Step 2: Start a WeChat mini-program store
WeChat mini-program stores are e-commerce experiences that are integrated into the WeChat app. By launching a WeChat store, a company can make its products available on the platform through a myriad of touchpoints. These include articles, WeChat search, live-streaming, and QR codes, which are constantly developing. 
WeChat stores have various distinct advantages:
Within WeChat, you may search for stores.

Customers can pay with WeChat during the checkout process.

Customers can authenticate themselves using WeChat's one-click log-in feature.

Your store can use WeChat to pre-fill the user's shipping addresses.

Improved WeChat influencer campaigns integration

Influencers can link directly to a WeChat store from a WeChat article.

You may provide your customers with a native in-app shopping experience

Clients can save on special deals, coupons and more.
Additionally, the WeChat mini-program, which can be integrated with a cross-border payment function, allows Chinese users to pay in RMB using WeChat Pay. After that, the funds will be sent to the brands in their respective currencies. The mini-program also offers cross-border logistical services to help with international shipping and legal customs clearance.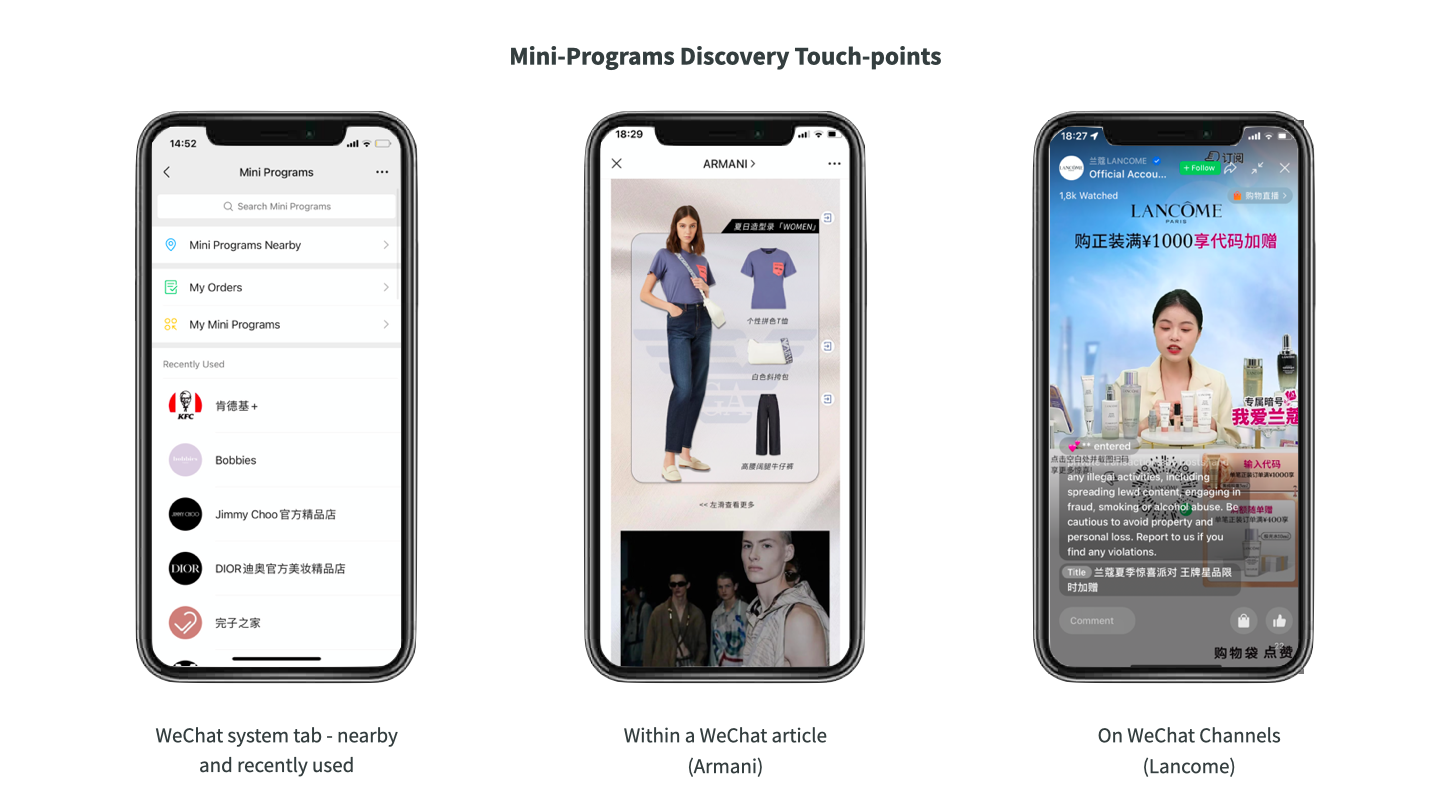 Since every stage of the user route is optimized for WeChat, conversion rates are also substantially higher. Because of the intimate closed-loop luxury purchases are increasingly growing on WeChat. Brands like Gucci or Dior are regularly leveraging Moments ads. 
How to set up a WeChat store
WeChat stores are not directly provided by WeChat. They're not the same as Facebook Shops or Google Listings in that regard. WeChat, on the other hand, provides a toolset (SDK and API) that allows merchants to construct WeChat stores using a proprietary programming language. The WeChat store was built using a framework based on the widely popular JavaScript programming language.
You have two alternatives as a merchant when it comes to setting up a WeChat mini-program store:
Develop a fully customized mini-program

Use of a software-as-a-service WeChat store provider like Youzan or Weidian 
Step 3: Promote your WeChat shop
As WeChat posts are not visible to people who don't follow you on WeChat, a thorough marketing plan is equally necessary to make your mini-program accessible and approachable. 
Marketers may use KOLs' live-streaming and advertising, especially Moment Ad, in the Tencent ecosystem to drive high-quality traffic and sales conversions.
WeChat offers three different forms of ads: WeChat Moment ads, WeChat Mini-program ads, and WeChat article ads.
WeChat is a great SEO tool as well. Its social search engines can have a significant impact on word-of-mouth marketing for firms as they attempt to be relevant. WeChat keeps expanding the reach of its ecosystem, which already connects one billion active monthly users, using its own search feature.
WeChat Channels are becoming the next big thing when it comes to social commerce. We covered live streaming selling and how to prepare the best strategies to attract customers and increase sales. Check it here >>> Live Streaming on WeChat Channels 🔥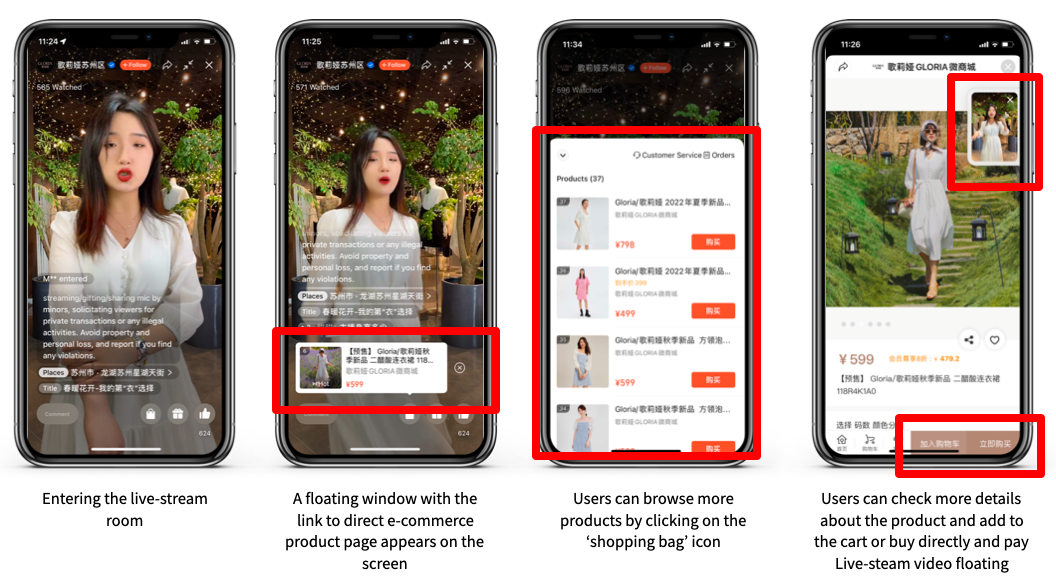 What Sets WeChat Apart From Other e-commerce Platforms?
WeChat is superior to other Chinese e-commerce platforms because it combines the reach of a giant with the convenience of a smaller platform. When you use WeChat, it's much easier to reach out to buyers, especially if you're selling shoes or apparel.
WeChat's social features are also greatly beneficial to your business. With just one click, you may send personalized messages to customers, such as "I'm attempting to figure out what size shoe I need."
Another benefit is that you can tell which things are selling well by looking at the demographics of the people who are buying them—for example, if the majority of your customers are women over 30, there may be something about that age group that works for your business.
Plus, on WeChat, there's always something fresh to see! While browsing merchandise, you may keep up with the latest news stories or watch hilarious videos.
However, the most important thing for any business entering China or trying to expand its sales would be entry barriers. Requirements and fees for Tmall and its solutions for cross-border e-commerce are notoriously steep. They start from a 4,500 USD security deposit, high sales commissions (up to 12%), and often require dedicated warehouses. Major platforms also highly restrict data ownership and advertising options.
On the contrary, creating your own mini-program means you own your data and you have full flexibility in terms of your store operations and promotions. You don't need to pay any upfront fees to the platform or pay commissions on sales. The drawback is that you will need to secure your own traffic to the store which is normally much easier to achieve when you go with the e-commerce players like JD or Tmall. 
Conclusion
Customers on a number of e-commerce platforms, including WeChat, Weibo, Xiaohongshu, etc., enjoy the rapidly evolving Chinese market. Chinese consumers spend a lot of time reading about other people's shopping experiences and avoid purchasing unfamiliar things. To keep the brand's reputation positive, customer word-of-mouth is crucial.
However, the Western market and the marketing techniques that support it are significantly dissimilar from the Chinese market. Thus, in order to successfully join the Chinese market, it is crucial to adjust your marketing methods in addition to localizing your products. To keep up a healthy relationship with users, brands need to establish a strong online presence and engage with them frequently.
Additionally, now WeChat allows for Shopify integration so you can keep all information within one place. Get in touch with us for more details. 
When it comes to e-commerce platforms, WeChat appears to be the ideal choice in China. WeChat is a strong ecosystem for brand launches in China. Companies can expand swiftly in the Chinese market by utilizing influencers and cross-border payments, positioning themselves for future growth through collaborations with offline distributors or other platforms like Tmall.
If you wish to know more about marketing in China, please contact our team. We use our knowledge and expertise to help businesses build meaningful partnerships and develop their network among Chinese customers. For additional information, please contact at contact@thewechatagency.com.