1.WeChat added recommended attention traffic entry
Addition of traffic entry to the WeChat account homepage. After selecting "follow account," the account of "other followers also like" will appear, asking how many friends have looked at the account. If you click the "more" button in the upper right corner of the screen, a list of 18 suggested accounts for attention will appear.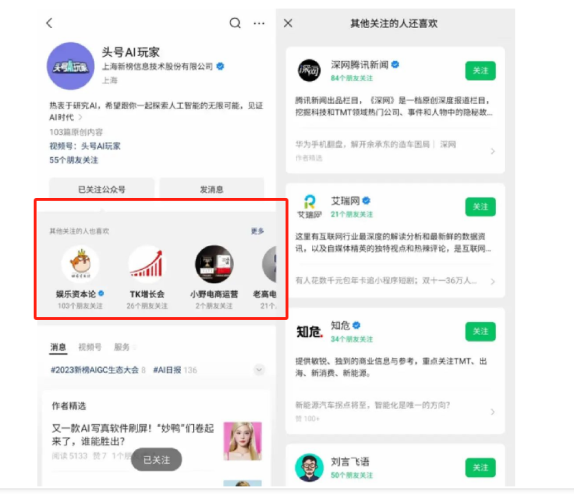 2.Tmall Double-11 155 brands opened to break 100 million, the first hour of 70,000 brands more than last year all day
On October 31, at 8 PM, Tmall Double 11 officially opened for business. 155 brands were available for purchase, and in the first hour, 71,900 brands were sold—more than on the first day of the previous year.
A total of 14 brand live broadcasts broke 100 million, 280 store direct broadcast rooms broke 10 million, the opening of 29 direct broadcast rooms broke 100 million, and the store broadcast became a new dividend for brand growth. 
The live broadcast of drinks continued to be hot, with a year-on-year growth of 782% in 4 hours. Azhuo Tavern, wine fairy Liangge became the second Taobao, the fourth broke the million broadcast room.
3.Xiaohongshu taps into outdoor fall trends with "Go Wild Festival
Xiaohongshu launched its second annual "Go Wild Festival" on October 19, collaborating with prominent outdoor media organizations such as "Outdoor Adventure" and "Hiking in China."
Along with collaborating with numerous outdoor brands, the online platform planned a series of offline events that coincided with fall.

The campaign covers a wide range of outdoor sports, such as cycling, hiking, fishing, and rock climbing.
The launch of the "Go Wild Festival" not only aligns with the platform's ethos but also magnifies the burgeoning interest in outdoor activities among today's youth.
LINK: https://daoinsights.com/news/xiaohongshu-taps-into-outdoor-fall-trends-with-go-wild-festival/
4.Douyin anchor's 'vulgar' YSL beauty livestream a cautionary tale for brands this Singles' Day
As she advertised YSL beauty products on her show, top Douyin anchor Traffic Yellow (红绿灯的) faced accusations of being impolite and vulgar due to her messy hair and twisted expressions. 
YSL's official Weibo account featured screenshots of her that many netizens shared, criticizing the livestreamer for pushing the foundation cushion of the upscale brands.
In order to determine whether the live broadcast room's content and price point are consistent with their brand, brands must conduct due diligence. 
Luxury brands like YSL would be well advised to put image alignment ahead of quick sales in order to maintain their exclusive aura, even though some live streamers do not have large followings.
LINK: https://jingdaily.com/ysl-beleaguered-douyin-top-anchors-livestreaming-crazy-little-brother-yang/
5.How to build and maintain customer loyalty in Chinese market
In China, customer loyalty, especially among Generation Z, is a crucial consideration.
Key strategies for building and maintaining customer loyalty in China include:

Emphasizing good product quality as the foundation of loyalty.

Implementing effective marketing strategies that connect with customer values and emotions.

Personalization to cater to individual customer needs and stand out in the market.

Utilizing loyalty programs, such as membership cards and rewards, to encourage ongoing engagement.

Chinese brands are successfully leveraging the Guochao trend by incorporating cultural elements into their products and marketing, enhancing customer loyalty.

KFC's localization strategy in China, with regionally tailored menu items, has contributed to customer loyalty in the country.
LINK: https://daxueconsulting.com/customer-loyalty-in-china/
6.Sign of the times: Halloween with Chinese characteristics takes flight in Shanghai as cultural jamboree sees young lampoon public figures
Young people in China have adapted the Western Halloween celebration into a "Meme Playing Festival" in which they lampoon controversial public figures and express themselves through performance art.

Not only did the extravagant costumes on show and the carnival atmosphere draw sizable crowds of people, but they also sparked a lot of conversation on mainland social media.

Numerous youths also took advantage of the chance to be dissatisfied with their current employment circumstances.

A young man in a plaid shirt with disheveled hair and dark bags under his eyes introduced himself as "The agent." The suggestion was that he needed to be prepared to work anywhere and at any time, as evidenced by the tea drink and traditional black backpack he was carrying.

"Chinese people have their own way of celebrating 'foreign' holidays," someone said. Could this be a novel manifestation of cultural self-assurance?
LINK:https://www.scmp.com/news/people-culture/trending-china/article/3240127/sign-times-halloween-chinese-characteristics-takes-flight-shanghai-cultural-jamboree-sees-young