WeChat Search called Souyisou (搜一搜) is WeChat's own search engine, which was launched in 2017 and allows users to research any kind of information. Besides messaging and connecting with others, WeChat offers a search feature that can provide some interesting information about brands and persons alike. It emerged as a competitor to other search engines and is steadily expanding its market position and improving the platform's search functions.
At the moment, its market share it's still relatively low but with the access to the search trends of its regular 500 million users. Earlier this year, Tencent confirmed at WeChat (Weixin) Class PRO that Seach will be one of the priorities in 2022.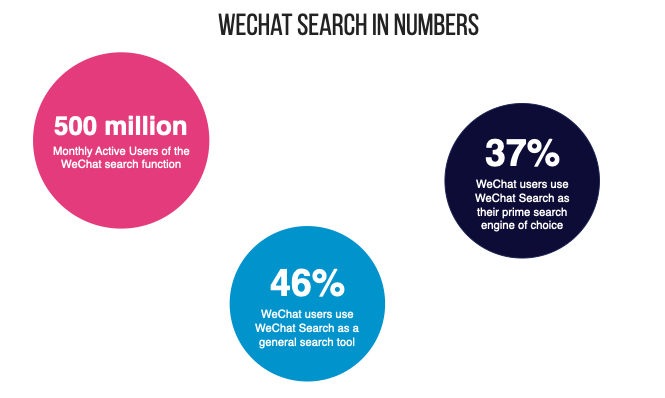 How to Search on WeChat?
To start searching for information on WeChat, you can see the search bar automatically on top of the main page (previously users had to drag it down to prompt the bar but now to popularize the usage of search, it's an always-on feature). Alternatively, users can access the search option from the Discovery tab or long-press on a keyword anywhere in WeChat and click 'search'.
How Does the WeChat Search Engine Work?
Previously, WeChat users mainly used search to find relevant keywords in private or group conversations on WeChat. However, with time, WeChat started to index information across almost the whole WeChat ecosystem as well as other Tencent products. 
When you search, the screen will display Search Engine Results Pages (SERP) with filtering options on the top.
Current filtering options are WeChat official accounts, Moments, articles, Baike (WeChat Wiki), Novel, Music, Mini Program, GIFs, Videos, Zhihu, Channels, etc.
For brands to gain traction from all of these categories, it's important to invest in different kinds of search results. Brands should optimize the official account, but they can also increase search results by publishing posts on Zhihu (Chinese Quora), Sogou Baike (Chinese Wikipedia), and other Tencent-backed platforms.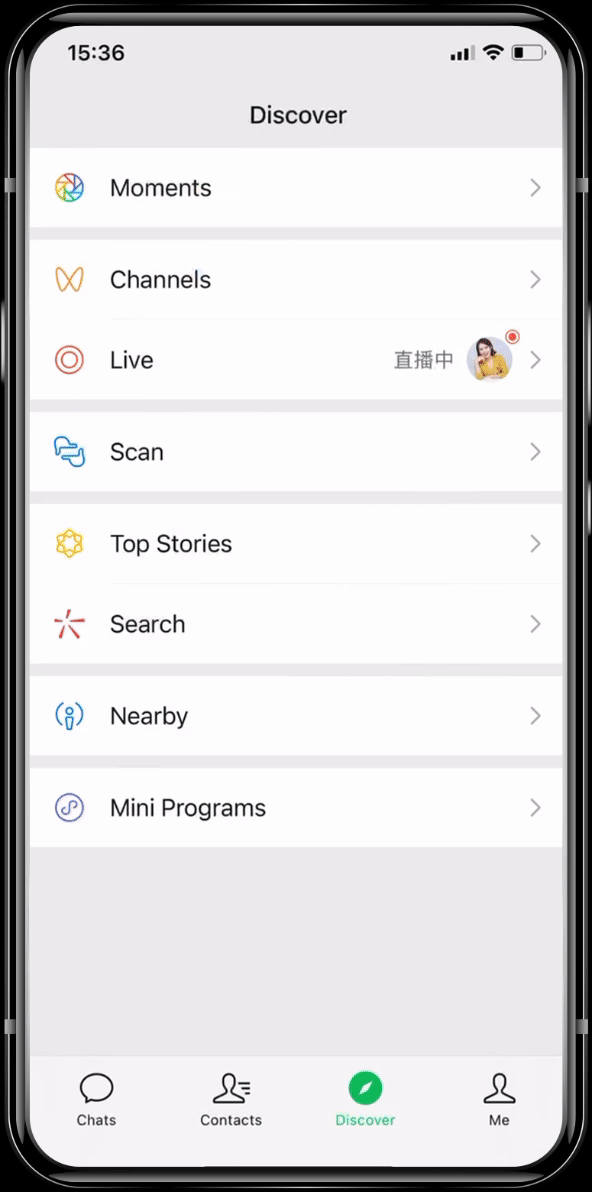 What Are the Data Sources for the Search Engine?
The search engine isn't the same as Google's or Baidu's. WeChat Search is a feature that is only available in the WeChat app. Since this year, Tencent has also gradually unrolled it for WeChat PC and Mac users for desktop as well. 
When you search on Google or Baidu, for example, you'll normally see adverts at the top, followed by the most recent news, and finally the most popular pages. When conducting a search on WeChat, however, you will find that the results are displayed in a different order.  The most recent news concerning the word you're looking for will appear first, followed by your friends' use of the word. Then at the bottom, you will find other random articles on the subject.
This means that you'll be able to find practically everything published within WeChat and only within WeChat. That's also where you can notice the difference between Google and Baidu, which both show anything that's been published online.
What can we search on WeChat?
Only information that has been uploaded to the WeChat app can be found using the WeChat Search Engine. The search result will offer you a variety of results; however, you can narrow down your search by selecting one of three categories:
Moments 
This will allow you to search through your contacts' moments. If one of your contacts published a Moments post in Shanghai, mentions Shanghai in the text of the WeChat Moment, or is a WeChat user with an account in Shanghai, you can find it by typing Shanghai into your filtered search.
Official Accounts
You can discover all of the official accounts relevant to what you're looking for through your search. It's a great approach to discovering new WeChat Official Accounts.
Articles
​​WeChat will offer you related articles submitted to the app, ordered by relevancy when you search on a topic. You can also keep filtering and arranging your search by other parameters to get exactly what you're looking for. You can, for example, see the articles that you've read in the past or articles from the accounts you follow. 
Mini Programs
Finally, you can quickly find relevant mini-programs – be it bus tickets QR codes, e-commerce and so on. 
Indexed content
WeChat crawlers index the following types of content: 
Posts on WeChat Moments,

Articles published by OAs,

Official Accounts,

Mini Programs,

Products and services,

Internet content via the Sogou 搜狗 search engine,

3rd party platform content from the following social apps: Zhihu (the Chinese version of Quora), Zaker (news), and more.
See the example of the most important types of content featured by WeChat when searching for 'Starbucks' on the app.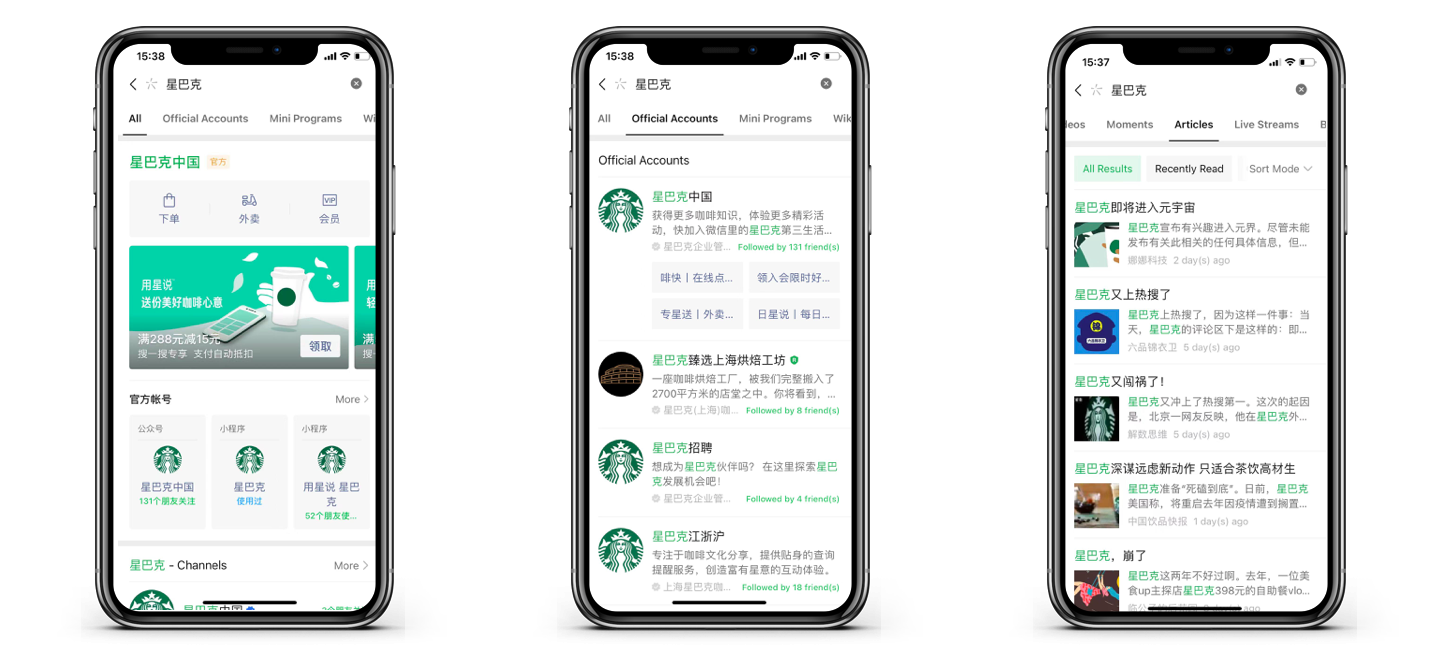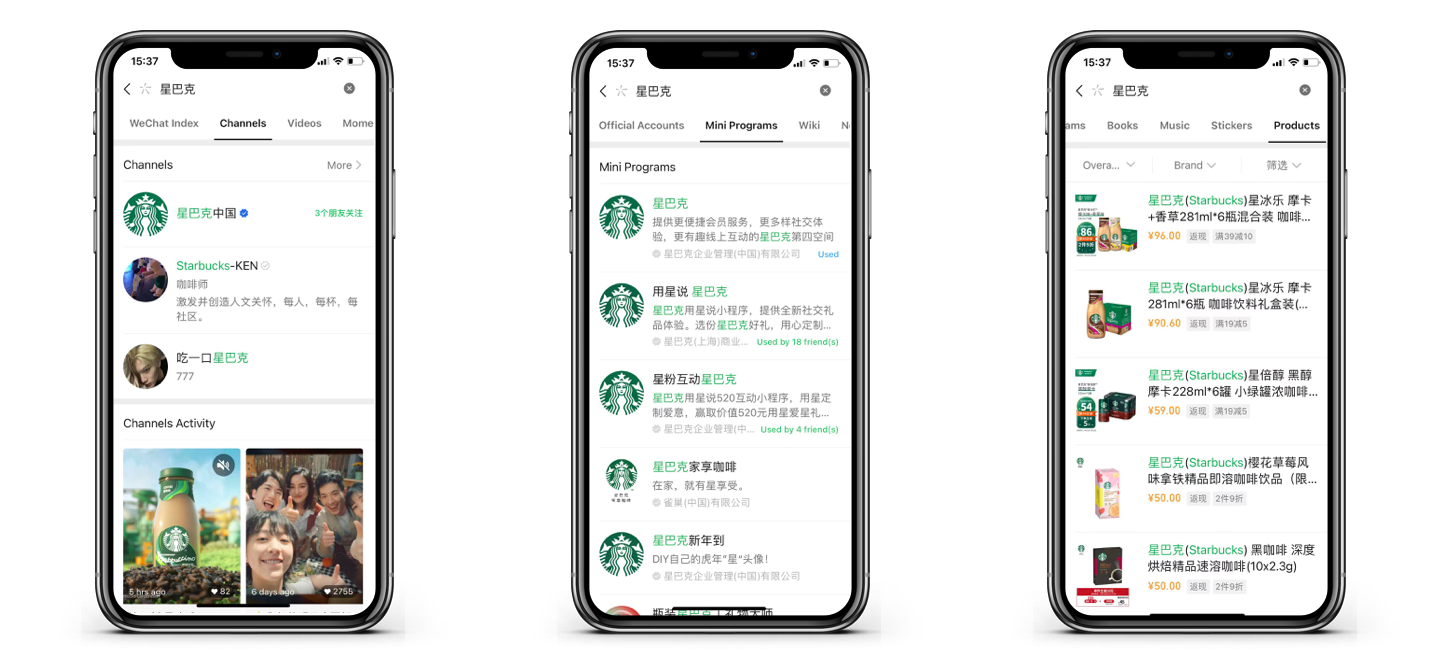 WeChat Brand Zone
Brands can also capitalize and literally 'take over the search page with a customized Brand Zone. Brand Zone is a space on top of the search results page with key information and quick access to the brand's official account, mini-program, sales channels, etc. It allows users to instantly see the most frequently searched information in one place. 
Check out examples of brand pages here:
It looks like a brand mini page and its 5 modules are relatively customizable. You can edit the brand logo, contact information, and nearest shop, to attract the users. Companies can set up their WeChat Brand Zone in the WeChat backend however there are 3 types of categorization of WeChat Brand Zone score and visibility based on daily search traffic, WeChat Search Promotion Program and other requirements.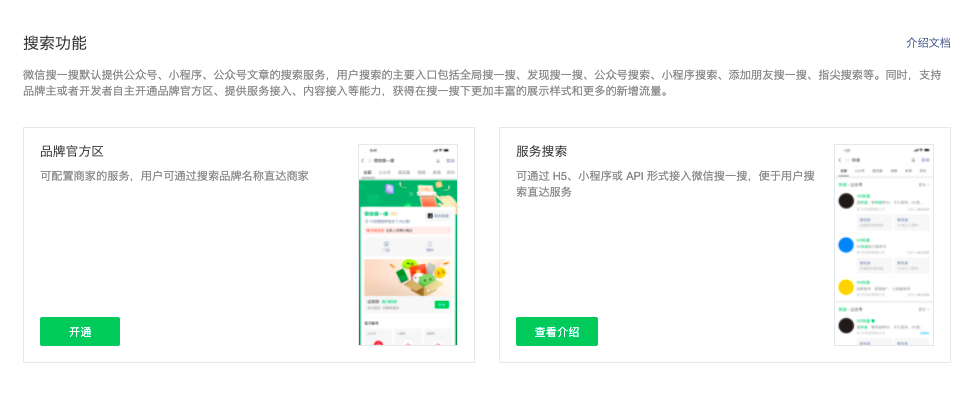 How Can You Make Your Account Show Up in Searches?
The longer the official account has been active, the more likely the search engine is to favor pages from that account. However, the system considers the account's level of authority, such as how many followers it has, how regularly it publishes, and if the articles are original or repurposed content from other sources. Therefore, it is important to keep your account active and up-to-date.
Brands must make sure that keywords appear regularly throughout the text and headline while developing content. The viewer engagement rate helps to assess the material's quality. The SEO algorithm tracks the number of clicks, impressions, and post interactions, gradually moving the content up the SERP.
Your SEO performance
Check account performance in the backend to see how many average daily views and clicks you have in different categories. Look for how many times a direct link to your official account or specific articles were featured on SERP.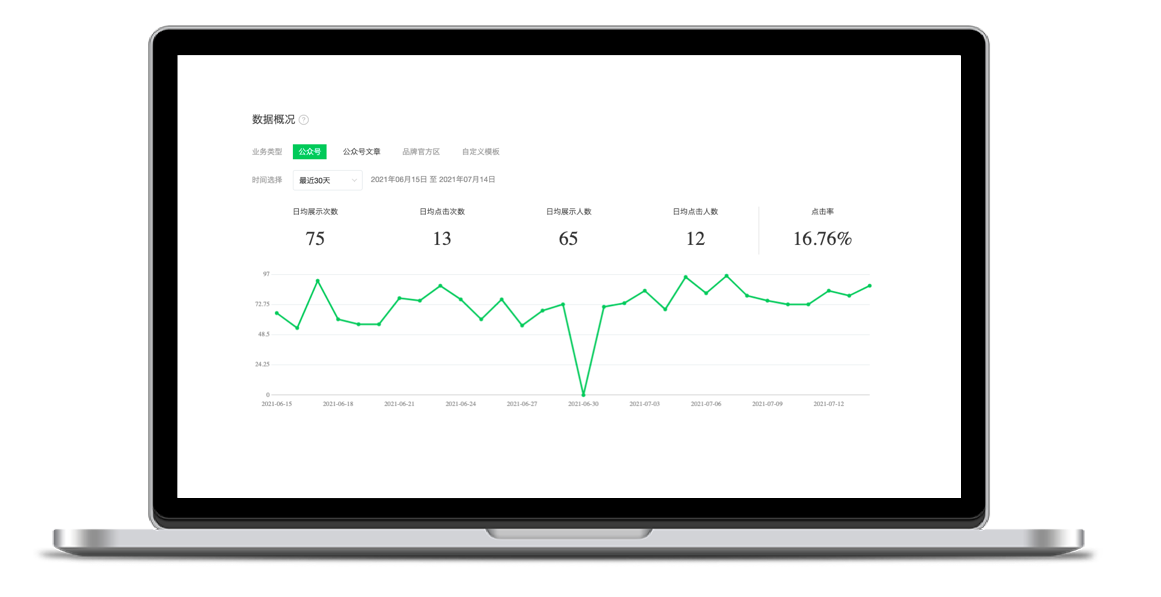 Some tips on building SEO-Friendly Content:
Keyword Research:

Conduct a thorough search of the WeChat index to see which keywords related to the article or content pillar are among the most often searched on the platform.

Keyword Optimisation

: To maximize searchability and exposure, optimize and focus on where and how to employ selected keywords in the content – titles, descriptions, and headers.

Content Dissemination:

Increase the visibility of your content by enhancing its organic searchability and authority by generating views, likes, wows, and shares.

Step Further:

Invest in additional Tencent-backed platforms like WeChat Channel or Zhihu to improve searchability.

Avoid image-based articles:

Although undoubtedly graphic articles are very attractive for the users, WeChat is not indexing jpeg or png-based content. Keep that in mind when preparing your articles. 
In the tech world, WeChat Search is making waves. Hence, it is important to keep your account search engine friendly to increase visibility and engagement.
If you wish to know more about WeChat search, please contact our team. We use our knowledge and expertise to help businesses build meaningful partnerships and develop their network among Chinese customers. For additional information, please contact us by phone – Shanghai or Hong Kong.