Tencent, a leading provider of value added internet services in China launched its very own open chatbot platform for developers last September.
The open platform aims to provide a simplified process for developers to build chatbots. The application requires an easy 3 step process which is mentioned below :
Step 1 – The developer submits the access application where it is reviewed through a manual audit
Step 2 – Post approval, the developer can initiate building their own robots on the platform
Step 3 – Post development, another application has to be submitted for review and can be posted online once it's approved
Over and above the user-friendly application process, the platform also provides a multitude of features that will give the developers an edge over other open robot platforms.
Here are a few of those features :
State of the art image and voice recognition that promises accurate identification

A better semantic understanding based on decades on technology and data accumulation

Robotic tools that enable dialogue customization

Easy access to statistical data and tools

Convenient review processes online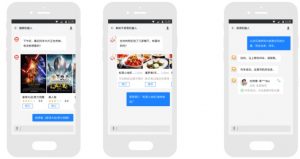 This platform has paved the way for development of different bots that can help the user book movie tickets, find restaurants nearby and even book cabs! In the era where technology is booming, a platform like this can definitely lead the path for improved chatbots and online services.