1.Wechat Channel releases the "flash purchase" new function, only to specific categories opened
The Channel has unveiled the conditions for its "flash purchase" service, allowing retailers to facilitate online ordering during live broadcasts for specific users. To activate this feature, merchants must meet certain criteria related to their business category, qualifications, credit, product quality, and sales volume. The flash purchase products must be physical and described fully during live broadcasts, matching the invoice card and product information. Flash sale items can only be sold during live broadcasts, and the sale ends either when the broadcast concludes or when stock is depleted.
Merchants can create flash purchase orders for particular users, which are accessible only to those users. Multiple intended users can also be targeted with flash orders, but the same user can't have duplicate orders and must create new ones after successful payment.
2.Bus rentals become this autumn's hottest wedding trend
The usual Golden Week marriage boom came as expected this year, but so too did a fresh take on the traditional Chinese wedding custom of 接亲, or "picking up the bride".
In a down-to-earth spin on the tradition, some young couples teamed up with local transport departments to create a bespoke "wedding bus" experience. In this trend, public buses decked out in DIY wedding decorations carry the wedding party to their venue, instead of the typical suite of austere luxury cars.
The top wedding bus post on the lifestyle-sharing platform Xiaohongshu, which garnered over 20,000 likes. 
With birth and marriage rates sinking lower and lower in China, state-led campaigns to encourage marriage and childrearing have become pervasive and transparent. Trends like wedding buses breathe new life into staid traditions and allow Gen Z and millennials to take ownership of these highly personal life decisions. 
LINK: https://daoinsights.com/news/bus-rentals-become-this-autumns-hottest-wedding-trend/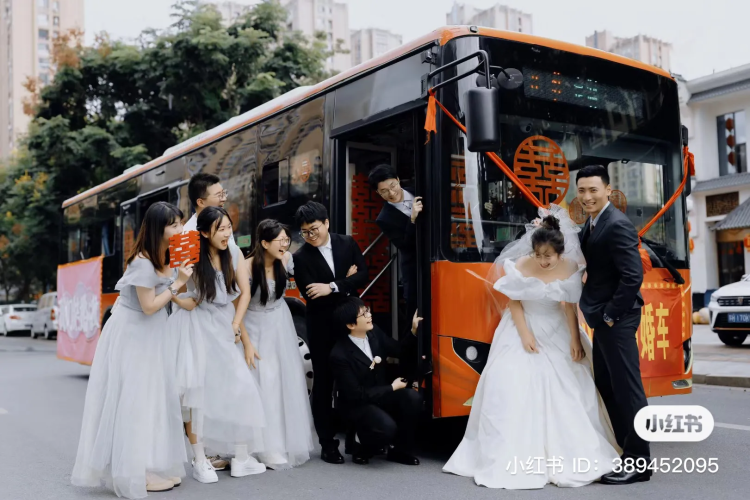 3.Is there a solution to China's $81 billion 'daigou' gray market?
With young consumers having grown accustomed to purchasing from daigou, the market is growing at lightning speed. 
According to report, "The Daigou Index 2.0," China's gray market size is an estimated $81 billion (600 billion RMB), having expanded by over 40 percent since 2019.
Daigou can offer tax-free products, which are more affordable than purchases made within China. And even some brands don't even have counters".
Aspirational middle-class consumers are becoming more cautious with their spending. And as a result, they may prefer to buy products at a discount rate from daigou rather than purchasing directly from the brands.
In addition, Chinese Gen Z shoppers are keen on discovering and experimenting with new brands – gray market importers' ability to access limited-edition or products unavailable in China has made the sector popular among young consumers.
https://jingdaily.com/is-there-a-solution-to-china-81-billion-daigou-gray-market/
4.WeChat Luxury Index 2023: How to Connect With 1.3 Billion Consumers?
WeChat has evolved into a vital platform for brands to engage and convert Chinese consumers, extending beyond mere communication.

WeChat's various components, like Mini Program, Channels, WeCom, and Official Account, create a seamless customer journey loop. It has evolved into a primary direct-to-consumer (DTC) channel, offering services and information, challenging traditional websites. Brands can accompany customers from acquaintance to purchase, nurturing their private domains on WeChat.

WeChat's open rates for articles have declined, partly due to muted notification settings for Service Accounts and follower disinterest.

Brands have adapted content strategies, pushing content less frequently but more focused on ROI.

Menu clicks and service-related behaviors have gained prominence, with over 55% of menu engagements being CRM-related.

Brands are redirecting efforts and investments to other WeChat assets, but Official Account content remains vital.

Brands capture more data through Mini Programs, with 85% of behavioral data collected from them, enhancing consumer profiles and WeChat strategies.
LINK: https://www.luxurysociety.com/en/articles/2023/10/wechat-luxury-index-2023-how-connect-13-billion-consumers
5. Coca-Cola teams up with Holiland for futuristic AI chocolate
LINK: https://daoinsights.com/news/coca-cola-teams-up-with-holiland-for-futuristic-ai-chocolate/