WeChat Article Engagements
Similarly to Western social media platforms, WeChat users can react to posts in different ways too. There is a like button and comment section, which are quite straightforward. But what about other reactions like wow or favorite? Recently, WeChat has been experimenting with article engagement by deleting and adding new buttons, thus WeChat engagements can be a little confusing for users or marketers who didn't work on this Chinese social media platform before. 
Today, let's demystify what's behind each of those interactions. Which ones are more powerful than others, and how you can craft your articles and their elements to drive the desired type of engagement? Let's break down the engagements and figure out what effects they have so you can properly build your CTAs.
First of all, the engagement buttons are located by the end of the article but users can also prompt them by clicking on three dots in the top right corner of the post.
At the moment, there are 4 engagement buttons that users can click on: share, favorite, like, wow.
Secondly, it's important to remember that not all engagements are made equal. Liking and favoriting express personal appreciation of the content but do not imply any public endorsement or extra exposure for article circulation.
Types of Engagements:
Let's dig into what each of these engagements and call-to-action entails:
Share

– Users can share to their Moments (WeChat's newsfeed), a private message, or a group of people. As a result, more people will see the post organically. 

Favorite

– Users can 'save' an article to their personal 'Favourite' folder, which is only visible to them. No one else can see articles favorited by other users. We can compare it to saved tabs on your browser. 

Like

(thumb up symbol) – Users can anonymously express their appreciation for the post; this will not result in any additional organic reach. Friends of users who clicked like will not be informed of this, nor will the post be recommended to them. 

Wow

(star symbol) – users can show appreciation for the post publicly, the article will appear in the 'Top Stories' tab visible to their contacts as recommended content. It can greatly improve article exposure. 
Due to these differences and the relatively powerful benefits of share and wow interactions compared to like or favorite, we should treat all readers as potential content advocates who can help to spread it organically. 
As a result, we distinguish between non-advocative and advocative behaviors such as 'wow-ing' and sharing (to Moments, and/or via private messages and groups), which have a significant impact on the content distribution among readers' contacts and are critical for organic development. Likes or favorites don't really generate any additional exposure.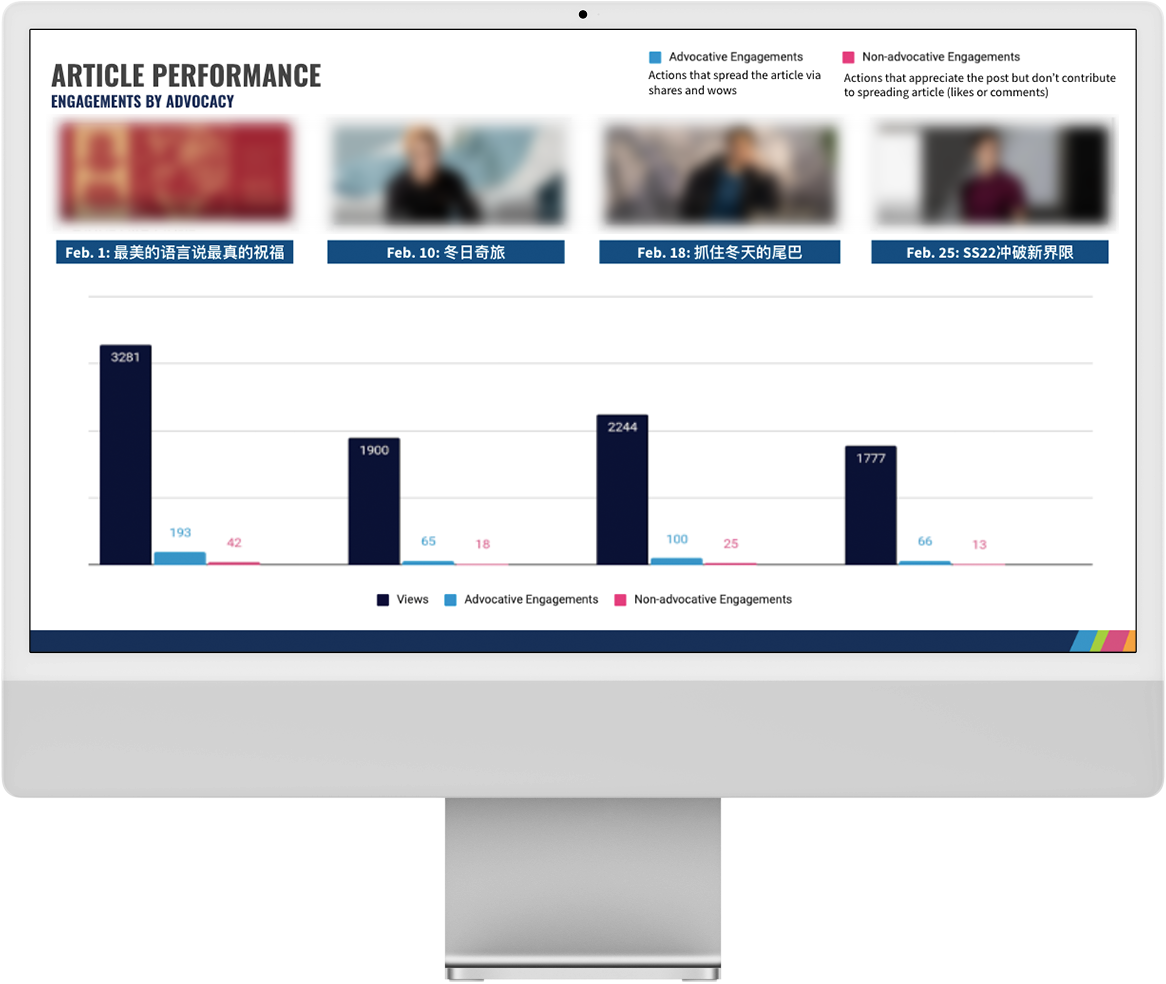 Other Engagement Features
'Read more' button – this is the only place within a WeChat article where you can connect to an external page. You can link to your official website but note that people prefer not to leave the WeChat ecosystem.
Commenting is also an option on some accounts created prior to 2019. WeChat is not a discussion platform and users are not able to interact with the comments in a variety of ways. Also when a user leaves a comment, it doesn't send a notification to their contacts.
To increase engagement, end the article by urging the reader to do one of the following: follow the account, comment, share, click on the 'read more link, like, and Wow (在看).
Brands can now include a customized contact card that directs visitors to follow the account but eye-catching QR codes remain an effective technique to draw attention and encourage following.
Conclusion
Apart from engagement, keep in mind that an article should include these essential components:

Localization: Chinese users have different expectations than those in the West when it comes to digital. To build a genuine connection with your potential customers, it's vital to localize your imagery.
Easy-to-read graphs and visual data: For example, when investigating financial brands on WeChat, market analysis proves to be the most popular type of content. While this will differ by industry, it is critical to deliver as interesting and relevant content as feasible. On WeChat, the competition is strong, with the majority of users following fewer than twenty Official Accounts.
Embedded photos and videos: WeChat users want extremely engaging material, so going beyond the text is critical.
A call-to-action: QR codes are king when it comes to connecting users to other sites and attracting new followers. Mini Program cards or image-based links to websites are also standard at the end of an article.
If you require further support with setting up your account e.g. creating an engaging and useful menu or assistance in learning more about WeChat, please contact our team. We use our knowledge and expertise to help businesses build meaningful partnerships and develop their network among Chinese customers. For additional information, please contact us by phone – Shanghai or Hong Kong.