As people spend less on real estate and more on travel, tourism in China to grow faster than its GDP
The tourism industry, hit hard during the pandemic, has emerged as a rare bright spot since the country reopened its border in December.

For the whole year, domestic tourist traffic is expected to reach an estimated 4.5 billion, roughly 76 per cent of the levels in 2019.

The surge in earnings was mostly attributed to domestic consumption, with overseas travel by Chinese tourists recovering only to 40 or 50 per cent as airline capacity hasn't fully recovered (international airline seat capacity only recovered to around 37 per cent of pre-Covid levels by April this year).

Still, mainland China is the world's largest outbound travel market, both in terms of the number of trips and total spending.
One of the most important [consumption] trends is that big-ticket and mid-market purchases are becoming more limited.

People are switching their spending habits from buying expensive products to paying for experience-type consumption.
Link: https://www.scmp.com/tech/big-tech/article/3232185/chinas-tourism-grow-faster-its-gdp-people-spend-less-property-more-travel-tongcheng-executive-says
Xiaohongshu finds success with soft-sell approach, increases focus on livestreamed e-commerce: report
The number of brand merchants selling on Xiaohongshu more than doubled from March to May this year compared to a year earlier.

While safeguarding its community content ecosystem remains a priority, Xiaohongshu has kept a quiet eye on the evolving e-commerce arena in recent years. The platform had elevated livestreaming operations to a standalone division, a move that centralized the oversight of live streamed content and e-commerce activities.

Promoting purchases through high-quality posts and live streamed content seems to be a more fitting growth model for Xiaohongshu's e-commerce effort.

Xiaohongshu places less emphasis on fan numbers when seeking hosts, but instead appreciates those with aesthetic sensibilities or professional capabilities in certain fields.
Link: https://technode.com/2023/08/23/xiaohongshu-finds-success-with-soft-sell-approach-increases-focus-on-livestreamed-e-commerce-report/
Taobao to arm apparel retailers with AI technologies
Alibaba-owned e-commerce platform Taobao has unveiled

two AI-powered tools

: "AI-assisted outfit pairing" and "AI fitting room" designed for its apparel merchants. The announcement was made at the 2023 Taobao Fashion New Force Week Press Conference which was held in Hangzhou on 10 August.
On top of revealing the seven

2023 Autumn/Winter fashion trends

, which are "Sweetheart Barbie Style, New Vintage, New Chinese Clothing, Fashionable Bookworm, Lightweight Outdoors, Street Dopamine, and Quiet Luxury Style", Taobao also introduced three schemes that will aim to drive growth for retailers in the fashion clothing sector.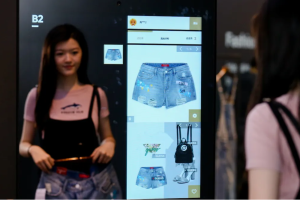 Link: https://daoinsights.com/news/taobao-to-arm-apparel-retailers-with-ai-technologies/
Are love-themed shopping festivals losing their appeal in China?
Baidu search results show Qixi-related searches during the pre-festival run-up period declined to almost half of last year's volume
Given Qixi's importance in previous years, however, the major decline in searches remains significant. In 2022 , Qixi was the fourth "hottest" marketing festival.
When taken together with recent data from Valentine's Day and 520 (May 20, "Internet Valentine's Day"), the dip in Qixi buzz this year could indicate a larger decline in the popularity of the "romance economy" among Chinese consumers. 
It is too early to tell if this year's figures indicate the beginning of a long-term shift in the importance of love-themed shopping festivals, though waning enthusiasm for shopping festivals certainly fits the post-pandemic phenomenon of sustained rational consumption.
Link: https://daoinsights.com/news/are-love-themed-shopping-festivals-losing-their-allure-in-china/
Douyin: 2023 Travel Industry White Paper
Short video platform Douyin (the Chinese version of TikTok) released a report this June, looking at trends in travel content and users who are interested in travel, in the first three months of 2023

In the first three months of 2023, Douyin saw an increase in searches for travel-related content of more than 300%, compared to the same period one year earlier. The number of travel KOLs on the platform also increased significantly year on year

According to the report, 407 million Douyin users are interested in travel, a year-on-year increase of 13%. The majority are women, with millennials accounting for the largest demographic, followed closely by Gen-X. Previously, Douyin was known as a platform with a particularly high post-90s user base, so it's interesting to see how broad the age range of users is now, as it relates to travel

Among the top 10 travel destinations by search volume in Q1 2023, the only one outside of China is Iceland
Link: https://dragontrail.com.cn/resources/blog/douyin-2023-travel-white-paper?mc_cid=a3698cb19a 
Japan bets on WeChat to hook Chinese tourists
As Japan's inbound tourism continues to fall short of pre-pandemic levels, the Japan National Tourism Organisation (JNTO) is seeking a new way to generate interest among its main group of visitors.

Japan launched a new mini-program called 观美日本("Appreciate Beautiful Japan") which functions as a mobile catalog of products and experiences available in Japan, displayed in a vertical feed with images as the focus, similar to an Instagram or Xiaohongshu feed.
Link: https://daoinsights.com/news/japan-bets-on-wechat-to-hook-chinese-tourists/ 
An A to Z guide to China's 'core' fashion trends
American retrocore, a distinctly American aesthetic has taken off in China, and it's giving "popular kid on campus" vibes.

Asian baby girl, false eyelashes, dyed hair, tattoos, and rave clothing are the hallmarks of the ABG look. the aesthetic has grown into a global subtrend, with the hashtags "ABG girl" and "ABG makeup" (#ABG女孩 and #亚裔辣妹妆) on Xiaohongshu accumulating over 7.2 million views and 230 million views, respectively. 

Barbiecore, on Xiaohongshu, the hashtags "Barbie outfits" (#芭比穿搭) and "Barbie makeup" (#芭比妆) have 21 million and 10 million views, respectively. More

here

. 

Cleanfit, Similar to city boy, the cleanfit trend also relies on muted colors and minimalist designs. Dopamine dressing, As its name suggests, this trend is all about boosting one's mood through bright, fun apparel. R

French girl, Chinese fashionistas fatigued by lockdowns or simply yearning to be transported to the city of love have turned to retro, floral dresses for comfort. 

New Chinese style, Chinese fashionistas are also putting their own aesthetic on the world stage, giving traditional cultural clothing a modern twist.