It is a widespread custom for adults to gift red packets containing monetary gifts to children during Chinese New Year. However, in recent years, the habit of presenting friends and coworkers has transferred to China's super-app, WeChat. As a result, the opportunity for brand visibility and interaction arose thanks to this behavioral change. Last week, we covered different ways in which brands can engage with their audiences during the Chinese New Year, today we will dig more into how to create your own red envelope on WeChat. 
What is a WeChat Red Envelope?
Tencent's WeChat red envelope (or WeChat red packet cover – 红包封面) is a WeChat-based feature that was developed in China. But the concept itself is not new. In fact, it's based on the Chinese tradition of hongbao (red envelope, or red packet), in which money is presented as a gift to relatives and friends. 
Tencent released the function in January 2014, and it has since grown in popularity, with Tencent reporting 2.3 billion transactions on the first day of 2016.
Users can give monetary presents to other users within a private conversation or group chat in the form of virtual 'credits.' A user's WeChat Pay account gets credited with funds that can be utilized to make purchases. 
WeChat offers two sorts of 'red envelopes': pairwise red packets, which send money from a private chat between two users, and group red packets, which distribute money in a group chat. After posting the 'grouped' red envelope to a group chat, the app assigns the amount in each envelope to each receiver at random. Fights for the biggest win of an envelope is a common and fun sight at the annual dinners across China.
Why Do Businesses Require Red Packets?
Moreover, there are other motivations for mobile payment companies to compete during this period, aside from the red packets being a cornerstone of WeChat's development history. Because the Lunar New Year is the most important Chinese celebration of the year, there are more transactions than at any other time of the year. 
Thus a number of other brands, such as Gucci, Louis Vuitton, Versace, Burberry, and many more have incorporated the red envelope concept into their Chinese New Year's marketing strategies. This year with more and more hype around red packets, payees are especially encouraged by brands to transfer 'lucky money to a friend, thereby assisting the brand in expanding its brand awareness. Sometimes, like in the came of Gucci, users need to book their slot to receive the cover they can use via a mini-program to make it more exclusive. 
On the other hand, consumers may also receive a red envelope with a surprise discount after purchasing something in-store using WeChat Pay. These companies are often FMCG brands because a discount signals value and are generally not an incentive that luxury brands want to be associated with.
Step by Step Guide on Customisation Process of The Red Envelope
Step 1: Registered account and Required materials

Chinese mainland WeChat official account is open to everyone for registration: http://cover.weixin.qq.com 

Step 2: Submission for review
Check the official WeChat page for design requirements and specifics. 
Format: PNG / JPG / jpeg

Width and height: 957 * 1278 pixels

Size: ≤ 500kb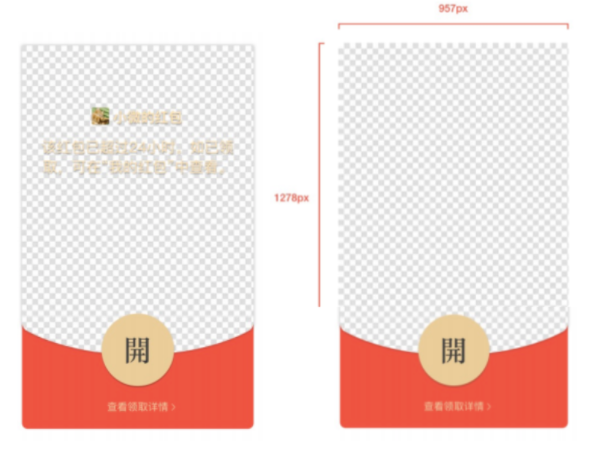 After you've finished customizing the red envelope, send it to the WeChat team for review.
Audit Cycle: The audit cycle is generally 1 working day.
Audit Result: The results will be published on your official WeChat account and sent over by mail after the audit is completed (WeChat envelopes). You can also check the status of the audit in my "seal" at the same time.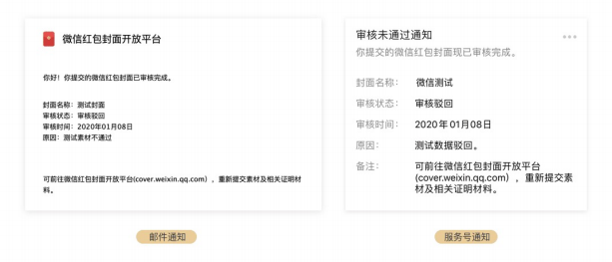 Step 3: Payment and refund
Select the number of users of the red envelope cover after approval and pay the payment item to create an order.
Price: The red envelope cover costs one yuan per piece.
Payment method: Payments can be made via Wechat, internet banking, or an offline transfer or remittance.
Refund: Only when the red envelope cover is removed from the shelf due to infringement, and there is a red envelope that is still within the distribution validity period and has not been successfully received by any user.
You will get a return for unused red envelopes at a rate of 1 yuan per piece.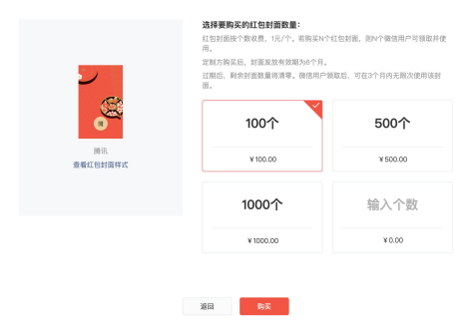 Final Step
Step 4: Release cover
The cover can be distributed to the selected user after it has been properly purchased. It will expire after six months. Users will not be able to receive it after it has expired.
Distribution methods include:
According to the activity scenario, user group, collection rules, other factors, the customization party can choose the best distribution strategy.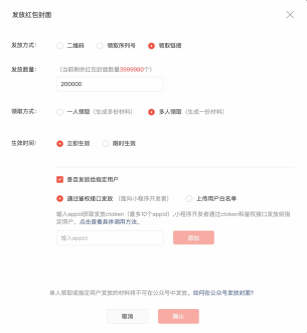 Step 5: Trial cover
After each red envelope cover's approval, ten trial covers for ten Wechat accounts can be obtained.
The cover is effective for two hours after scanning the code and can be used an unlimited number of times. The trial run expires after two hours have passed.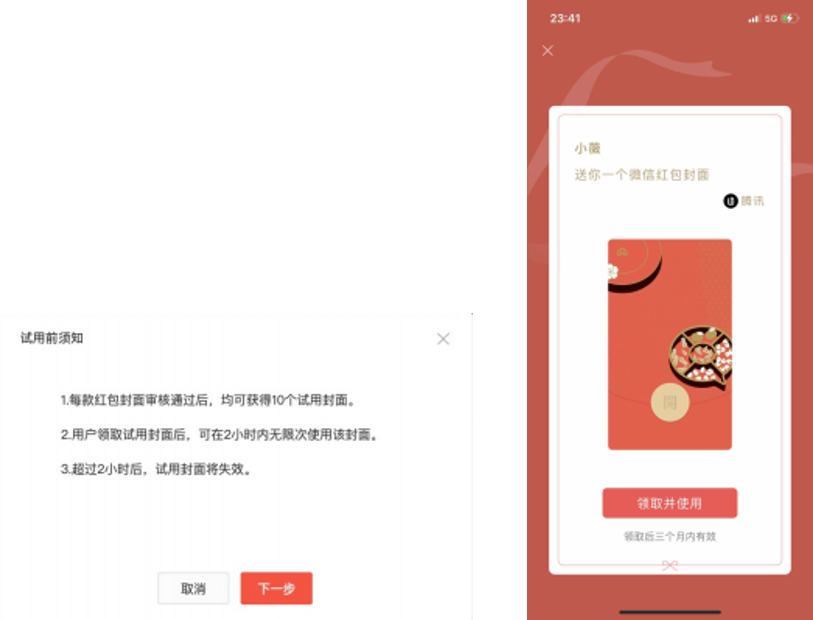 Step 6: User to use
Users can use the cover up to 3 months after they receive it as many times as they want. The received cover will automatically become invalid after the expiration date and cannot be used again.
 The red envelope display, which has been sent, will not be affected.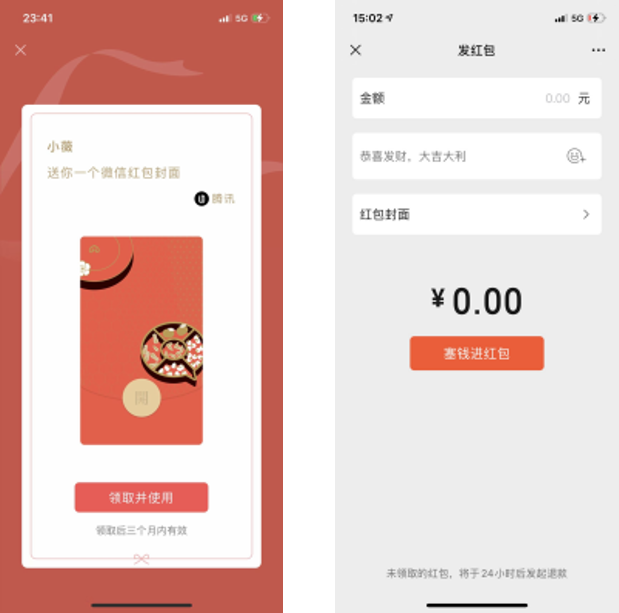 Step 7: Data analysis
Following the distribution of the cover, you can view real-time distribution data. You can also check data from the previous day, and cumulative statistics on the site. It includes:
covers purchased,

covers received,

red envelopes issued,

red envelopes opened,

how many times users accessed the red envelope details page,

how many times the users view the cover story,

and the number of times the viewers skipped the cover story.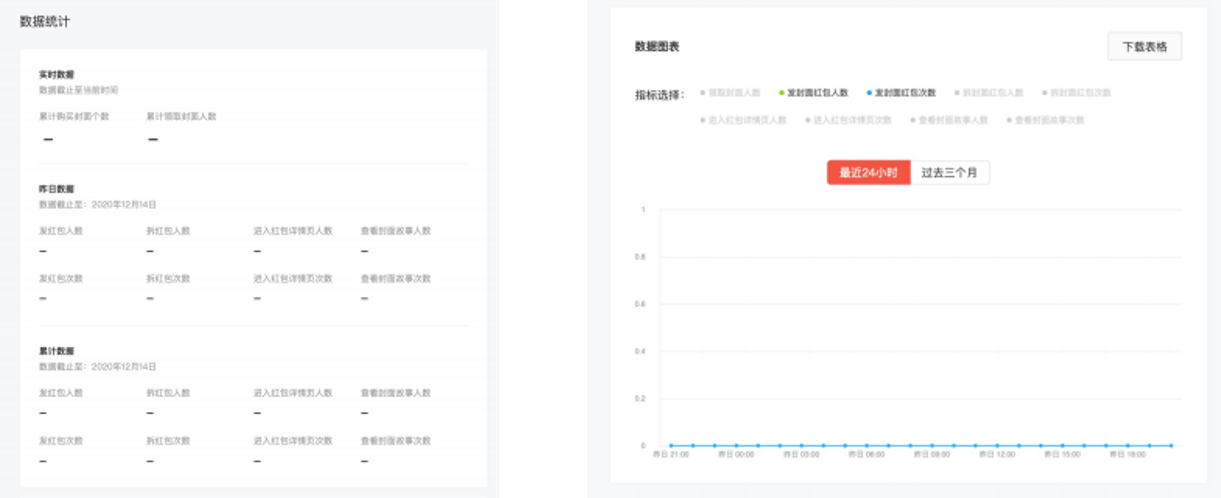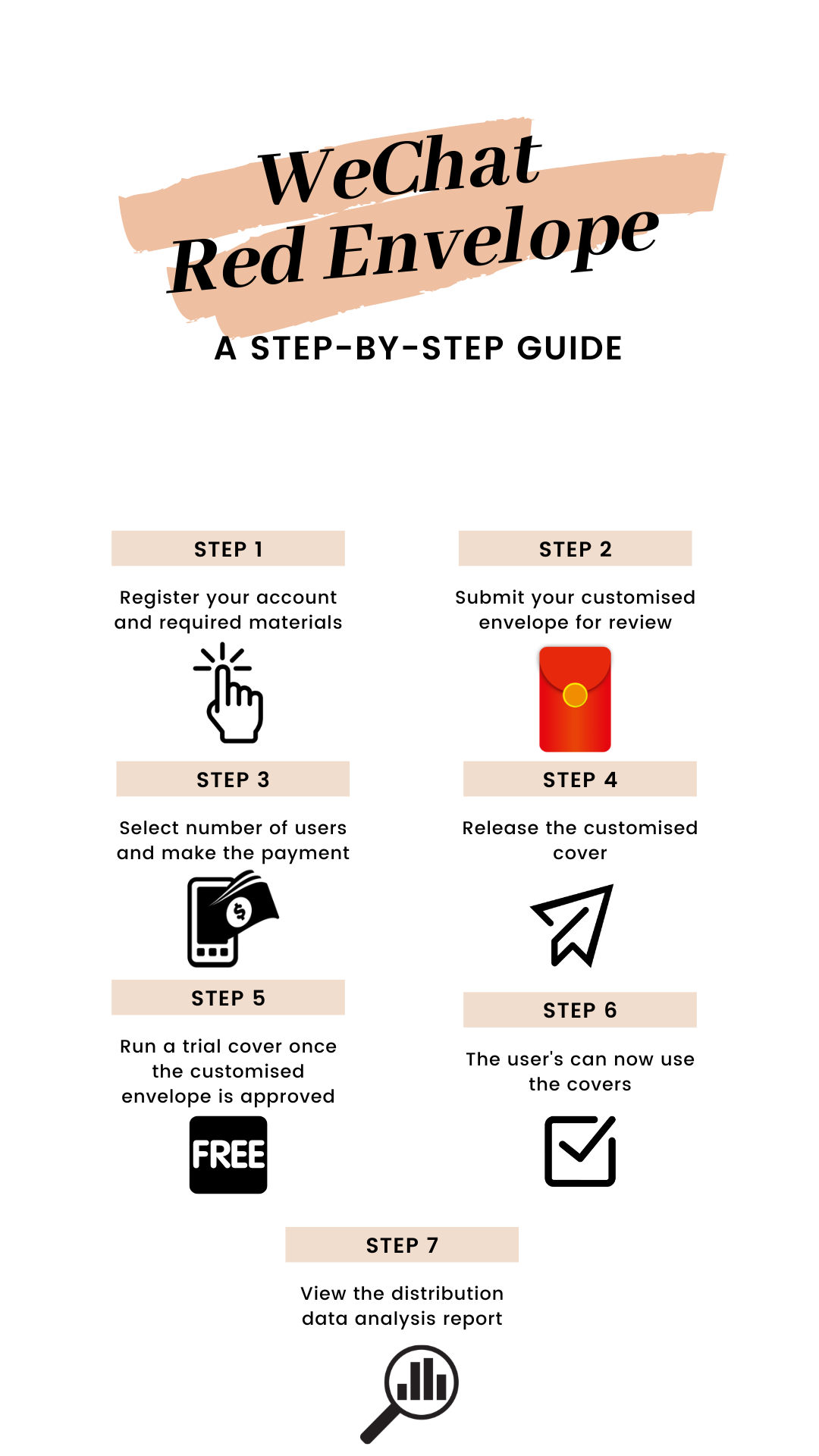 Conclusion
Way to carry on traditions change these days. The one thing that has remained constant is the desire to enjoy the company of loved ones during this special time of year.
Also, around this time of year, the red envelope is a great way to attract a wide spectrum of customers and build your customer base. As a result, any company seeking to build a business relationship with the Chinese market should consider taking advantage of these prospects.
If you require further assistance with customizing your red envelope, please contact our team. We use our knowledge and expertise to help businesses build meaningful partnerships and develop their network among Chinese customers. For additional information, please contact us by phone – Shanghai or Hong Kong