The Chinese e-commerce market is the largest in the world and generated €867 billion in revenue in 2019. From 2020 to 2024, the annual growth rate of e-commerce in China is projected to be 6.9%.  Obviously, many overseas companies are tempted to enter the market and cater to millions of potential new consumers. Be it the youngest Gen Z or Chinese grandmas who are eager to spend more during their retirement, with a great product and market strategy it's a great chance for brands to tip their toes.
👵🏻 Read more about China's silver generation and their growing purchasing power and habits
This appeals to international businesses as well as the local business community, resulting in cross-border online trade. In 2022, it was estimated that the import e-commerce retail market would be worth close to 559 billion yuan. The most popular e-commerce platforms are Tmall, JD, Xiaohongshu, and WeChat. However, you will see there are plenty more e-commerce sites in China.  
No matter the size of your brand, the first step and choosing the right platform can be paralyzing. Companies quickly realize that the entry barriers to the biggest Chinese shopping platforms are challenging starting with the paperwork to e-commerce fees, steep deposits, and commissions.
One of the most attractive e-commerce models especially for niche or small brands that want just to test the waters would be cross-border e-commerce. Therefore more platforms offer this option now.
In China, cross-border e-commerce is distinguished by the fact that overseas companies are permitted to offer some goods to Chinese consumers online at favorable tariff rates and without the need for a business license. However, solution comes with some limitations we highlight in our previous article but nevertheless, it can be a very attractive way to kick off in China.
🇨🇳 Learn more about cross-border e-commerce and if it's a solution for your brand
Let's look at how much it costs to sell goods on these platforms in China, the pros and cons, and see which one can be the best fit for you.
Tmall
Tmall, formerly Taobao Mall, is a platform for business-to-consumer online retail, spun off from Taobao, and operated by Alibaba Group. It's a highly reputable marketplace where all sellers are verified by the platform. In addition, Tmall has several solutions for brands that want to sell on the platform including cross-border sales.
Tmall General:
For Tmall general trade, the security deposit is $7,500. 

A deposit is required from vendors to open a Tmall store. The deposit is primarily used to ensure that retailers follow the Tmall Service Agreement and Tmall Rules so that expenses are covered in the event that retailers break any rules.

To use Tmall, an annual e-commerce fee of $4,500 must be paid. Depending on the merchant's category, a yearly fee is paid at the time of settlement.

Suitable for brands that have Chinese business license.
Registration fee: USD 7,500 deposit + USD 4,500 annual tech support fee
Commissions:  8-12%
Tmall Global:
Cross-border solution
Suitable for overseas brands
Doesn't require a local warehouse in China
Access to Tmall's services including live-streaming and advertising
Registration fee: USD 7,500 deposit + USD 9,000 annual tech support fee
Commissions:  8-12%
Tmall mini-store:
Cross-border solution
Suitable for niche or small brands
Listed as sub-store on Tmall direct flagship
Suitable for smaller collections or products that can be shipped to China separately (maximum 3 products)
Registration fee: USD 4,500 deposit
Commissions:  4-12%
JD:
As Tmall, JD also offers solutions both for brands that have legal entity in China and cross-border players.
JD General:
When creating a new account, JD.com requests a deposit starting from USD 4,500 and higher.

For the majority of categories, the commission is between 2 and 5%.

Suitable for brands that are already in China
Registration fee: USD 4,500 deposit+
Monthly fee: USD 150
Commissions:  2-10%
JD Global:
Through a new partnership between JD and Shopify, merchants on that platform now have access to a new sales channel with a simpler onboarding process and better exchange rates through the marketplace.
Fees and requirements appear to be more demanding than Tmall
Registration fee: USD 15,000 deposit+
Monthly fee: USD 1,000+
Commissions:  2-5%
Xiaohongshu / RED
Suitable for lifestyle and fashion brands

Recently, RED tries to be more brand-friendly and lower the commission costs. 

These do not include marketing expenditures, influencer commissions, or fulfillment fees.
Registration fee: Case-by-case basis (normally USD 3,500)
Monthly fee: None
Commissions:  5% (reduced from 20% before)
Recently, we covered another quickly expanding platform dubbed 'the RED but for men'.  You might have heard of Poizon also called Dewu on the Chinese market.
WeChat Mini-Programs as Alternative to Big Platforms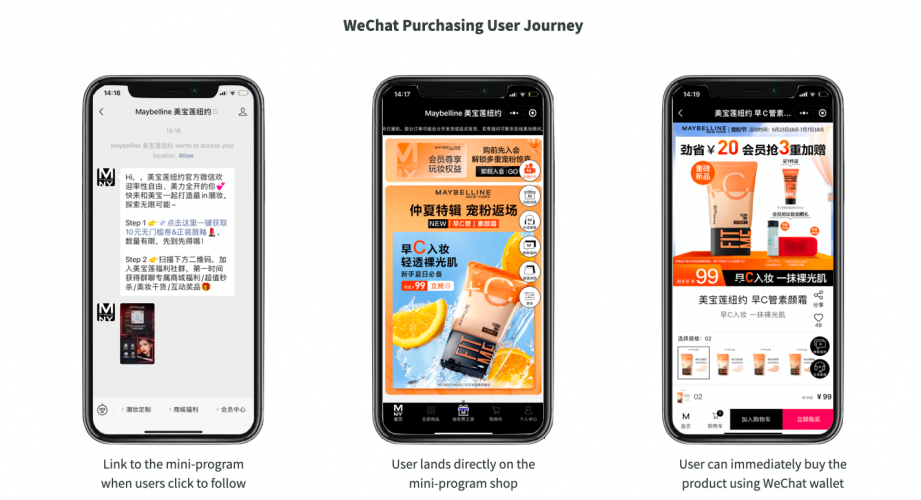 WeChat's own mini-program-based online shop can be a great solution for brands that are not keen on costly registration fees and commissions. However, on the other side if you decide to go with the mini program you will have to figure out the storage, deliveries, refunds, and other logistics by yourself which the big platforms usually cover.  Due to that, you will need to build the mini program by yourself.
In addition, another amazing advantage of a mini program store is that you are the owner of the data. Also, WeChat users who are already your followers are more known to be more likely to convert to customers and normally the average purchase is bigger than those on other platforms. We covered the pros and cons and how the most successful brands do it on our blog.
🛍 Why selling on WeChat can be better than selling on Tmall and other platforms?
In conclusion, the Chinese e-commerce market is in a fascinating state right now. And platforms are vying to have the best appeal to clients and businesses. However, nothing seems to be offered for free. In other words, brands must invest in order to sell products on these e-commerce platforms because of the publicity and sales they generate. Above all, China's famous e-commerce festivals like 11.11 called Singles' Day or 6.18 are a great opportunity for brands to generate more sales.
If you wish to know more about e-commerce and cross-border e-commerce in China or other marketing techniques, please contact our team. We use our knowledge and expertise to help businesses build meaningful partnerships and develop their networks among Chinese customers. For additional information, please contact us at contact@thewechatagency.com.