Christmas in China
Christmas has grown in popularity in Mainland China in recent years, despite the fact that it is not a national holiday. Its "celebrations" have little to do with religion, but that hasn't stopped it from becoming a huge annual event in China's main cities. 
Chinese people saw it as a new form of entertainment, with decorated Christmas trees, Santa Claus, and reindeers adorning the streets and businesses. It's fair to say that many young Chinese millennials and Gen Z see Christmas as another "Valentine's Day." It is the time of the year when men prepare heartfelt winter gifts to win over their partners, while girls dress up in a variety of fresh outfits.
Christmas in China is more of a fun day to spend with friends shopping, ice skating, or going to Christmas pop up markets and movie theatres than it is a day to go to church and spend time with family.
Various promotional events are held during this season at shops and shopping malls to increase sales. On Christmas Eve, restaurants serve Christmas meals. Intriguingly, one of the Chinese Christmas traditions is to send apples as gifts to friends on Christmas Eve.
What brands can do:
As a result, this is an ideal opportunity for brands to leverage on China's buying spree. Retailers and businesses can also start off the winter shopping frenzy and sales season because of the festival's proximity to the Chinese New Year. Domestic brands, on the other hand, can seize the opportunity to develop a successful brand positioning plan that elicits positive emotional responses and builds a cool global brand image.
Here are a few pointers for brands looking to attract Chinese customers during the holiday season:
Concentrate on China's major cities.

Make use of a variety of digital marketing channels

Targeted online advertising

Make campaigns finite

Customize messages and GIF's for the audience 

Use a nice static or GIF greeting card to make festive posts

Create stickers for people to use in their chat sessions

Create large-scale campaigns
Some previously done festive campaigns by KRDS
1. KRDS X Montagut Full-scale campaign
Montagut wanted to spend Christmas with their Chinese fans. The key objective was to engage the audience throughout the holiday season in order to promote the new FW 2020 collection and attract a larger set of younger consumers. They intended to debut new collections in order to announce the arrival of new items and trends before the end of the year.
Our solution for elegantly displaying both the new collection and the festive spirit was an H5 WeChat game set in a French winter paradise. Because of its customised and dreamy graphics mixed with a captivating tapping gaming mechanism, this game was an instant hit with Montagut's existing fans as well as approximately 10,000 new fans.
Read more about the campaign – Montagut in Collaboration With KRDS Invited Fans To Winter Wonderland
2. KRDS x Montagut – Interactive Post
This year, together with Montagut we wanted to leverage new possibilities within the WeChat article and created this interactive, creative post – fans can engage with the post elements by clicking, swiping or double-tapping different parts of the Christmas card to open new functions and more.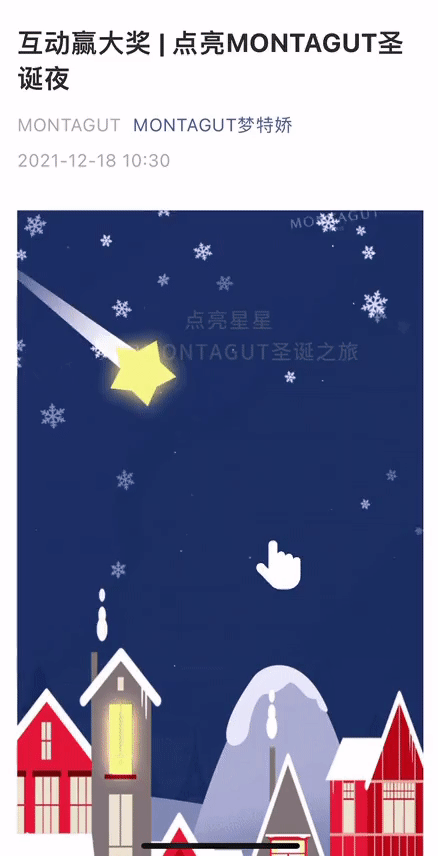 Please visit Montagut's official WeChat account and see the full post here – Montagut Interactive Christmas post
3. KRDS x BNP PARIBAS – Christmas Voice Card Campaign
During the festive season, we created and delivered a unique WeChat Christmas card that BNP Paribas' team, their clients, and partners could share with their loved ones to wish them a happy holiday season.
The solution proposed by KRDS was an H5-based Christmas wishes voice card. The card's lovely design and voice feature made it a simple but incredibly personal Christmas card that everyone could send to their contacts on WeChat.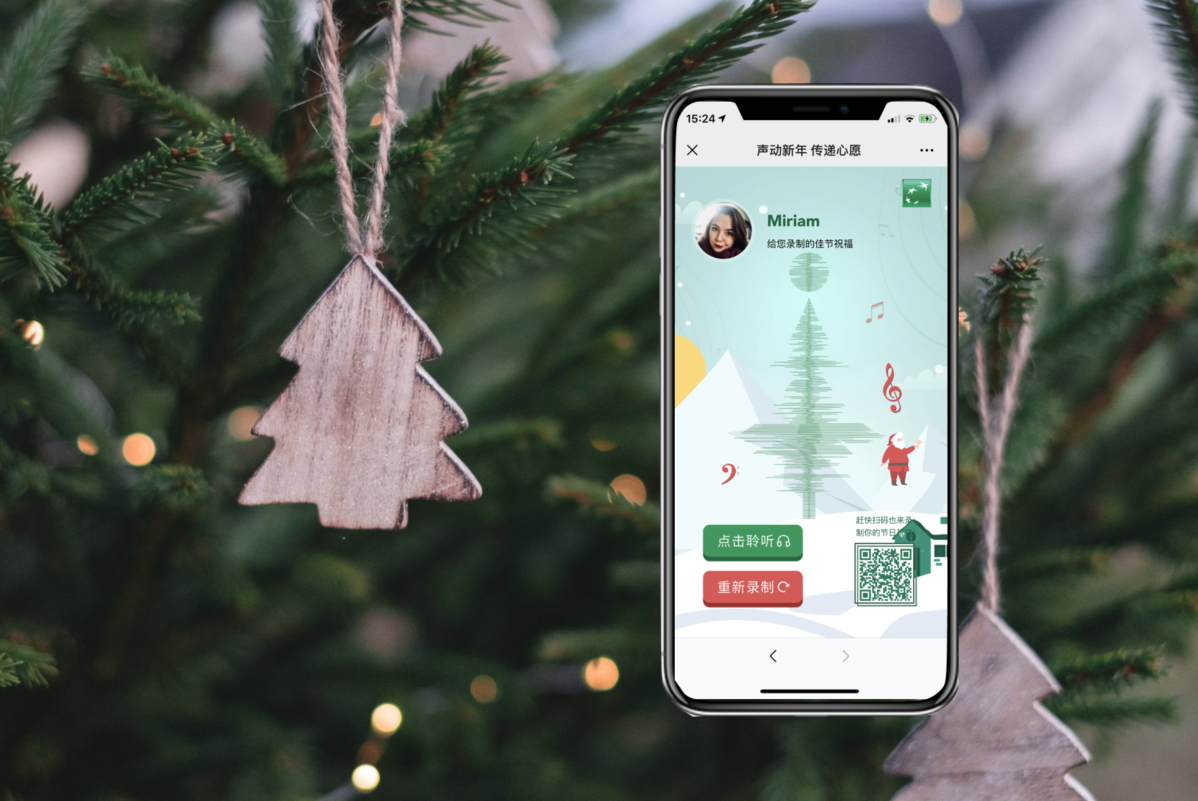 Christmas Campaign for BNP Paribas – Post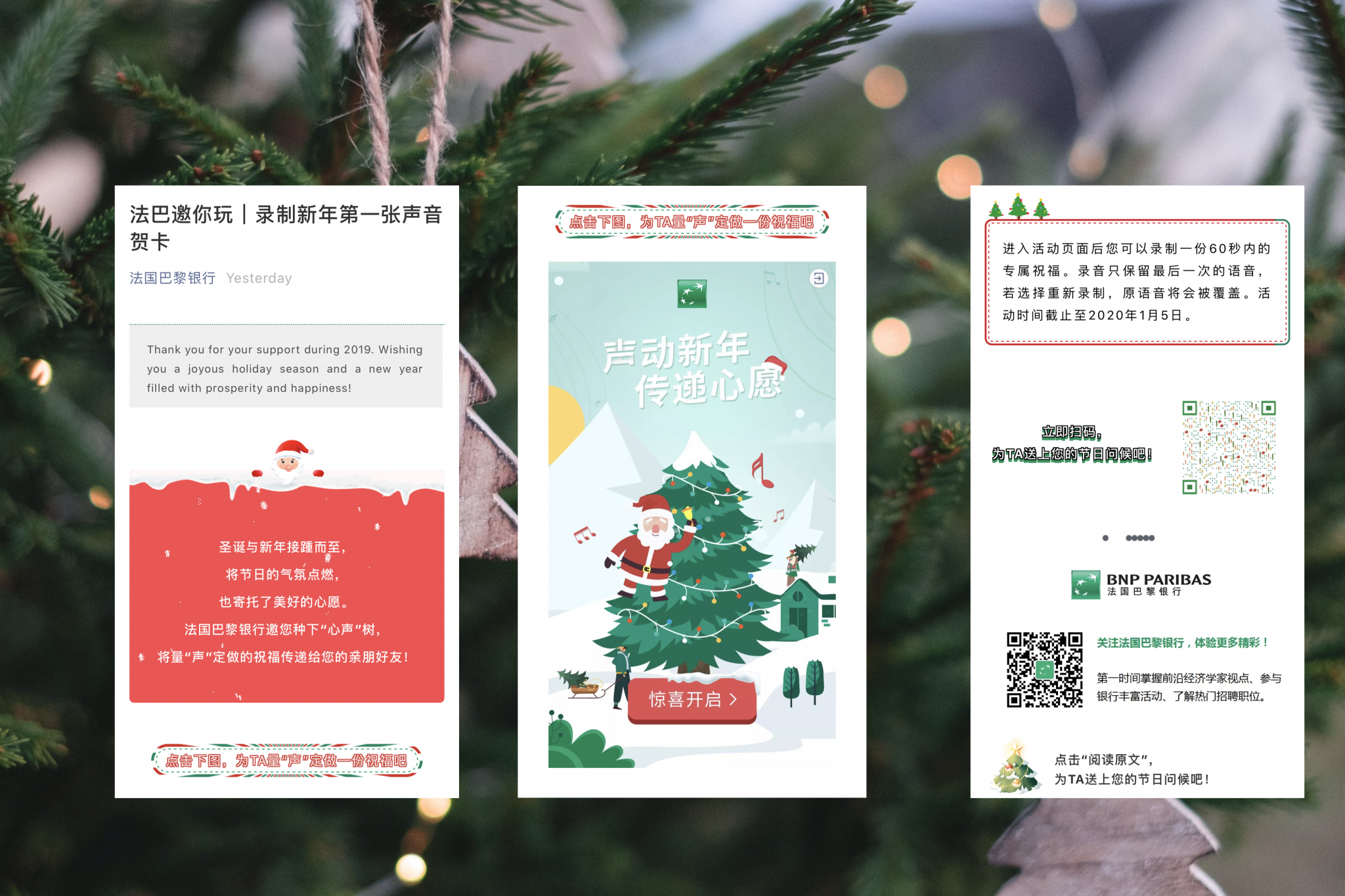 Christmas Campaign for BNP Paribas – Greeting Card Mechanism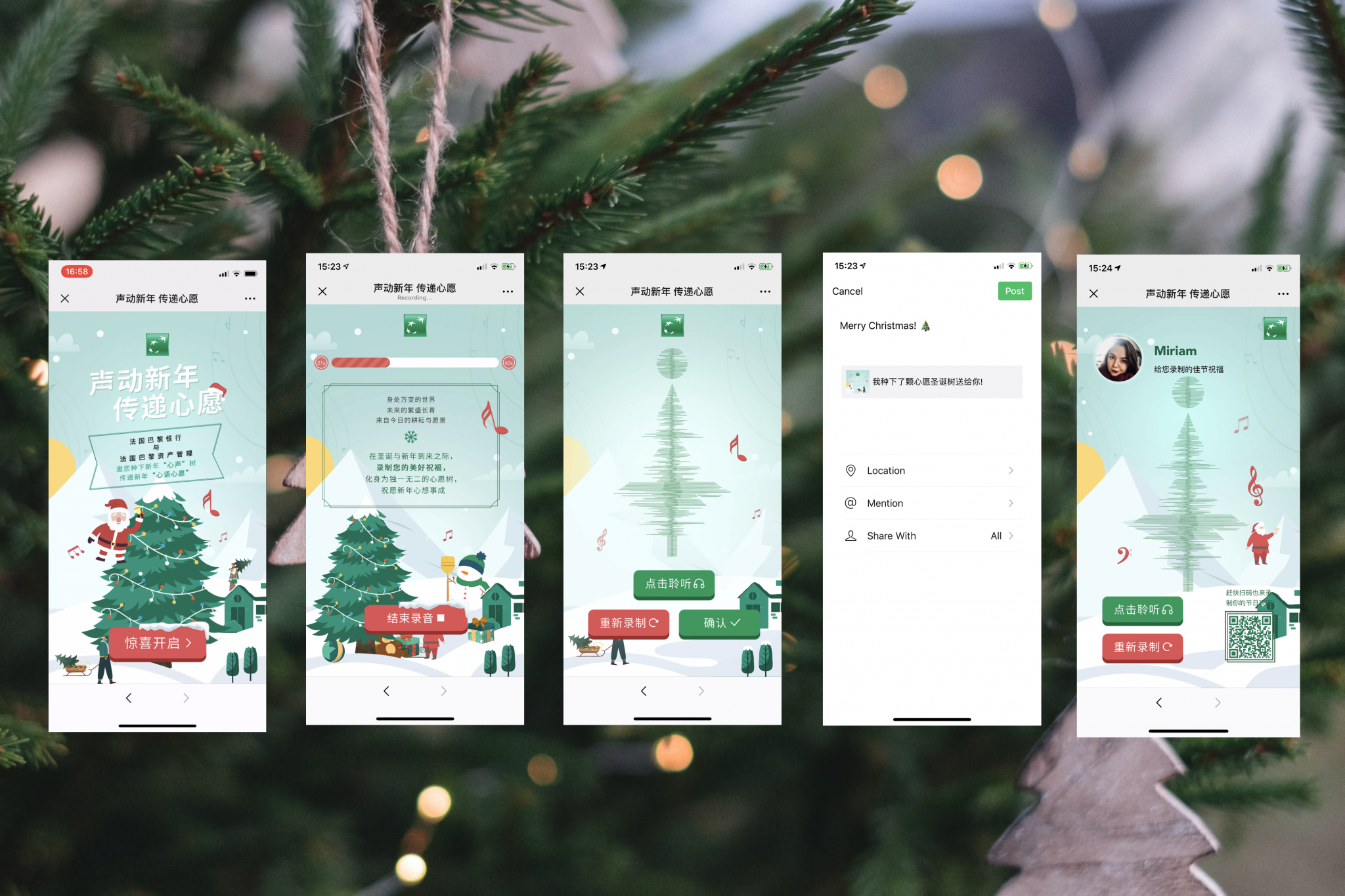 WeChat Stickers Creation for BNP Paribas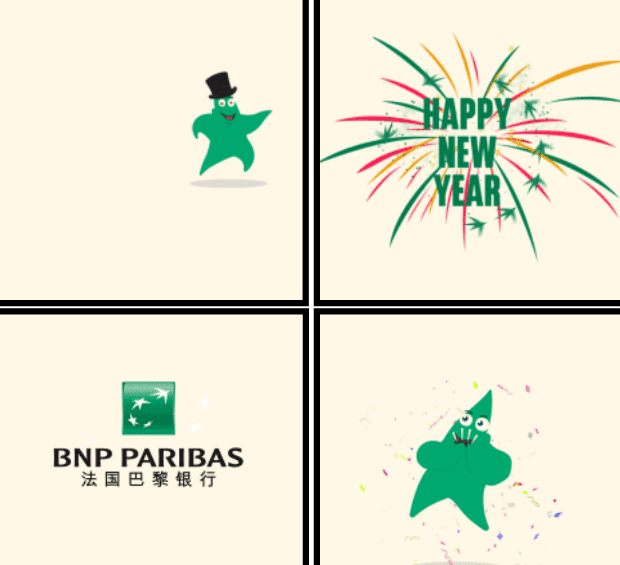 4. KRDS x Procter and Gamble – WeChat Article Greeting
5. KRDS x AkzoNobel – WeChat Article Greeting
6. Other Clients
KRDS have also worked with other clients like Vivo, Hong Kong Disneyland, Meiji, BreadTalk, Toast Box, Volkswagen, AIA, Unilever, Sony, WWF & Grand Hyatt.

If you're looking for a brand collaboration or need any further assistance please contact our team. We use our knowledge and expertise to help businesses develop meaningful campaigns and develop their network among Chinese customers. For additional information, please contact us by phone – Shanghai or Hong Kong