What can Europe learn from China's live e-commerce boom?
Consumers in the United Kingdom, Spain, France, and Poland expressed interest in live e-commerce for online shopping, with 70% expressing interest. In 2020, Western brands will see 15 times more engagement in live e-commerce than they did on traditional social media, three to five times more sales, and a 50% increase in customer numbers.
If China's growth trajectory is followed, Europe has the potential to reach over 160 million live streaming e-commerce consumers by 2024, with about 100 million of them making purchases while viewing live feeds.
China is about five years ahead of Europe in terms of economic development. China's experience may provide us with valuable lessons. It took China a few years to turn live e-commerce into a popular format used by both companies and consumers on a regular basis. Europe is currently in the research and development phase, but we can anticipate some significant changes in style and approach: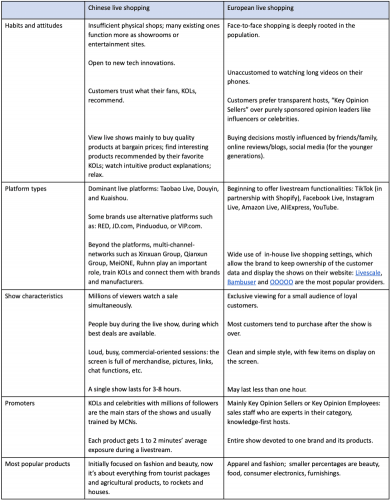 Link: https://technode.com/2021/11/04/what-can-europe-learn-from-china-livestreaming-ecommerce-boom/ 
Can C-Beauty Brands Cultivate Loyal Consumers?
Florasis, which ranked third on Tmall's "Double 11" best-selling brands list in 2020, has dropped out of the top ten this year. Local beauty brands frequently spend more than 65% of their income on marketing, substantially exceeding the market norm of 30-40%. Although their massive advertising, KOLs, and live streaming budgets quickly generated social buzz and attracted new customers, they failed to maintain user loyalty.
"Through data analysis from ByteDance, we found out that most international companies work on the branding side, while Chinese brands focus more on the performance side," Hwee Chung, Kantar Worldpanel's head of the China beauty market, stated. That is, Western brands employ influencers to create a desirable atmosphere around their products in order to attract customers. Domestic brands, on the other hand, use low pricing and KOL promotions to entice customers to buy specific products. R&D and licencing are not addressed by C-beauty brands. Yatsen Group, for example, holds 38 licence patents, but Procter & Gamble files 3,800 licences each year.
Link: https://jingdaily.com/c-beauty-brands-loyal-chinese-consumers/
Changing Attitudes Towards 11/11 Shopping Festival?
Despite setting new sales records, Alibaba and other e-commerce companies are keeping their sales figures quiet this year.
Alibaba attempted to rebrand "Double Eleven" as the Chinese government pursued attempts to regulate big digital businesses and wipe out the worst excesses of economic inequality. The company's annual promotional extravaganza lacked the star power of prior years, with green efforts, homegrown companies, and rural products taking centre stage.
Link: https://www.sixthtone.com/news/1008954/alibaba-tries-an-unfamiliar-new-singles-day-strategy-restraint
Douyin City
This is a big IP from Douyin. This offline event was held for three years by Douyin in collaboration with local tourism/brands. Every time they visit a city, they should promote both the place and the companies. They've visited over 70 cities, and this time they're in Sanya. Its goal is to raise awareness of Douyin through various activities such as dreamland, a music festival, and a webcast. People will also learn about the city, where to go, and what distinctive foods they have, among other things. They built six blocks for Sanya's Dreamland, where players can take on various identities, complete stages, and win prizes.
They used VR, AR broadcast, and the Douyin micro application to create interactive and social situations. People would be able to see brand information through virtual reality and augmented reality interactive experiences. Celebrities and musical KOLs were also asked to attend the festivals. This is a win-win idea for both Douyin and the cities; by uploading short videos with #Dou In the City, KOLs will encourage more people to come and visit. This effort will give the KOLs more exposure.
Link: https://mp.weixin.qq.com/s/Imd1eRm2LYkcR9auoLWXKA
Singles' Day posts record haul despite slower pace, as China's antitrust moves dampen world's biggest online shopping event
The world's biggest online shopping event recorded a slower pace of annual growth after Alibaba Group Holding swapped the usual razzamatazz of Singles' Day for a more down-to-earth event that stressed sustainability.
The gross merchandise value (GMV) for this year's Singles' Day reached a new high of 540.3 billion yuan (US$84.5 billion) across the 11-day campaign, representing an increase of 8.45% year on year. Since Alibaba launched Singles' Day in 2009, this is the first year of single-digit GMV growth.
This year's Singles' Day was weighed down by China's slowest economic expansion pace in decades, as growth slowed to 4.9 per cent in the third quarter

This year, Tmall issued 100 million yuan worth of 'green vouchers' to encourage purchasing decisions that 'contribute to an environmentally friendly lifestyle'
Link:https://www.scmp.com/tech/big-tech/article/3155762/sales-growth-alibabas-singles-day-drops-amid-chinas-crackdown-big
How to Recontextualize Brand Narratives in China
The house's 70th-anniversary campaign, which featured Max Mara's iconic Teddy, was a major hit in China, driving organic social traffic to offline footprints.
Image courtesy of Max Mara's Mini Program.
With a sophisticated understanding of China's digital ecosystems, Max Mara has successfully built up a content-to-commerce loop.

Luxury brands need to tailor social currency that can be showcased and shared with users' friends via social platforms, per each campaign's themes, as well as each platform's user demographics and capabilities.

Global HQs of luxury brands need to be aware of the uniqueness of China's ecosystems and allow higher flexibility in experimenting with innovative approaches in the market.
Link:https://jingdaily.com/max-mara-70-anniversary-campaign-china/