WHAT IS MONTAGUT?
Montagut was the first French fashion design company to enter China in 1979, at a time when there were few international brands (Louis Vuitton and Chanel established themselves only 15 years later). It has spread to over 4,000 shops around the country, establishing a dedicated client base and a household name. It is seen as a symbol of respect and achievement, particularly among dignitaries and notables.
THE SCOPE OF WORK
KRDS has been appointed to manage Montagut's digital channels in China for four consecutive years. Scope of work includes WeChat, Channels & Weibo management, Content creation (Chinese copywriting, graphic design, motion design), Media planning (banner design, A/B testing, budget allocation), KOL & artist collaborations, Dev scope & H5 minigames.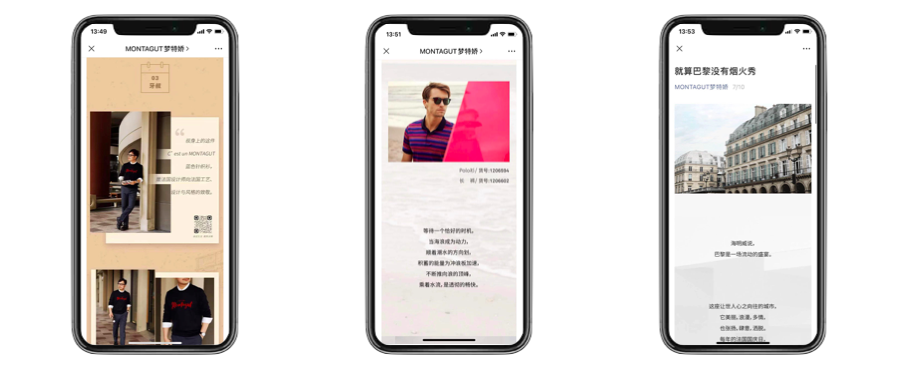 Brand's social media strategy in China is always evolving to keep up with the latest trends and technology solutions that help to increase online sales and foot traffic in real stores.
THE RESULTS
According to Candice Meyer, Montagut's Head of Brand Image & Communications Asia, "KRDS has been a valuable partner of Montagut over the past 4 years. We chose them because of their deep knowledge of the China social media landscape combined with great strategic and creative capabilities. On a day to day basis, it's both very efficient and super pleasant to work with a trustworthy team such as KRDS. They are expert, flexible, diligent and always looking to achieve the best results. A perfect recipe for success!"
She also mentioned that one of the campaigns Montagut's Winter Wonderland "was very fun and engaging. Beyond generating buzz and page views, KRDS was smart to find the right mechanism to attract a very high number of new fans".

If you wish to know more about WeChat and its various features, please contact our team. We use our knowledge and expertise to help businesses build meaningful partnerships and develop their network among Chinese customers. For additional information, please contact at contact@thewechatagency.com.