China is at the top of the e-commerce market with its big players like Alibaba and JD.com.
It has more e-commerce activity than any other country in the world. In the year 2017, China's e-commerce expenditure was more than $750bn online – more than the UK and US combined.
While some sectors of the economy struggle for survival in a sudden, new, harsh reality, e-commerce is faced with massive demand. Since many of us are confined to our homes, we mostly rely on online shopping, leading to great innovation in e-commerce. There are two key trends that are transforming e-commerce in China by adding entertainment to the mix: social buying and live commerce.
Social buying
By far, Alibaba is China's largest e-commerce company. At number two resides a company called PinDuoDuo (PDD). PDD's insanely steep rise has taken many by surprise, as in mid-2018 it floated on the Nasdaq at a valuation of US$23.8 billion. Some theorize the reasoning as PDD piggybacking on almost a billion people already using the WeChat messaging app, as well as its social buying strategies including providing a higher discount depending on the number of successful invites a person can get.
Compared to North America – at $506 billion (2018) and $615 billion (2020) – and Europe – at $364 billion (2018) and $429 billion (2020), China alone has a larger e-commerce market than both the countries combined. In 2013, China's eCommerce market was valued at $285 billion. Today, it's an estimated $1.62 trillion.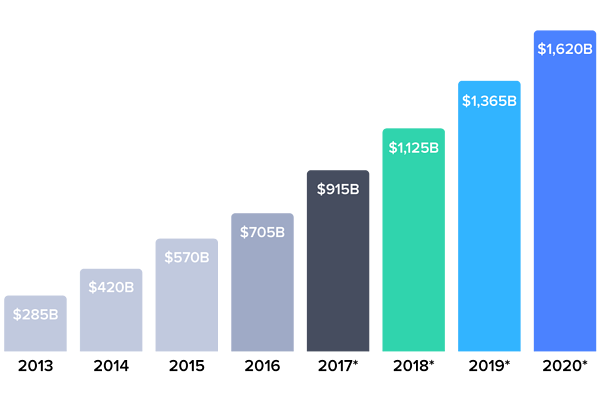 China's eCommerce GMV (By billions of USD)
Live commerce
Live commerce is the combination of live streaming and e-commerce, and it has become very popular with Chinese consumers. The live commerce market was worth 440 billion Yuan (US$63 billion) in 2019, a 220% increase since 2018.
The live commerce sales conversion rates are much higher than traditional platforms. Recently, the popularity of live commerce in China has increased during the COVID-19 crisis as people stay away from shops and showrooms.
Live commerce in China is mostly celebrity-driven, but not by traditional stars, but by online celebrities. These include Austin Li "the lipstick king" and Viya. Live commerce hosts use short-term discounts to encourage instant orders, often with a limited number of products available to increase the sense of urgency in shoppers.
So, behind China's booming e-commerce sector are innovative strategies and services that are transforming the online shopping scene by making it more exciting for the buyer. Perhaps there is an opportunity now for Western companies to refresh their approach to online shopping when it comes to China.