Many changes were made to the new WeChat interface following the release of its new version. With this fast changing-environment, it's not always easy to understand and adapt your business to the latest changes. KRDS brings you a round-up of the new features :
Among the most important improvements, the design of the subscription accounts has been refined. The interface is more ergonomic and offers a content feed system with the latest posts displayed at the top of the list. This new display is a great way to review your publishing strategy : publishing more often could offer more visibility.
---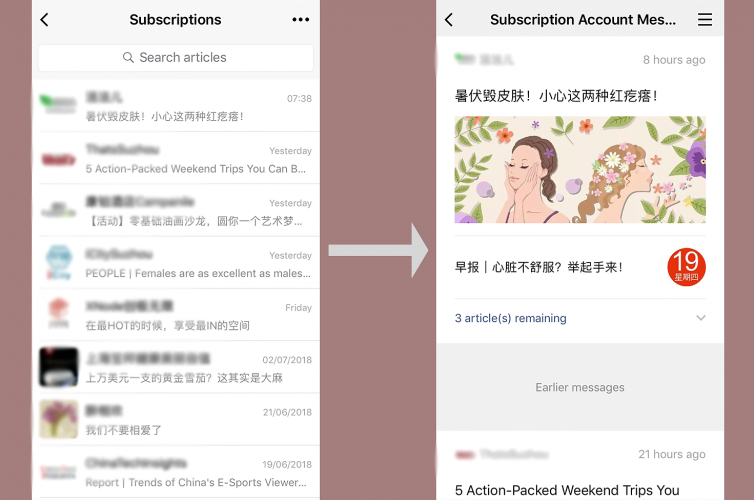 The new interface offers a better experience to the users and a better visibility for those who publish  regularly 
---
In terms of content, WeChat claims more than one billion active users (2.19 billion for Facebook) and is integrating more and more applications, including dedicated mini-programs such as Netease (Music) or Tencent Video for streaming. As of today, these mini-programs have reached a whopping 280 millions users, with more than a million mini-programs active on the platform according to the statistics provider, Aldwx.co. This corresponds to a 39% growth since 2017!
Nonetheless, it is important to keep in mind that the number of users does not mean that all of them are fully engaged on the platform. In fact the daily time spent on mini programs has been rather stable since last year. Mini programs are a maturing technology but they are still progressing and are expected to reach 400 million daily users by the end of the year.
A long way since 2011
After its inception, WeChat was mainly a chat platform to connect people.
Over the years, the application has expanded with more features. The implementation of subscription accounts has allowed the company to take a leap forward and allows the users and companies owning these accounts to publish articles and original content.  
It was in 2014 that the company stood out by introducing the "Red Packet" (Hongbao). This feature allows  users to send monetary gifts in the form of envelopes. The concept is attractive: those who receive these envelopes can open them and discover the amount they contain. Users can also send red packets on group chat. These are very popular during festivals and major events (Chinese New Year, Weddings, Anniversary, Valentine's Day …)
Over time, the company has become one of the most popular apps in China. And in 2017, the advent of mini-programs significantly changed WeChat's architecture. Thanks to this system, users could open "mini applications" without having to leave WeChat's interface or downloading the application from an App Store (Apple, Android …).
---
---
What can we learn from it ?
Today WeChat is much more than an instant messaging app, it's a real ecosystem and the potential of this application is still far from having shown its full capacity.
With this in mind, it is essential to evolve with WeChat and not base a WeChat marketing strategy solely on primary tools. We must offer a real experience to users. To do this,  mini-programs and H5 technologies are very effective. With the new features of WeChat, companies that do not take the plunge are often outpaced by other innovative and adaptable companies. And while the technology inherent to the WeChat interface is not that complicated, it requires some effort to understand the possibilities they offer.
The most notorious example is a small game called Tiao Yi Tiao, a.k.a Jump that was launched in late December. Its success was immediate and had gathered nearly 100 million players within 2 weeks.
---
Tiao Yi Tiao, a.k.a Jump
---
The game is simple but the concept is daring. The user propels a small block character on a virtual block by pressing on the screen. Major brands such as McDonald's or Nike had seen a great marketing opportunity and did not hesitate to invest several million yuans (per day) to display their logos on the blocks! See more
Even Google has recently introduced its first mini-program named "Guess My Sketch" ( 猜画小歌). 
---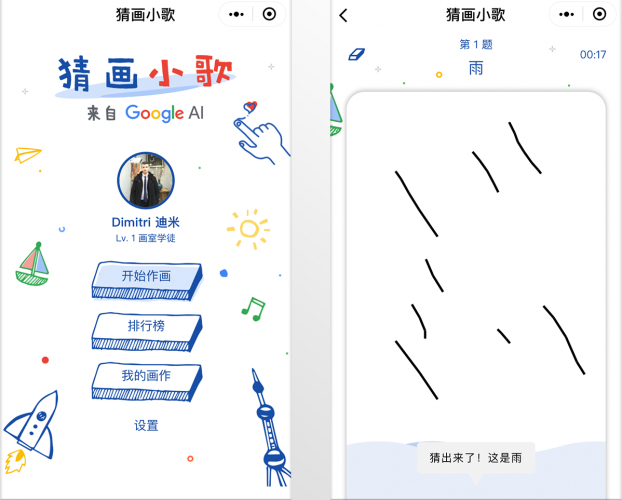 猜画小歌 (Cai Hua Xiao Ge)
---
In this team game, users have to team up with an AI and guess the other team's drawings. Ironically, the mini-programs are a threat to the Android Play Store itself. 
So, are you ready ?